Arts Review
KILLING KATIE: Confessions of a Book Club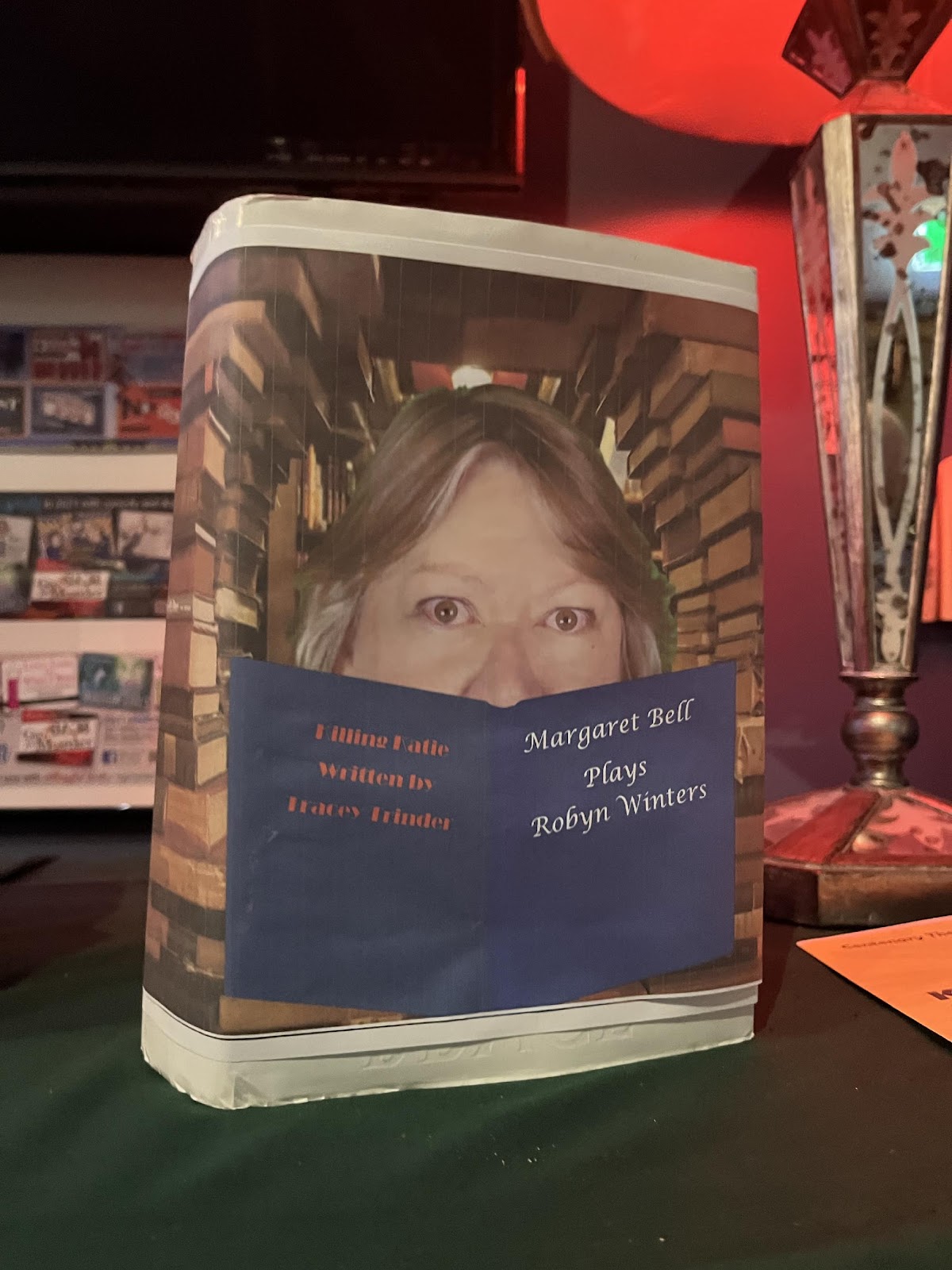 The Centenary Theatre Group Presents "KILLING KATIE: Confessions of a Book Club"
Centenary Community Theatre, Chelmer.
28th July-12th August 2023.
Written by Tracey Trinder,
Director Rhyll Bucknell
Dr Gemma Regan
'The show must go on!' Insightful, witty and thoroughly entertaining
Killing Katie: Confessions of a Book Club revived my own suppressed memories of the chores of having to read a boring bestseller with a group of pretentious, but only averagely educated women who used every opportunity to boost their own egos at the expense of others. I thought it was just my personal experience, but Tracey Trinder's new Aussie script illustrates that it is a shared horror that many women have endured under the guise of a monthly boozy, cake-laden meet-up.
The play has it all and more wrapped into an honest insight into the competitive and often bitchy nature of female relationships. Directed by Rhyll Bucknell, who chose the play because of its strong female roles, the simple vehicle of a book club is used as an analysis of human behaviour highlighting the psychological games people play due to their own insecurities and status perception within a group.
There are two time-frames moving between the present day back to ten years previously. Two middle-aged mothers Linda (Alison Lees) and Sam (Ildika Koppen) discover that a former friend and book club Führer, Robyn (Margaret Bell) has published a novel about killing book club member Katie (Christine Bassingthwaite) at a meeting, which sounds eerily familiar and starts their hearts racing and tongues wagging.
The set was a simple front room with two small areas serving as coffee shops and bars. A large audiovisual white screen was at the back of the set to inform the timeframe and location of each scene. It could perhaps have been used more effectively by becoming a backdrop to the scenery instead of remaining white, which at times could be distracting.
After the unfortunate postponement due to the ill-health of Jessica Fletcher who was to play Robyn, heroine Margaret Bell 'stepped into the breach' with an outstanding performance as Robyn. With less than a week to prepare and take on the key role, Bell mustered her lifetime of experience as a performer and the mantra that 'the show must go on!' to encompass all that the character Robyn was meant to be and more!
Robyn Winters is a self-important publishing sales rep who lives in her childhood home with her ageing mother. She has no partner and no children to show for her middling years and therefore has become a stereotyped 'Karen', angry at the world and afraid to explore all it has to offer. Instead, she starts a book club and invites a few select acquaintances in order to grasp some control of her disappointing life and those within it.
Despite Bell clutching a book which cunningly hid the script, her lines were faultless and brilliantly timed. She seemed to scan and memorise each line seconds before Robyn's sharpened tongue was to be let loose on the innocent book club members. Her posture and speech oozed a passive-aggressive attitude, allowing each of the other four members of the cast to react naturally to the situation as if they had been rehearsing together for months.
Leanne Bamford is Angela, Robyn's suffering mother and the real host of the book club providing ample food and drink for her guests. She was good at portraying the downtrodden mother and there were hints of her character of Auntie Barb from CTG's The Appleton Ladies' Potato Race from 2022.
Ildika Koppen played the manic fitness-obsessed Sam very well, whose three children including twins rule her life causing her to be vague, scatty and sleep-deprived with no time to read a book!
Linda (Allison Lees) is the calm and collected friend and mother of two, who is really the intellectual of the group, dropping in quotes whilst also acting as the narrator of the play. Her lack of self-confidence as a timid librarian was illustrated very well by Lees, as she represents the steady friend we all have, who always tries to be nice and doesn't like to rock the boat.
Director Rhyll Bucknall makes a few amusing cameo appearances throughout the play disguised as prop changes, when she looks pointedly at the characters and audience with perfect timing.
The good dynamics between the four actors were self-evident when a new radical book club member is brought to the group meeting by Linda without Robyn's approval. Bassingthwaite further stirs the pot using her genuine Irish brogue and an attitude of self-assured arrogance to cause Robyn's hackles to rise.
As fireworks ensued the slights and barbs fly as the audience groaned or laughed knowingly, each recalling a similar element of mean female competitiveness from their own lives. The script of Trinder and the portrayal by the cast did this wonderfully, encapsulating all that is wrong with female groups quoted by Shakespeare to 'hide not thy poison with such sugar'd words'.

The Centenary Theatre Group with the help of saviour Margaret Bell and director Rhyll Bucknall have produced an insightful, witty and thoroughly entertaining interpretation of Trinder's KILLING KATIE: Confessions of a Book Club despite a major setback. With a now shortened run, I urge you all to 'book' your seats, grab a wine and snacks from the bar and join Robyn's book club for a giggle and a gasp!