Goldilocks Folk
Tina #SupportLocalMusic
Sunday
9:00 AM - 10:00 AM
10 December, 2023
#Hot100 Voting Suggestions, artists G through M - vote at hot100.4zzz.org.au - Subscribers votes have double-weight, become a subscriber at 4zzz.org.au/support
The Jazz Show
Knox & Don & Andrew
Sunday
10:00 AM - 12:00 PM
10 December, 2023
Frank Sinatra
Nice 'N' Easy
Jessica Williams
Lonnie's Lament
Phil Woods Quintet
The Duke
Bill Evans Trio
Waltz For Debby
Cassandra Wilson
Blue Light 'Til Dawn
Donald Byrd
Cristo Redentor
Albert Tootie Heath, Ethan Iverson & Ben Street
Bags' Groove
Divergence Jazz Orchestra
Long-Lost Frenemy
AUS
Brandon Sanders Quartet w/ Jazzmeia Horn
I Can't Help It
The Scornful Four
A Rainy Morning
LOCAL
Aaron Bell & His Orchestra
Cookie's Caper
Joey DeFrancesco & Jimmy Smith
Midnight Special
Bill Frisell, Joe Lovano & Paul Motian
Harmony
Wes Montgomery
Impressions
Jose Luis Gamez
Parisian Thoroughfare
Grant Green
Sunday Mornin'
1
Thelma Plum
We Don't Talk About It (Single)
2
Perve Endings
Better Than I Have Been
3
Sacred Hearts
Crocodile Tears (Single)
4
Bad Sext
Hear Me Out, Eat Me Out (Single)
6
Nam Shub Of Enki
DUNNING KRUGER (Album Of The Week)
7
Violent Soho
Domestic La La (Single)
8
Velociraptor
Leaving Hollywood / Timebong (Single)
10
The Blankettes
Witch On My Chest
11
Various Artists
House Keys 2
12
Locust Revival
Dyying Colours (Single)
13
Platonic Sex
Melon (Single)
14
Radium Dolls
CIA (Single)
15
Sunny Luwe
Flowers In The Sky
17
June Low
Wild Loving Heart (Single)
19
Loki Liddle & Jhindu-Pedro Lawrie
One More Song (Single)
20
Shock Value
White Bliss (Single)
OFF AIR
Hot 100 Voting Open Now
The time has come for you, the 4ZZZ community, to choose 100 of your favourite songs from the last year for us to count down on New Years Day.
Voting is open now, so jump into this link to cast your vote.
If you're keen for more info, like how subscriber votes are worth double, click through here.
Happy voting!
Thanks for a record breaking Radiothon!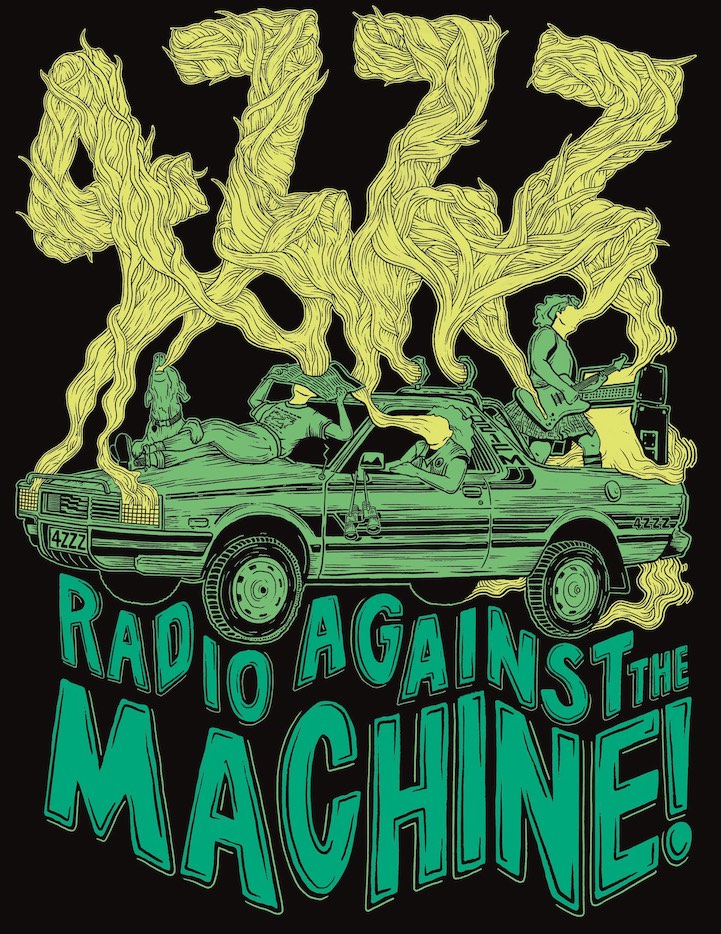 Thanks for celebrating Radio Against the Machine with us this Radiothon. You've made this year's subscriber campaign one of our most successful ever!
Your support means we're able to keep the people and passion that drove 4ZZZ on air. It's another year of giving local artists a platform, giving a voice to marginalised communities and championing the rich cultural fabric of this city.
We're now diving into the job of packing and posting all your subscriber packs and merch. There's a lot, over 1,500, so please be patient as our volunteers get everything to you.
If you were planning to pick up your pack from the station, that's ready for you now. You can pop in to reception between 10am to 4pm Tuesday to Friday or 10am to 2pm on Saturdays to collect it. If you originally said you wanted your pack posted out but have changed your mind and want to come in, please give us a call - 3252 1555 - or drop us an email - reception@4zzz.org.au - so we can let you know when we'll have it ready for you.
To get an update on shipping times or to check in on the progress of your order feel free to give us a call or email using those details. One of our volunteers will be able to update you.
Finally, to celebrate the success of this campaign we're going to keep the good times rolling for a little longer, with a few choice prizes still available until the end of August. Head to our Radiothon page for the full details.
Thanks for supporting 4ZZZ and Radio Against the Machine.
Access All Areas Success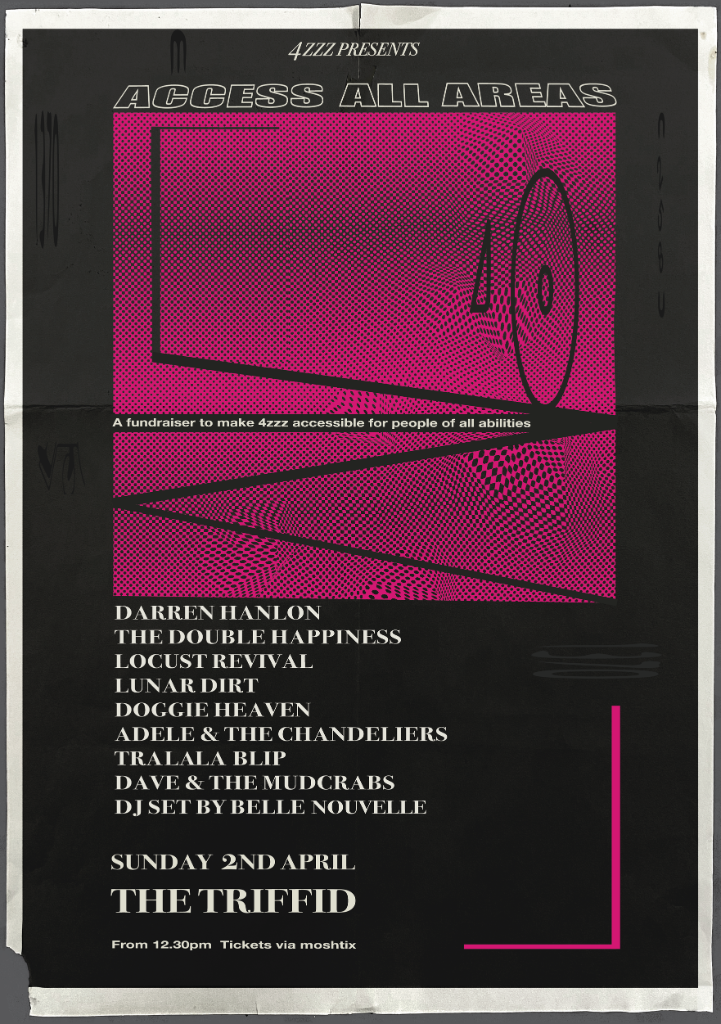 What an incredible turn for our Access All Areas Event at The Triffid in April. We had an absolute blast partying and raising funds to help make 4ZZZ more accessible.
🤯 We raised almost $10,000! 🤯
All proceeds will be going towards making 4ZZZ more accessible for people with a disability at the station, joining the volunteer announcer base and becoming an integral voice of our grassroots media and local music community.
There were so many smiling faces and excellent bands supporting our cause.
A big thank you to The Triffid, but mostly a big thank you to all of you who came along, whether you bought merch, went in on the raffle, bought a beverage, or simply came along to have a dance.
Sonic Masala Festival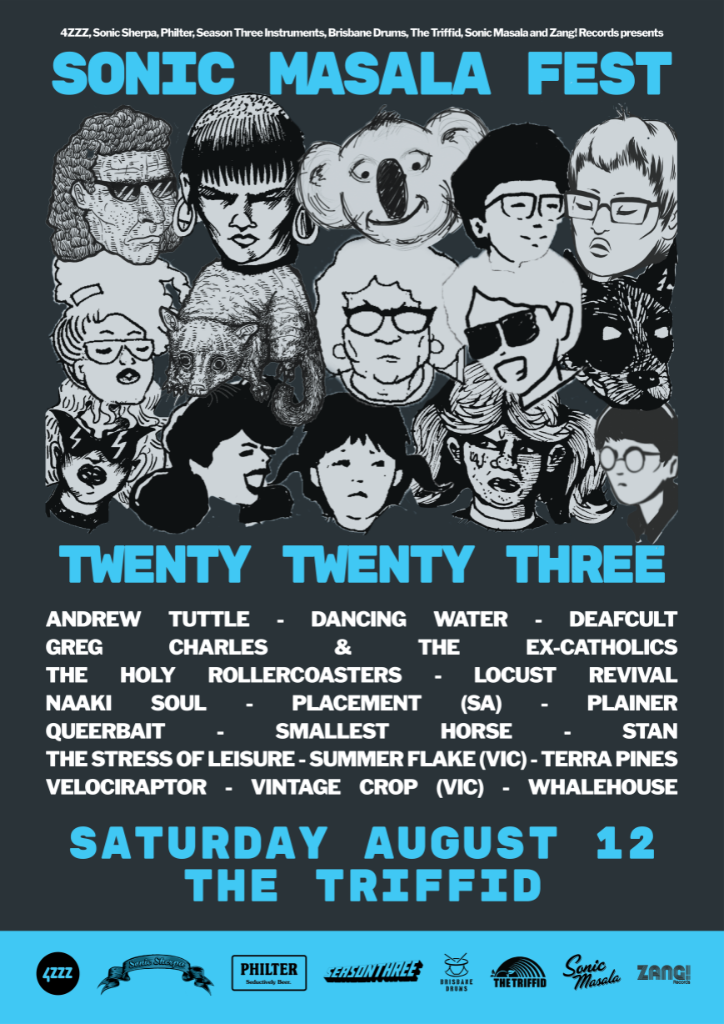 One of the BIGGEST and BESTEST days for live music is lined up for August 12th at The Triffid!
For 10 years, Sonic Masala Festival has been an epic day to celebrate all the things we love about our community, and we can't wait to party with all our favourite people; YOU!
Get behind; 4ZZZ | Sonic Sherpa | Philter | Season Three Instruments | Brisbane Drums | The Triffid, Sonic Masala | Zang Records Presents Sonic Masala Fest 2023
This year's scintillating lineup is a compilation of some exciting new acts and the bands that have been along for the journey such as;
Andrew Tuttle | Dancing Water | Deafcult | Greg Charles & The Ex-Catholics | The Holy Rollercoasters | Locust Revival | Naaki Soul | Placement (SA) | Plainer | Queerbait | Smallest Horse | STAN | The Stress of Leisure | Summer Flake (VIC) | Terra Pines | Velociraptor | Vintage Crop (VIC) | Whalehouse
All are welcome, including underage punters and four-legged friends (who are welcome in the Beer Garden on a leash all day).
Proceeds from the day go to keeping 4ZZZ independent & live since 1975!
Pre-sale tickets go into the draw to win a $100 Sonic Sherpa voucher as well as a drum skin featuring this year's artwork.

GET TIX HERE
Thanks for a record breaking April Atonement!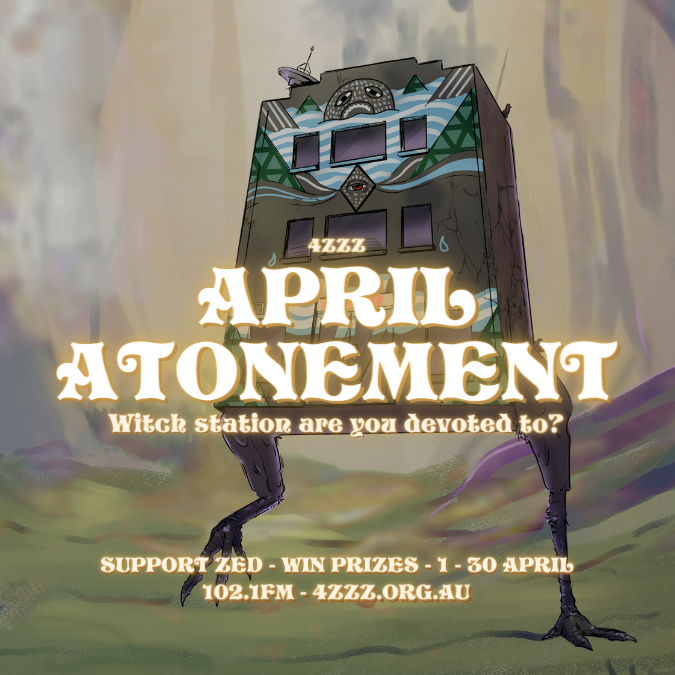 That's a wrap witches! Thank you so much to all those who subscribed during the month of April for showing your devotion to the most enchanting community radio station in the REALM!
Your contribution helps us keep the magic alive, this enables us to continue giving local artists a platform to be heard, marginalised voices the opportunity to tell it like it is, and celebrate the weird and wonderful of this enchanting city.
Our volunteers are stirring the cauldron and weaving spells filled with warm inner glow for all the subscriber packs heading your way, so if you haven't received your sub pack yet it should be with you shortly. If you've got any questions about the progress of your delivery please give the station a call on 07 3252 1555 or email reception@4zzz.org.au.
Thank you! We hope you're all enjoying your warm inner glow! Thanks for supporting independent community media.