Arts Review
Ngaiire Performance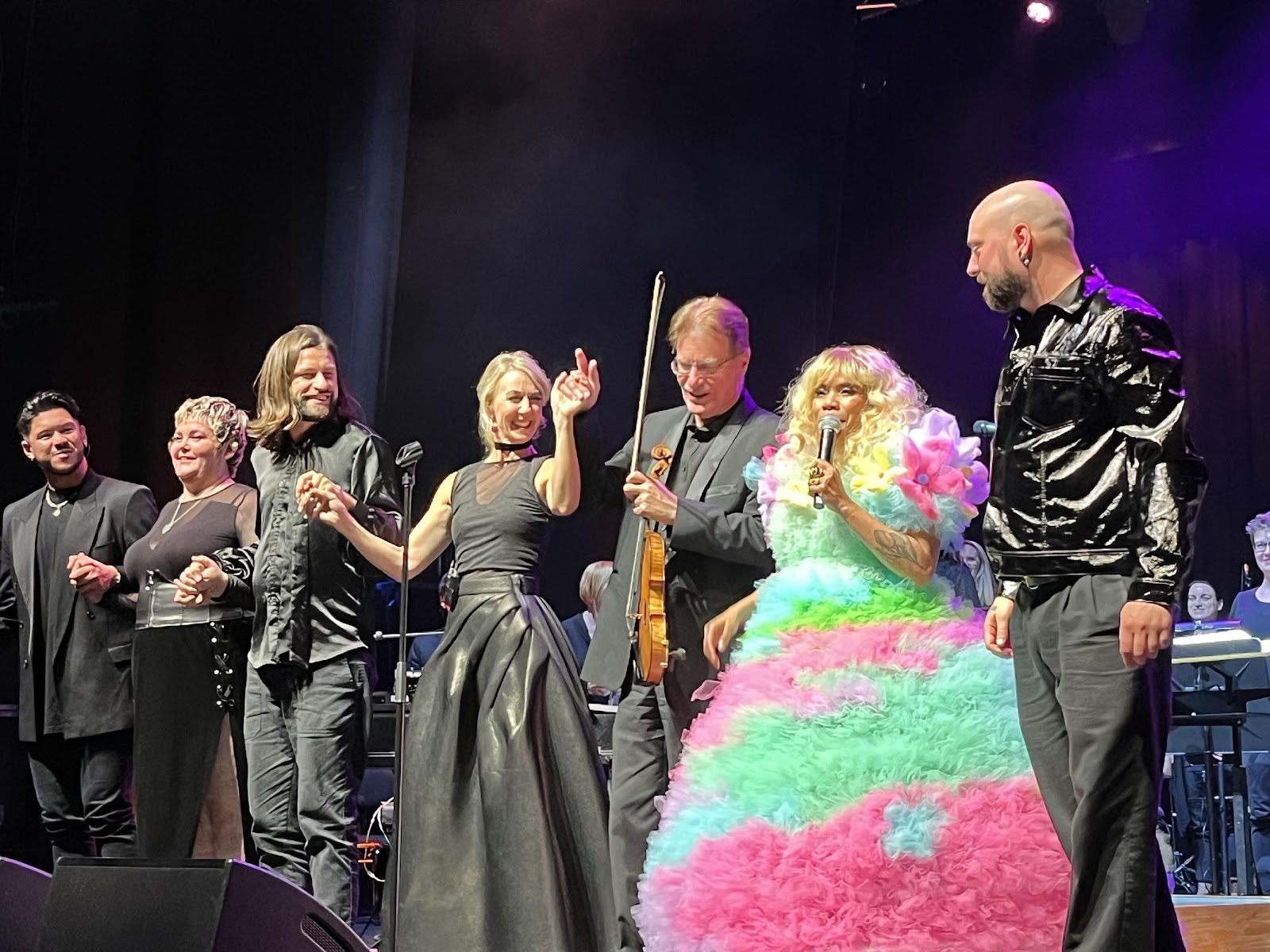 Ngaiire & Queensland Symphony Orchestra Presented by the Princess Theatre
4th August 2023
The Princess Theatre, Wooloongabba
Conductor Vanessa Scammell
Dr Gemma Regan
An Experimental Orchestral Performance with a Dolly Parton Vibe
After performing to an audience of around 5,000 people, on the steps of the Sydney Opera House, on Gadigal land, with the Sydney Symphony Orchestra, Ngaiire's career seems to have no ceiling. She describes it as her favourite performing experience, reminding her of why she is on this path in the first place. She has since performed the same show with the Melbourne Symphony Orchestra and last night got a standing ovation at the Princess Theatre whilst performing with selected musicians from the fabulous Queensland Symphony Orchestra.
She was described by Rolling Stone magazine as "a near-perfect slice of hushed future soul, the muted synths cushioning Ngaiire's endlessly expressive vocal performance." Since her humble beginnings in 2004, when she competed as a semi-finalist in the second season of Australian Idol, she has collected four ARIA award nominations, four National Live Music Awards, and the inaugural Australian Women in Music Award for Artistic Excellence.
Ngaiire's (Ngaire Laun J Joseph) sound is still evolving with her newest neo-soul, gospel-pop being augmented with an orchestral background. As a First Nations Papua New Guinean songwriter she draws on her island experiences and cultural heritage.
Her rare once-only performance last night was part of Open Season - a curated program of music and art running across The Princess Theatre and The Tivoli during winter. Open Season is supported through Arts Queensland, the Live Music Australia Fund and the Restart Investment to Sustain and Expand (RISE) Fund – initiatives of the Australian Government.
The performance was mostly from her latest album Epic 3, which was arranged for orchestra by award-winning composer Alex Turley who won the position of 2022 Young Composer-in-Residence with the Melbourne Symphony Orchestra. The album draws on her journey through her ancestral villages in Papua New Guinea and contrasts with her life now with popular songs such as Moonshine and Shoestring, in collaboration with her producer and co-writer, Jack Grace.
She wore two crazy outfits during the course of the evening, one like an over-sized skinned yeti and the other like a rainbow Kipling's fondant fancy cake. Both were teamed with a blond poofy wig and vivid pink high-heeled cowboy boots with cacti, giving a Dolly Parton vibe. There was a lovely instrumental interlude featuring the QSO when she did her costume change requiring a long-distance run to the changing room and two dressers to help!
Ngaiire was not only joined by the QSO but had her own musicians, a piano player, a drummer and two backing singers. Singer Billy McCarthy took centre stage during the funky song Dirty Hercules resulting in whoops of appreciation from the audience.
Conductor Vanessa Scammell held it all together despite the intrusion of the drummer's sometimes awkward beat. She has a diverse portfolio of work as a conductor of ballet, musical theatre, concert repertoire and opera and her experience seemed valuable on the night.
Brisbanites were privileged to learn that she was sharing her birthday with them for the performance resulting in the audience singing the full chorus of Happy Birthday to the surprised Ngaiire.
Unfortunately, due to the poor sound balance, many of Ngaiire's lyrics were inaudible and the orchestra were lost to the deafening drums. Fortunately, some had no drummer, such as Fall into My Arms, with a melodic harp and even the snare beat from a QSO percussionist. As the orchestra were all at the very back, few could be seen other than Concertmaster Alan Smith, with cellos, double bass and woodwind hidden by a large perspex shield surrounding the drummer.
The eclectic audience seemed to be mostly fans who seemed to ignore the orchestral presence and instead focussed on Ngaiire, who was gracious and spoke a few times between songs, even inviting some to dance at the front, which was eagerly welcomed.
The newly renovated Princess Theatre was a fantastic venue, being the oldest-standing theatre in Queensland built in 1888 and now Brisbane's newest home for live music and performing arts with a meticulous and faithful restoration by the owners of The Tivoli.
There was a standing ovation for Ngaiire and band, the QSO and Vanessa Scammell with a particular mention for cellist Matthew Kinmont and Concertmaster Alan Smith. However, I was surprised that considering the brevity of the concert and the effusiveness of the audience they did not return for an encore, which may have left fans less than satiated.
Ngaiire said it was to be the last of her orchestral shows, indicating that her music may be returning to her more classic poppy-soul style. In a recent interview, she exclaimed that she was working on a new album and that "it feels like the sky is the limit at this point."