Arts Review
Viva Violin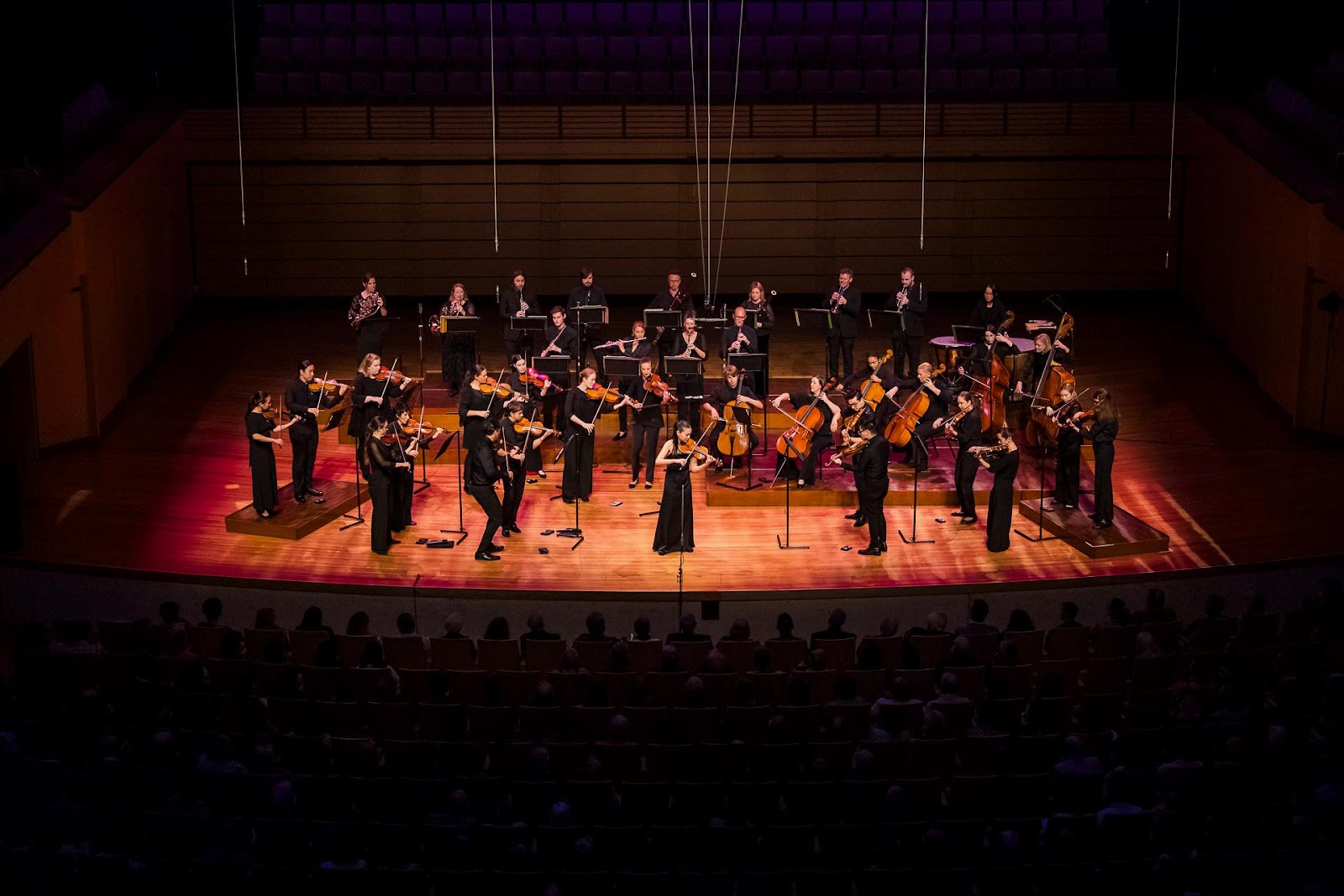 Camerata Presents Viva Violin
Concert Hall, QPAC
Saturday, 5 August 2023
Rossini Overture to Il barbiere di Siviglia (The Barber of Seville)
Mendelssohn Violin Concerto (Concerto in E minor for Violin and Orchestra, Op.64?)
Lin Journey Through Enchanted Landscapes
Mendelssohn Symphony No. 4 in A Major, Op. 90 (Italian Symphony)
Soloist Catherina Lee, violin
Dr Gemma Regan
Lee's performance was a testament to the fantastic work of and vision of Camerata's founder Elizabeth Morgan AM
Always an audience favourite, the Overture to The Barber of Seville, started Camerata's Viva Violin concert with a bang. The effervescent and lively music from this Opera buffa or Italian comic Opera was performed faultlessly by the large chamber orchestra with the first violin Brendan Joyce, at the helm. The strings were accompanied by a fruity French horn, crisp clarinets, oboe and bold bassoons for a frantic start to the concert.
The piece is so well suited to comedy that it has been the inspiration for countless tributes and parodies over its 200-year history. Rossini's score from The Barber of Seville has appeared countless times in pop culture, from Looney Tunes' Bugs Bunny to Seinfeld and even in The Simpsons. Rossini actually took the Overture of The Barber of Seville from his own Aureliano in Palmira and Elisabetta, regina d'Inghilterra. With an indelible influence on pop culture, it has certainly earned its title as a comical masterpiece that is a fan favourite.
Mendelssohn's Violin Concerto featured returning Gold Coast soloist Catherina Lee, who has been described as "one of the most gifted and promising violinists to have emerged from Australia in recent decades." Lee has a connection to the Looney Tunes styled first piece as her musical career was first influenced by watching a cartoon! In a recent interview, she admitted
"I saw a cartoon on a VHS tape with a man playing while all of these colours poured out of his violin until the entire screen was filled. That was the first moment when I told my mum that l'd like to learn how to play the violin."
Now living in Vienna, where she made her solo debut she recently made her debut at the Konzerthaus. She has already played with numerous orchestras, including the Orchestra di Padova e del Veneto, the Vienna Ensemble and the Junge Philharmonie Wien. Lee was fortunate to have been trained by Camerata's founder, Elizabeth Morgan AM, who was dedicated to giving Lee experiences on stage, including playing Liebesleid by Fritz Kreisler with Camerata when she was only nine. Lee even debuted with the Queensland Symphony Orchestra at the age of 13, performing Tchaikovsky's Violin Concerto.
With this history, Lee was excited to play with Camerata's musicians, describing Camerata as "a unique orchestra that shares the values that Elizabeth teaches to all of her students." Lee did indeed seem to feel the weight of her "origin story" while she played Mendelssohn's Concerto in E minor for Violin and Orchestra on her coarse-sounding 1771 GB Guadagnini from Turin.
Technically she was outstanding, but perhaps the magnitude of the occasion was consuming her as she seemed audibly disturbed. Frequently letting out loud cries whilst playing, in the famed style of Serena Williams, which was very off-putting.
Meanwhile, Camerata were on top form for the three superb movements and were a synergistic accompaniment to Lee's solos. It was spectacular to hear the movements running seamlessly from one to the next, with a long bassoon note from Glenn Prohasky suspending the bridge between the first and second movements. The last movement was very Puk-like, with nods to Mendelssohn's Midsummer Night's Dream Overture with flirtatious flutes and Lee's cheeky violin.
Camerata's 2023 Emerging Composer-in-Residence, Ray Lin's new string composition Journey Through Enchanted Landscapes divided the two Mendelssohn pieces. It first premiered on Camerata's recent regional tour of the Whitsunday region, where they travelled 2,620 km to reach over 3,000 people in only 12 days! Lin's six brief movements evoked the sounds of Australia and it was well received with him being clapped onto the stage in appreciation of the work.
The final piece of the concert, Mendelssohn's Italian Symphony, an alternative title for his Symphony No. 4 in A Major, was composed to evoke the sights and sounds of Italy. It is an iconic piece that, having recently just returned from Italy, does encapsulate the Italian's joy for life.
Oozing with olive oil and red wine, the four movements were performed brilliantly by the thirty-six musicians producing the volume of a full orchestra! The famed long tonic A was held well by oboist Eve Newsome and the Tarantella in the fourth movement was frenetic with whirling violas and frenzied flutes.

Overall, Viva Violin was a great concert with a flawless (if noisy) performance by local Catherina Lee, a testament to the fantastic work of and vision of Camerata's founder Elizabeth Morgan AM.