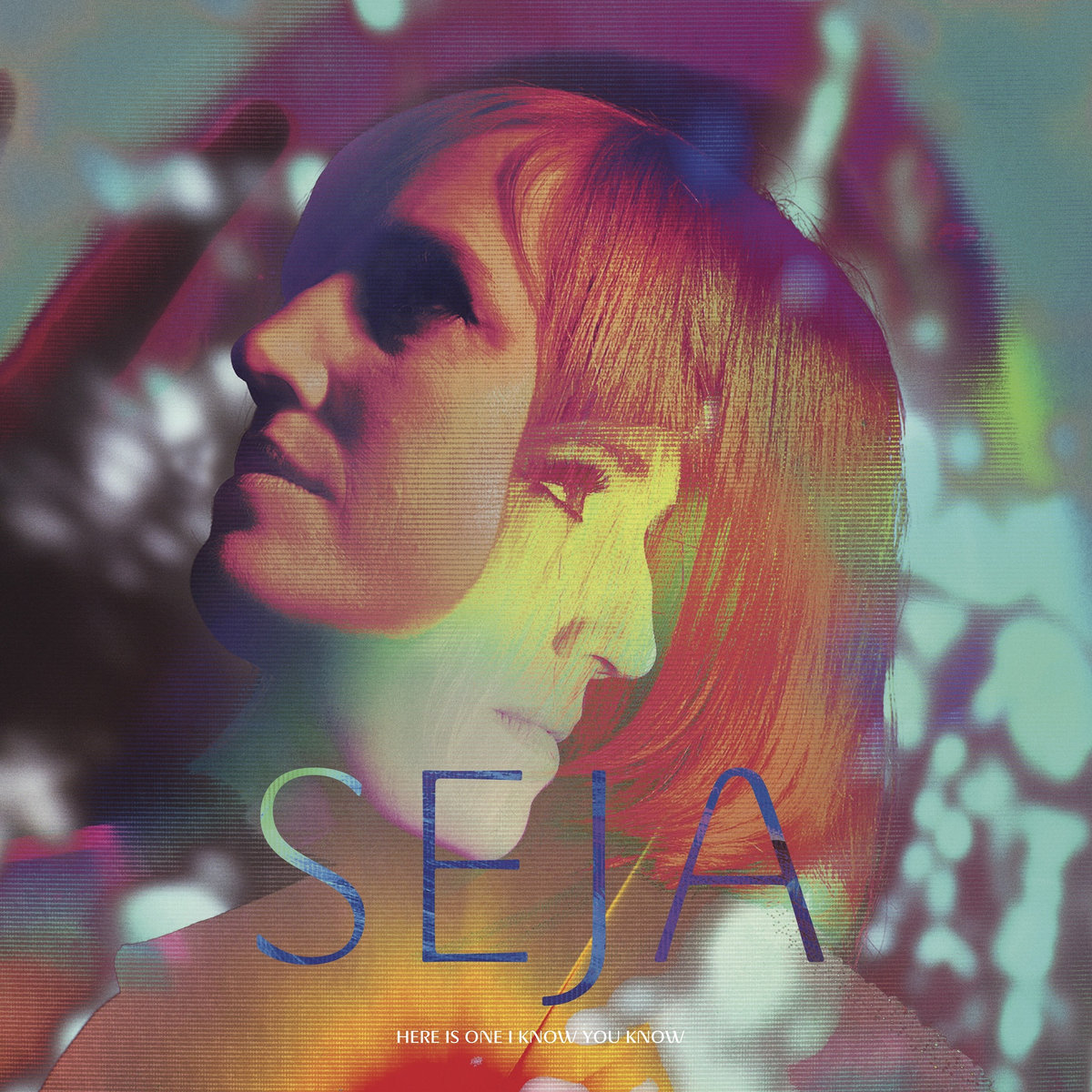 Seja
Here Is One I Know You Know
it
- Seja Vogel returns. You know Seja, right? A core member of bubblegum pop heroes Sekiden, a latter-day, excellent addition to the Regurgitator lineup and a solo artist with an ever growing back-catalogue of well-received records. She's also been collecting, as people often do, when they've been around long enough in the world. In Seja's case, quite appropriately, she collects analogue synthesisers. She has, apparently, a vast trove and tries to show off as many of them as possible on her latest, Here Is One I Know You Know. Perhaps this is what the title means, as she pulls out another ancient keyboard, dusts it off and fires it up. This record is about this beloved bunch of instruments as much as anything else. She once said "I tend to feel much more affected by a beautiful melody than a beautiful lyric" and why not? If you have a listen you may recall when an essential earworm in your past was soundtracked by one of these ancient machines and its sweet synthetic timbre.
That's a pretty wistful sentiment and it's a good fit for the record. She might prefer tunes to words, but what Seja has to say on Here Is One is far from throwaway. The record captures the woman at this point in her life with a clarity and honesty that she hasn't always indulged in the past. As is appropriate for a synth-pop record there's a lot of love-songs and romance here, but Seja reflects on her attachment and analyses her feelings with a philosophical bent and an even-handed maturity.
That's kind of how the record works in terms of genre, too. There's the simplicity of the pure enjoyment of pop, given depth and more complex flavour by excursions into things like krautrock, which is still such an all-encompassing playground for experimentation that it covers just about all of the weirdness that subtly wiggles it's way into the substrates of the record. Sometimes it becomes wonderfully absurd and I can think of no better example than Es Passt with its rollicking beat and delightfully unexpected pedal-steel motif, courtesy of local musician's musician Danny Widicombe. It's so country-tronic I was looking round for Andrew Tuttle to see if he was pulling the strings. Completing the oddity of what's on offer, Seja sings this whole, gentle little love song in German. "In diesem Augenblick / unter den Sternen der nacht / Was anderes weis ich nicht / Es fur uns beide gedacht / Es ist soweit". At this moment under the stars of the night / I don't know anything else / It meant for both of us / This is our time.
In the hazy warm hues of both aging, analogue synths and the similarly soft-focus production, which is the work of both Seja and Hotmagnets (that's Simon from Sekiden), who I believe is another hoarder of keyboards, it can be easy to miss the clever little variations that appear and the contributions by the extensive and star-studded guest list. There's internationally famous folks like Stella from Warpaint and Fred Armisen of all people, who plays tubetoms -or Octobans- on the song Change On The Horizon. The Australians are a veritable who's-who of stylish musos from the last decade or so, including members of Velociraptor, Ball Park Music, Richard In Your Mind and more. Special shout out to Chris Farrer of one of my faves from years ago, The Quickening, on hand for a sick guitar solo whenever they are (fairly regularly) called for.
Gentle, friendly, wistful, wise: just like the title says, Here Is One I Know You Know, Seja is reaching out with this one. The offer is subtle but when you think about it, quite generous. It's a record full of personal insight, the sort of thing that's studious enough, you might want to stop and think what it means for your own life. It's a bit strange to find thoughtful advice for living in pop songs, but I guess Seja is good at both.
- Chris Cobcroft.