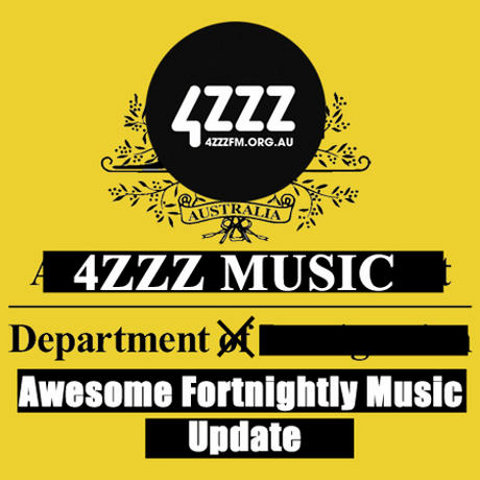 4ZZZ Music Department
Awesome Fortnightly Music Update
It's another list of our favourite things to hit the 4ZZZ Library. If you see anything you like you can request it: requests@4zzz.org.au
You can also SMS a request: 0416 281 220
Or call: 07 3252 1555
Thanks to Adrian Marsh, Louis Whelan, Chloe Willats, Lauren Sachs, Mitch Cutting, Haley Elliott-Maclure, Linda Finlay, Ella Dann-Limon, Krishan Meepe.
Australian Artists:
Various Artists: Sounds Of The South West (WAM)
- This compilation, featuring artists from W.A.'s south-west region, has something for everyone. Showcasing such diverse acts as the indigenous Warangka Band, country popstar Codee-Lee and rockabilly lads The Bloody Hollys, this provides a great cross-section of musical talent from an oft-overlooked area. (Hayley Elliott-Maclure)
Various Artists: Western Fringe Songwriters Network Vol. 2 (Regal Records / MGM / Green)
- Collated by Western Fringe, a songwriter's collective based in Sydney's western suburbs, this compilation features country, folk, rock and acoustic acts from across Australia. If you like strong accents, dusty roads and some bloody old-style slide, tune in and tune out. (Hayley Elliott-Maclure)
Bare Island: Night Songs (Indie)
- Sydney producer Rob Bryant delivers four tracks of downtempo beats. It has a loose, DIY quality, but it makes things feel arty in an outsider kind of way. What stands out most are the auto-tuned vocals, don't know who the girl is, but the strangely android quality she brings to the dark triphop / Vangelis' sound actually works. (Chris Cobcroft)
The Barren Spinsters: Counter Culture (Audioary)
- Hailing from the cultural wasteland of our nation's capital, where fun things go to inject and die, are two-piece outfit The Barren Spinsters, bringing us their country-flavoured brand of classic blues rawk. While not terribly original, it's got some interesting twists and a foot-stompin' rhythm section. Lead singer Brendan Houlahan fills out the sound by playing keybass with his feet, which is slightly stupid and slightly cool. Too cool for Canberra. (Hayley Elliott-Maclure)
The Beards:The Beard Album (Indie)
- Wow. If you're not aware of The Beards and their brilliantly Bearded message, then become aware of them. Superb musicality, humorous yet clever lyrics, and some of the cleanest, tightest harmonies out today, plus some truly awesome sax solos (never enough sax). And of course, this is the most beard related album in the world. The Beard Album. Inspirational. (Mitch Cutting)
Big Blind Ray Trio: Mereki (Single) (Indie)
- Hailing from Sydney, Big Blind Ray Trio plays some honest-to-God blues. The legends of old would be proud of this driving riff and simple strong vocal, bemoaning the cruelty of Mereki herself. (Hayley Elliott-Maclure)
The Bombay Royale: Henna Henna (Single) (Rocket/ HopeStreet / Fuse)
- The Bombay Royale switch on the genre blender again, this time adding a Mariachi band to their high energy Bollywood sound. Ridiculously entertaining as always. (Chris Cobcroft)
The Bombay Royale: The Island of Dr Electrico (Rocket / HopeStreet / Fuse)
- The second LP from Melbourne-based Bollywood surf-funk originals The Bombay Royale, and it's an absolute cracker. Sung mostly in Bengali, this is the soundtrack to a James Bond-esque international super-spy adventure based in Calcutta, with B-movie beach girls and spaghetti western squints, directed by Quentin Tarantino, with moments of 'It Came From Outer Space!' schlock terror. All killer, throw a stick at this and you'll hit something awesome. (Hayley Elliott-Maclure)
Boyeur: Gold Street (Indie)
- Two white boys from Melbourne making a remarkably accomplished blend of very white chamber pop with hip hop beats, and smooth, quiet r'n'b. The chamber pop elements are very straight and there's not anything even remotely threatening about any of the urban elements, which are quite old school, too, so this is music you can take home to mum. Nonetheless it's deftly and cleverly put together, not even just as a collection of songs, but as a carefully curated pop record. (Chris Cobcroft)
Boys Boys Boys!: We Like To Move (Single) (Indie)
- Perth's synth-pop secret, Boys Boys Boys!' brand new single, We Like To Move, is as self explanatory as song names come. With a bass line and catchy guitar riff drawing you in, the song morphs into a shimmering electro-pop track that will not only have you moving but chanting along with it as well. (Lauren Sachs)
Broadwing: The Virus In (Single) (Indie)
- Alice Springs' solo bloke, Ben Allen, makes an intricately worked single. A fast, syncopated drum-beat is played off against a mellow, indie-electronic backing. It's sort of like the sound of mid-2000's Anticon roster, like Why? Or even like their current one and an artist like Baths. Quiet but moody electronic rock-pop. Will appeal to the brooding beard-stroker. (Chris Cobcroft)
Broadwing: Pinhole Camera (Indie)
- After the comparatively frenetic beats of its first single, the rest of Broadwing's EP seems to draw in on itself, the brooding is no more mournful, but quieter, sparser. The melancholy folktronic pop even as it almost disappears is always elegantly constructed, an impressive record. (Chris Cobcroft)
Caitlin Park: The Sleeper (Create/Control)
- The singles leading up to this sometimes didn't make sense to me, but perhaps they needed the context of a full-length. Caitlin Park is certainly a strange brew: her penchant for rootsy, country-tronica with bright pop melodies, led by her deep and mellow voice, is nothing if not unusual. The record as a whole really does come together, balancing its extremely disparate ingredients in a whole that is warmly affirming. (Chris Cobcroft)
Callum: Callum (Indie)
- Quite sludgy and with a slightly unhinged DIY approach, Callum brings together psych, blues, stupendously fuzzy guitar, themes of murder and other moral depravity. In a messy, rambunctious kinda way this is some nasty fun. (Chris Cobcroft)
Cookin' On 3 Burners: Losin' Streak / Mind Made Up (Single) (Freestyle)
- They might not be at the top of the marquee but Cookin' On 3 Burners are one of my favourite Aussie funk outfits. Just a trio, which is miniscule by funk standards, they come heavy on the Hammond and have a sound that's dry, but oh so tight. Great to hear from Daniel Merriweather again, too: the young soul-singer sounds like he's more firmly in charge of his technique, packing a husky but winning baritone and falsetto one-two punch. Bamboos vocalist Kylie Auldist is the other guest and, well, if you can have Kylie Auldist on your record, you should have Kylie Auldist on your record. (Chris Cobcroft)
Dan Peters: Oh Valentine (Single) (Indie)
- Using an array of loops, this inventive and intricate track is something I did not expect from Dan Peters. It is laced with hard-rock progressions and builds nicely. Oh Valentine is an interesting teaser for his forth-coming Everything Is Calmer Underwater. Based in WA, Dan is set to tour the East coast stopping in Brisbane on July 17. (Ella Dann-Limon)
Dark Fair: You Shouldn't Be Mine (Indie)
- Female fronted post-punk out of Melbourne that's surprisingly tuneful, sometimes verging on alt-pop. Most of Dark Fair's influences are quite old school: Joy Division, Blondie, Sleater Kinney and that's quite reasonable, but fans of Savages will certainly find plenty to like, too. (Chris Cobcroft)
Delsinki Records: Tokyo Rose (Indie)
- In this humble reviewer's opinion, there's a rather large difference, a crevasse-load of difference between making derivative blues music from the Deep South in a cold London bedsit, or incorporating traditional African rhythms to spice up your bland indie-pop efforts, and making pirate music. I do not understand the pirate music trend; it's not exactly been a pervading influence on Western music since its inception. Pretty sure the whole modern concept of what pirate music actually sounds like came from Muppet Treasure Island. But hey, I'm no pirate music expert. NO ONE IS.
Anywho, various influences abound on the Tokyo Rose EP, occasionally complementing, frequently clashing. Metal, alt-rock, gypsy, pirate and folk all get a look-in but a cohesive picture never really emerges. There are some very cool string sections, some interesting alternative percussion and some puzzling vocal choices. (Hayley Elliott-Maclure)
Ears: Porcelain Giants (Indie / Free The Beats)
- Multi-disciplinary artist Daniel O'Toole A.K.A. Ears has created a detailed and exquisite soundscape within Porcelain Giants. Comprised mostly of fuzzy synths, analogue drum sounds, dub and hip hop inspired beats and some unidentifiable crunchy glitch-noise, this release is as texturally dense and multi-layered as O'Toole's artwork, as though you could reach out and stroke it, or maybe take a bite. (Hayley Elliott-Maclure)
Ela Stiles: Drone Transitions (Singles) (Bedroom Suck Records)
- Ela's work in Songs or Bushwalking won't prepare you for the sparse, acapella, basically hillbilly folk here. On the a-side her heavily produced voice becomes a de facto synthesiser and the overall effect is something a bit like Dead Can Dance, or maybe Enya. The b-side, Kumbh Mela, is more like what you might expect -Mountain Man or Aluka- pretty but mournful harmonising. (Chris Cobcroft)
Fait: Atmosphere (Indie)
- Elise Higgins' Perth based group make post-rock which -for the most part- is a study in restraint. Of the five tracks, most of them dwell on a textured, ambient drone. You could take the whole EP as one track, rising to its huge apex in the penultimate number, Surrender To. An interesting take on post-rock and -for its subtlety alone- worth taking on board. (Chris Cobcroft)
Guerre: Deatheat (Single) (Yes Please / Remote Control)
- A stunning example of ambient electronica from Sydney producer Lavurn Lee, A.K.A. Guerre. Dreamy pad sounds, gorgeous glitchy Afro-beat percussion and soulful, doleful vocals swimming throughout create a fragile, textured web in which it's all too easy to become repeatedly ensnared. It's really exciting to watch him interpolate the world / dance elements of his Cassius Select project into the future r'n'b of Guerre. Smarts like this make him one of the most exciting voices in electronic music in Australia. (Hayley Elliott-Maclure & Chris Cobcroft)
GUM: Misunderstanding (Single) (Spinning Top)
- GUM is led by multi-instrumentalist Jay Watson. Two cuts of slow and swirling, pleasantly fuzzy psych pop-rock. Actually really liking the b-side, which has huge, space-rock aspirations. (Louis Whelan & Chris Cobcroft)
The Harpoons: Unforgettable (Friendships Remix) (Single) (Two Bright Lakes / Remote Control Records)
- The Harpoons' original track wasn't too bad, but Friendships' remix is really exciting. Everything gets synthed up, the vocals get chopped and screwed, sometimes it sounds like juke house, sometimes like future r'n'b. The beats are menacing, the bass is vicious; this is great. (Chris Cobcroft)
Harvey Sutherland: Edges (Echovolt)
- Melbourne beatmaker Harvey Sutherland brings electro heavy, quite old school techno and gives it a jazzy, soulful twist. It sits subtly, but almost perfectly on the cutting-edge of fashion. A real pleasure. (Chris Cobcroft)
The Hipstones: Wise Man (Indie)
- The NY based Aussies, as they'll proudly tell you, crowd-funded this album. It's not surprising that people want a part of this. The mood indigo soul-jazz has a lot to recommend it: the songwriting and, in particular, the orchestration, is lush. The only thing that feels slightly less than 100% convincing, are the vocalists who sound just too young and white. Can I get a George Benson or a Sharron Jones? It's a small gripe, these guys are pretty bloody good. (Chris Cobcroft)
Hailmary: Navigate The Sunrise (Black Wolf Records / Third Verse)
- This hard-blues-rocking Perth band owe a debt to Clutch, right down to the old-timey religious overtones. Any band that can come even close to that is worth a look, I reckon. They also do other things, however. Mostly it's the close vocal harmonies, which could be a bit prog-metal, or you could just say it sounds like Alice In Chains. It adds just a little bit of melodic sweetness to the brutal guts of the sound. (Chris Cobcroft)
The Icypoles: My World Was Made For You (Lost And Lonesome)
- The Icypoles are a four-piece all girl outfit from Melbourne. The title of their newest album, My World Was Made For You, truly says it all, with all 13 tracks exploring the ins and outs of crushes, love and heartbreak. While tracks such as Gotta Stop It almost feel like they might have been taken straight from a 1960's Top 50 pop compilation, The Icypoles have certainly incorporated their own modern folk and indie influences. This album is quirky, corny and altogether, pretty fun. (Louis Whelan)
Jo Meares: King Of The Crystal Mountain (Indie)
- Jo Meares does less spoken word than he does rasping whisper and he does it with his veteran country-folk band, so this ends up sounding a bit like Leonard Cohen, Tom Waits or Lee Hazelwood. (Chris Cobcroft)
The Jones Rival: Uncle Frank (Single) (Indie)
- A nice, strong follow up single for Jumping Frog. Bound to get your head bopping in time to the catchy garage-blues guitar licks and singing unashamedly loudly along to the chorus. (Linda Finlay)
Joseph Tawadros: Permission To Evaporate (ABC / Universal)
- Posessing an incredible mastery of the oud (guitar like thing), Joseph Tawadros dances effortlessly through beautiful and challenging compositions. Backed up by jazz royalty Mike Stern and Christian McBride, the melding of Egyptian and jazz influences on this album contain endless intricacy as well as melodies you can hum without passing out. (Krishan Meepe)
Juxtpose: I Heart Robot (Single) (Tsugu)
- Difficult to describe this track by the Melbourne producer. Pumping techno / electro, with soaring, epic ambient synths. If techno comes in 'maximal', this may be it. Quite interesting. (Chris Cobcroft)
La Bastard: Promise Me (Single) (Indie)
- Rockabilly with surf chops. It could have just that bit more of a feral snarl. It might not be the most rabid dog in the yard, but La Bastard are still super tight. (Chris Cobcroft)
Lowtide: Blue Movie (Single) (Indie)
- Slow, drifting dreampop, it broadens into shoegaze, male vox joining the female and the bright treble sheen of the guitars are a little overawing. Simple but effective. (Chris Cobcroft)
Luluc: Without A Face (Single) (Subpop / Mistletone)
- You know you're doing something right when Aaron Dessner volunteers to produce your record. Also an Aussie band getting released by Sub Pop, that doesn't happen very often. Even stranger when you hear the music: sounds a bit like Joni Mitchell, but Zoe Randell's voice is pitched lower, almost as low as Nico. This is quiet and beautiful. (Chris Cobcroft)
Mia Dyson: Idyllwild (Black Door / MGM)
- For some reason you don't see many female artists tackling the blues genre (I'll always remember you, Abbe May - Ed.), so it's refreshing to see Melbourne based Mia Dyson doing it as well as always. She's got her catchy blues-rock formula down pat, more so than ever, and with a real emphasis on the 'catchy' and 'rock' parts. Once again, there's something of The Boss in Mia's style, and anyone who has that is doing alright. (Louis Whelan & Chris Cobcroft)
Motion: Syllepsis (Wood and Wire)
- Five improvised pieces from experimental cross-state (Sydney/Melbourne/Perth) group Motion. Ranging from sparse minimalism to chaotic avant-garde jazz sometimes all within the one track. The use of subtle electronics, scraping and crunching alongside bass, drums, keys and saxophone places them into a genre of their own and makes for a unique and enjoyable listen. (Adrian Marsh)
North Arm: Hollow Days (Single) (Indie)
- Lushly reverberant, the ghostly psych-pop of North Arm hits you like a dappling of sunshine through the leaves on a bright, autumn day. Underlying all the production wizardry (by J Walker) is classic '80's & '90's alt-pop-rock songwriting. The occasional falsetto is slightly off-putting, but as the title, Hollow Days, is repeated again and again, it has the melancholy insistence of Elliott Smith or Buffalo Tom. (Chris Cobcroft)
The Pro-Tools: MISANTHRO-PC (Conquest Of Noise)
- Aaah, Adelaide punk. Nothing like it! Consisting of the self-professed "most troublesome, difficult and arrogant members of all their respective bands, former and current", The Pro-Tools stick it to us all with an EP full of bratty sniping, sexual bragging and riffs. So many riffs. 'You Make Me Wanna Cheat On My Girlfriend' is a standout. (Hayley Elliott Maclure)
Revellers: Your Round (Whisk & Key Records)
- Excellent melodic punk out of Canberra. Fast, tight and just the right balance of brutality (especially in the vocals) vs. cheesily wistful, Gaslight Anthem, fist-pumping fodder. Jeez, it's hardly reinventing the wheel, but for every 'punk' band that has no right to the name, here's how it's done. (Chris Cobcroft)
Russo: Out Of Time (Single) (The A&R Department)
- 90's neo-soul! A tinny old hiphop beat and the modern bass kept tastefully in the background. Russo's vocal makes this sound like Soul II Soul or Neneh Cherry. Nice slice of nostalgia. (Chris Cobcroft)
SHINOBI: Snakeskin (Single) (Indie)
- Straight up, hard rock. It's gotta be straight to be featured on Nine's Wide World Of Sports (twice!), but SHINOBI are also pretty pleasingly short on bull****. The production is flat but the guitars just smash straight on through. The band are inspired, in part, by the similarly simple and brutal sounds of Helmet, but they cleave more closely to another band they like: Foo Fighters. Foo Fighters have always managed, enviably, to appeal to critics and bros alike. SHINOBI have some of the same magic. (Chris Cobcroft)
Sia: Chandelier (Single) (Monkey Puzzle / RCA / Sony)
- I haven't liked some of the stuff Sia has done with her new, superstar friends, certainly not as much as the best of the now clearly, super-underrated pop she made in Australia. This single, however, bonds the sounds she's been making lately with something that seems more purely Sia. The verses sound like Rihanna, but the chorus is all Sia and throat-shreddingly heartfelt too. It's a testament to the struggle Sia's had to get where she is. (Chris Cobcroft)
Starboard Cannons: The Valiant And The Brave (Indie / Vitamin)
- Very intimately produced, quiet (trad) folk from a duo well known for it. Bittersweet ballads full of mournful mouth-organ and reckless fiddling. If you haven't got your own reason to weep into your Bushmills, SC can provide one. (Chris Cobcroft)
Straight Arrows: Petrified (Single) (Rice Is Nice)
- The much-lauded Straight Arrows return to do some slow garage pummeling. The nasally drawling and regular groove is sprinkled with just a touch of psychedelic sparkle dust, giving the garage gurus a mystical edge. (Chris Cobcroft)
Tom E. Lewis: Reckless (Single) (Skinnyfish Music / MGM)
- More of Lewis' accomplished country-blues on this wistful ballad. The scoop to his voice makes him sound like Dylan, every now and then. (Chris Cobcroft)
The Tambourine Girls: The End Of Time (Indie)
- The solo project of Simon Relf of Deep Sea Arcade fame. It's lush and tuneful psych rock. For a musician and composer who's so neat and tidy, it's a wonder he keeps choosing to work in genres as inherently messy as psych and garage. For that reason The End Of Time suffers, just like DSA did, but in the same way it's very accomplished. I expect a lot of folks will want to listen to this. (Chris Cobcroft)
Violet Swells: The Soft Focus (Indie)
- To say that Violet Swells are very well versed in the history of psychedelia is almost certainly an understatement and they put this expertise to work lavishly on this EP. The singles are up the front -Into The Ether & Jupiter's Garden- and they're pretty pleasant, warmly lo-fi, Beatles-esque psych-pop. The cinematic instrumental, Miracles Of A Clockwork Kingdom, however, is mind-bendingly impressive; the AM warmth on the string-section almost becomes distortion and the whole thing is just a huge headtrip. The title track is a big finish, sounding impressively like early Pink Floyd. I didn't see this record coming and it's a very pleasant surprise.
Waterford: All That Gold (Single) (Indie)
- An interesting tidbit from Canberrian four piece Waterford. Alt-rock that frequently wanders into Brit/power pop territory a lá The Only Ones. An enjoyable grower. (Hayley Elliott-Maclure)
Local Artists:
Black Pines: Harsh Out (Wood and Wire)
- Ian Rogers of No Anchor and Benjamin Thompson of The Rational Academy turn up the amps and blend together harsh distorted guitar, yelled vocals, and the reverberating crunch that hovers around each track, engulfing, erupting but always in control. Closing track Sacher-Masoch, lowers the distortion and provides a warm guitar-ambience/spoken-word ending to an intense journey from two of Brisbane's finest noise makers. (Adrian Marsh)
Brianna Carpenter: On So It Goes (Fringe)
- Brianna Carpenter can do the indie-folk thing with the best of them, but fortunately she can do other things besides. On So It Goes really benefits from the diversity of elements. Country-folk, a bit of trad, melancholy soft rock, a little bit of jazz croon and torch song. Every song is crisply, expertly produced. She's a real operator. (Chris Cobcroft)
Chocolate Strings: Playing Pretend / Polyamory (Single) (Indie)
- Two new tracks from the well-established group. Soul-jazz and reggae make for an easy-going warmth and Chocolate Strings only amplify it with the other nu-roots elements they bring to the mix. Music to wear straw hats and no shoes to. (Chris Cobcroft)
The Cairos: Dream Of Reason (Island / Universal)
- It's been a long wait for The Cairos' new album. But you know what they say about good things and how they are received by patient people (or something like that). Sonically interesting, filled with empty vocals and mournful guitars, tight harmonies and all sorts of noise, Dream Of Reason is definitely worth a listen if you like the more alternative side of rock. (Mitch Cutting)
GOVS: Australian Summer (Single) (Indie)
- GOVS reminds me a lot of Oliver Tank, another Australian dream-pop, electronic artist with soft, angelic tracks. Australian Summer seems to suit a slow-motioned advertisement for Splendour In The Grass. It captures a Gold Coast, sunset over the beach kinda feel. (Ella Dann-Limon)
His Merry Men: Ruthless (Indie)
- I've sometimes wondered whether I'm a bit biased towards the local team, but His Merry Men's new EP confirms that the Brisbane funksters are every bit as good as their southern competition. There's some typically West End gimmickry (a-la Astrid & The Asteroids) on tracks like Gold, and I feel like the band are so good they'd be better off without it, but it can't obscure the superb chops, underlying strength of songwriting, fine production and Megan Crocombe's ever increasing skill as a vocalist. Deeply impressive. (Chris Cobcroft)
Hits: Hikikomori (Conquest of Noise)
- Very loud and quite tight too, with production that brings out the punishment, but leaves the detail intact. On their latest full-length, Hits sound like a finely-tuned bruising machine. It's rock'n'roll, but it's full-strength. Lots of people think they like hard rock, but really they're just into some soft-cock imitation. This isn't. (Chris Cobcroft)
John Chantler: Even Clean Hands Damage the Work (Room40)
- Once a local artist, now a long time Londoner, John Chantler continues his textural explorations with modular synthesisers. Warm tones slowly evolve through distortion and static, other tones flicker like stars, forming disjointed melodies. Five carefully composed movements (compiled as two tracks) constructed over a two year period showcasing an appreciation for vintage electronic
instruments and attention-to-detail drone. (Adrian Marsh)
Laneous & The Family Yah: My Care To You (Indie)
- It's been a while since Brisbane has heard anything new from local neo-soul legends, Laneous & The Family Yah, and it's about time we did. Their new single My Care To You is everything that you could want in a Family Yah track, driven by the usual synth-pop melodies and Laneous' uniquely soulful lead vocals. The unusual oriental sounding instrument that drones throughout the track is an odd addition, but somehow works perfectly within the mix, putting a twist on another classic Laneous track. (Louis Whelan)
Lulu And The Cutthroats: Skeletons (Indie)
-This Brisbane gang give us their latest EP, Skeletons, and I'm really enjoying these tracks. They have a folk-rock feel, a bit of indie-rock and then a lovely track, Fault Lines, that softens their slightly heavier tracks. This EP has very similar sounds to The Jezabels, but with a hint of softer folk. I'm interested to hear what these guys bring us in the future. (Ella Dann-Limon)
Moski Jo: Gypsy Caravan (Single) (Indie)
- Despite being quite a new act, local folk kids Moski Jo are already making quite an impression on the Brisbane folk scene. Their recent single Gypsy Caravan pretty much encapsulates the band's vibe; however it doesn't quite reach the level of energy that people can expect at one of their live performances. Nonetheless, the track is bursting with folk/gypsy attitude and is definitely worth checking out. (Louis Whelan)
Red In Tooth: Red In Tooth (Indie)
- This Gladstone trio call themselves prog-metal, but there's probably more about them that's hardcore. Slow moving, comparatively sparse, with vocal power that sounds like NY of old. Still quite tuneful and just well put together, this is a great EP.
Rivermouth: Propaganda / Are We Cool Yet? (Single) (Indie)
- Overtly political hip hop with live, jazz-breaks, featuring members of a number of Brisbane bands (including The Mouldy Lovers, Gunk and Truth Serum). The political venom and philosophical musing are very earnest, but this crew become sharper with every release. (Chris Cobcroft)
The Skinnie Finches: The Attitudes (Indie)
- Messy, DIY but punchy, energetic and even upbeat alt-rock. Underneath the disorder there's also a hard core of uncompromising post-punk. There are echoes of both Shellac and The Pixies here, and it makes me keen to catch more of The Skinnie Finches. (Chris Cobcroft)
Tree & Ray: I Am Not Lost (Indie)
- Often fairly twee folk-pop, but with a range of instrumentation (brass, synths) stylistic variation and an unassuming DIY quality that makes this a fresh and unlikely pleasure. (Chris Cobcroft)
The Unofficials Live At Psych Night IV (Indie)
- Fairly lo-rez (coz it's live, duh), but remarkably strong and long cuts of psych-prog from this band. Even if this weren't a live jam, it would be quite impressive. (Chris Cobcroft)
New Zealand Artists:
Kimbra: 90's Music (Single) (Warner)
- It's ironic, given the title, that this is the most modern sounding track I've ever heard out of Kimbra, but it's kinda the point , I suppose -coming back and everything's changed- so, not ironic then. On another note, it sure sounds like the time she's been spending with Janelle Monet has had an influence. Bass heavy trap beats meet with future r'n'b and other sonic weirdness, the sort of stuff that Kimbra's relentlessly avant-urban friend has made her own. I honestly don't know how it will play to the fanbase, but I think it's pretty impressive. It has that same, irrepressible, experimental spirit that first made me excited about Kimbra, unlike the back of her debut album where she started to sound like Kylie. More please! (Chris Cobcroft)
Popstrangers: Tonight (Single) (Car Park / Spunk)
- Comparatively straight-up, dark indie-rock from the unpredictable Kiwis. I think if the whole album sounded like this I'd probably be a bit glum, but I already know it doesn't. You have your accessible single, I'll have the psych-art-rock madness. (Chris Cobcroft)
Overseas Artists:
Various Artists: Shapes:Rectangles (Tru Thoughts)
- One of the advantages of having a roster as diverse as Tru Thoughts is that you can make a pretty sweet mixtape. This latest label comp starts with the wonky of Lost Midas, progresses in Harleighblu's future funk, Nostalgia 77 provides downtempo jazz-funk, Quantic throws in Colombian Curulao… on and on it goes. The two discs are stuffed full of diverse sounds, united by a loungey but highly rhythmic, urban, world vibe. Excellent to get down to, or for a dinner-party, or just enjoyed as a headphone masterpiece. Probably shouldn't need a reminder how good Tru Thoughts is as a label, but this certainly does it. (Chris Cobcroft)
Arkon Fly: 4 My People / Through The Fire (Single) (Locked On / etcetc)
- This London duo do a very fresh blend of electro-funk with house. It's great because the pair are quite good at funk and it keeps their house jams from ever becoming repetitive or boring. (Chris Cobcroft)
Amen Dunes: Lilac In Hand (Single) (Sacred Bones)
- Lilac In Hand is a single off New York based outfit, Amen Dunes, forthcoming debut album, Love. Listing this single under only one genre -say garage- is near impossible to do, as a whole range of influences radiate throughout this paradoxically laidback but also incendiary track. While the 70's folk influence is undeniable, from the guitar part to lead singer Damon McMahon's vocals, the single also features a jazzy piano backing, tribal percussion and psychedelically laced backing vocals. (Louis Whelan)
Black Milk: Glitches In The Break (Decon)
- Perennial hip hop underdog, Black Milk, released another diamond in the rough for Record Store Day. What should have been a collection of odds and ends turned out to be an unexpectedly cohesive item. Great beats (natch, it's always been his strong suit), nice guests (including Guilty Simpson), neatly tying old together with new. One of the highlights of Record Store Day. (Chris Cobcroft)
Bo Ningen: III (Stolen / Pias / Mushroom)
- The crazy combo of psych and punk (or really, often, post-punk) across III, ends up sounding like a very tense kind of prog-rock, even artcore. It's insane and -as a non-Japanese speaker- impenetrable, but still highly exhilarating. (Chris Cobcroft)
Bloody Hammers: Under Satan's Sun (Napalm Records)
- Hard, ballsy rock. Full of fat guitars with distortion to spare. Though Under Satan's Sun is still somehow strangely melodic and hooky. Definitely worth checking out if you like chuggy riffs and interesting, dark lyrics. (Mitch Cutting)
Bombay Bicycle Club: Feel (Single) (Island / Universal)
- This track is the polar opposite to Bombay's previous stuff. It begins with a sample of Hindu music before launching into a Britpop hybrid of the two genres. This is super-uplifting, very catchy, and definitely a different direction for the English four-piece. It feels as if this track should be the closing number to a Bollywood film complete with synchronised dancing by all band members. As jarring as it is to hear these guys create something so different, it's a lot of fun. (Ella Dann-Limon)
Black Bombaim & La La La Ressonance: Black Bombaim & La La La Ressonance (PAD)
- These two Portuguese bands team up for something great. You could call it all instrumental prog-rock, but that doesn't do it justice: there's elements of kraut, space-rock, doom, jazz, latin and more, going on in these long but intricately created tracks. I've heard quite a lot of this kind of music, lately, but little that really compares. (Chris Cobcroft)
Cretin Stompers: Looking Forward To Being Attacked (Hozac Records)
- Punk-infused futuristic fuzz-pop resulting from a long-distance collaboration from members of WAVVES, Boston Chinks, Magic Kids and Big Muff Radio. Alternating between dreamy and snarly, optimistic and introspective, this is cool beans but a big effort, growing slightly tiring after the seventh or eighth song. (Hayley Elliott-Maclure)
Coldplay: A Sky Full Of Stars (Single) (Universal Music)
- This is the second single from Coldplay's forth-coming sixth album, and it's a whole new sound for the band. This is a synth-pop-rock track that also transforms into dance-rock during the chorus. There is an epic quality to the way this song builds between verses and a crescendo ending with a four-to-the-floor drive. Is this how the whole new album sounds? It builds a bit of anticipation for the record. (Ella Dann-Limon)
Dantiez Saunderson & La Rae Starr: The Harp (KMS / EPM)
- Prolific as his father, Kevin, Dantiez Saunderson busts out another cut. Strangely, although it starts out in pounding techno, about two minutes in we ease up into something quite Latin and surprisingly relaxing, too. With vocalist La Rae Starr, it ends up sounding like something Bonobo would do. Remixes comprise some really squelchy bass, some decidedly syncopated, experimental dub-techno and something decidedly newage - maximising on the harp, which does so much to take the edge off the original. Quite interesting. (Chris Cobcroft)
De Lux: It All Works All The Time (Single) (Create / Control)
- There's really no made effort to hide the Talking Heads tribute going on here, and it's such an adoringly effective one that it's hard to fault them. Ever-so-slightly naff art pop that is plenty funky, well-orchestrated and just plain fun. (Chris Cobcroft)
De Lux: Voyage (Create/Control)
- The Talking Heads feel that was so evident on advance single It All Works All The Time, is a little diluted on the album (although not much, and that's still not a problem at all). The interest in arty dance-punk is always front and centre and it's great. When they don't sound like David Byrne they sound a bit like !!! at their best and if you don't think that's the best compliment you'll hear all day then you're aiming too darn high. (Chris Cobcroft)
Freddie Gibbs And Madlib: Piñata (Madlib Invazion)
- The old school warmth of the Beat Konducta plays off nicely against new school gangster Freddie Gibbs. A surprisingly successful collaboration, worth all the props it's received. (Chris Cobcroft)
Glass Animals: Pools (Single) (Wolftone / Caroline / Universal)
- This exotic sounding track is very catchy. The use of drum pads, cow bells, and congas gives this track a jungle feel with wispy vocals and harmonies. Even the name of the track is cooling and relaxing. It has something analogous to a dream-pop vibe, if dream-pop came out of West Africa, and it makes you feel pretty good. (Ella Dann-Limon)
GROoVAi: Postcard from Varanasi (Indie)
- GROoVAi are a fusion of modern Jazz and Indian Classical Carnatic and Hindustani music. In fact, the album was recorded under the watchful eye of master Tabla player, Pandid Ishwar lal Mishra. And if you know what that means and find that exciting, you should source GROoVAi. Definitely an interesting listen for anyone looking to see what happens when musical cultures come together. (Mitch Cutting)
Gruff Rhys: American Interior (Caroline / Universal)
- The Super Furry Animals frontman's latest foray might seem to be a little dad-rock for some, and if it seems a little dry, it is -at least in part- a soundtrack for a multi-media documentary presentation about GR's ill-fated explorer ancestor, John Evans. Having said that, Rhys has always been quite dry and dad-rock and this is some of the most on-point work he's done. (Chris Cobcroft)
The Horrors: Luminous (XL / Remote Control)
- On The Horrors' latest, the emphasis is on thickly textured, tuneful psych rock. They're a band that has changed a lot and one from whom quite a lot has been expected, so the potential for disappointment is ever-present. Having said that, the super thickly textured psych -an echo of their old shoegaze interests?- takes a record of good pop tunes and turns them into something mind-bending. It's a good plan, warmly and fully realised. (Chris Cobcroft)
Hurray For The Riff Raff: Blue Ridge Mountain (Single) (ATO / Pias / Mushroom)
- More trad-folk from a New Orleans band who are authentic enough to even engage in train-jumping. Their frontwoman's deep alto brings further warmth, if any was needed, to this surprisingly lush hillbilly music. (Chris Cobcroft)
Jon Hopkins: We Disappear Ft.Lulu James (Single) (Domino / EMI)
- I wasn't terribly sold on Jon Hopkins reworking of Breathe with Megan James of Purity Ring. Lulu James' ambient / soul / bass music thing seems much more like it would fit somewhere into Hopkins' Immunity, and it does. Her melancholy keening lifts slowly over the top of Hopkins' glitchy beats. They're too energised to really lull everything into a triphop vibe; instead this not quite downbeat / not quite edm cut is both something beautiful but also deeply unsettling. Reminds me just how good the original record was. (Chris Cobcroft)
Killer Be Killed: I.E.D (Single) (Bullet Proof / Nuclear Blast)
- The ridiculously supergroupy Killer Be Killed (Dillinger Escape Plan's Greg Puciato, Sepultura's Max Cavalera, Mastodon's Troy Sanders & The Mars Volta's Dave Elitch) continue to sound as good as they each, individually can, rather than arriving at the lowest common-denominator disappointment you'd expect. F***ing metal!
Lantlôs: Melting Sun (Prophecy)
- The German post-black metallers, on their 4th record, do a very listenable mixture of black metal, post-rock and doom. The mostly instrumental sound has the epic quality of post-rock with a truly glorious timbre in the rhythm guitar. All of these things together end up sounding like prog-metal and some of the best prog-metal I've heard in ages. (Chris Cobcroft)
Liars: Pro Anti Anti (Single) (Mute / Create/Control)
Brooding new single from Liars' frenetic release, Mess. Synths seethe throughout this track building tension at every turn. The off kilter vocals add to the dancibility, even if they are monotonous, and as an added bonue, will surely get in your head and tear it apart from the inside out. (Krishan Meepe)
Little Dragon: Nabuma Rubberband (Warner)
- In a market increasingly crowded with everybody's emulation of Portishead and Massive Attack, Swedish crew Little Dragon have stayed ahead of the pack. Smoothly seductive r'n'b whispers, chilling ambient backgrounds, poised downbeat and techy electro dance beats. All of these things find their way into a sound so understated as to be sparse. A tribute to European efficiency and style. (Chris Cobcroft)
Lykke Li: I Never Learn (Atlantic / Warner)
- Lush and dreamy but also slow and melancholy pop is the vehicle for this break-up album, full of anguish and desolation, but never so bitter that it loses its essential sweetness. (Chris Cobcroft)
Mastodon: High Road (Single) (Reprise / Relapse)
- Given the perfect crossover success of Mastodon's last record, I was a bit worried they might slip into something comfortably pop, this time round. Actually it sounds like they might be pulling off that tightrope act again. Thundering guitar sound meets stupendously muscular but soaring and melodic vocals. Just the right amount of pretty and of poison. (Chris Cobcroft)
Michael Jackson: Love Never Felt So Good (Single) (Sony)
- A new MJ record was always going to feel a bit strange. The old school disco of this single is...good. MJ's vocal has a strangely lo-rez quality, which kinda suits the AM warmth of the old disco sound. The lack of fidelity almost feels like you're hearing a voice from another room, or from beyond the grave. Without being cheap, there's something the tiniest bit eerie about this. (Chris Cobcroft)
Mumbai Science: Deja Vu (Lektroluv / One Love)
- A slightly less ambitious update on Vogue? It's probably because of all the ennuis. Slightly more electro though, and that synth line is undeniably good. (Chris Cobcroft)
Owen Pallett: In Conflict (Domino / EMI)
- The unique talent of Owen Pallett returns in album format for the first time in four years. It's interesting, for someone who's such an in-demand arranger of strings, their presence on In Conflict often seems muted. The strings, brass and synths still provide moments of astonishing (bizarre, interstellar) beauty, but often it feels like a single piano might have been what was called for. I think it's because the focus is so firmly on what Pallett has to say. Topically diverse but rarely less than profound: death, depression, addiction, loss and their philosophical implications all get a look in. Owen Pallett remains strange and beautiful. (Chris Cobcroft)
Pasadena Napalm Division: Pasadena Napalm Division (Minus Head)
- Authentically old-school hardcore / thrash out of Texas and fronted by Kurt Brecht of D.R.I.. (Chris Cobcroft)
Quirke: Break A Mirrored Leg (Single) (Young Turks / Remote Control)
- The stuttering beat which is across all ranges, right down to a cataclysmic bass, fires like a machinegun against a background that is otherwise, quite ambient. This single is as exciting as when I first heard TNGHT's EP. (Chris Cobcroft)
The Roots: When The People Cheer (Single) (Def Jam / Universal)
- This latest single from The Roots is a teaser for their forthcoming album, and it delivers a bit of a slower feel. I'm still so impressed by anything these guys create, their technical skill as a hip-hop band is still flawless, I'm very excited to hear the album. (Ella Dann-Limon)
Sizzla: Born A King (Kalonji / Muti)
- Sizzla Kalonji is a prolific Jamaican veteran (he's a thirty-eight year old with forty-five records) and Born A King is gritty and very contemporary reggae / dancehall, laced with politics. Fortunately it's blissfully short on autotune, maybe because it was produced in collaboration with Melbourne luminary Mister Savona. Although Sizzla has been linked to a turn away from thug culture and a return to Rastifarian values, he's also been known to let fly some pretty homophobic "anti-batty-boy" sentiments, so this is a curious pairing in some ways. Certainly, whatever its conscious aspirations it never abandons the essential grit of Sizzla's style (Ella Dann-Limon & Chris Cobcroft)
Sonny Rollins: Road Shows Vol 3. (Emarcy / Sony)
- If you're anything like me, you truly and wholeheartedly miss the self indulgent sax solos from the jazz-fusion albums of yester-year. But fear not fine citizens, for Sonny Rollins is HEAR to save you (that's a pun) (a terrible, terrible pun). If smooth, hyper technical sax solos are your thing, then get your hands on Road Shows Vol 3. by Sonny Rollins. (Mitch Cutting)
Taylor Mcferrin: Early Riser (Brainfeeder / Inertia)
- Bobby's boy, Taylor, lays down his first full-length on Flying Lotus' Brainfeeder label. It's a very appropriate place for it, sounding right at home rubbing shoulders with the likes of Thundercat and Flylo himself. Jazz-fusion with quite techy beats, it's still very laidback, soulful and hypnotic as anything. (Chris Cobcroft)
TEEN: The Way And The Color (Stop Start/Carpark Records)
- Teeny Lieberson and her synthpop crew return and try a lot of different things on this new record. There's a sort of new-wave / post-punk / electro, that even verges on fairly uncompromising kraut-rock, but there's also art-pop bonded with neo-soul and that single Not For Long with its hip hop / r'n'b hybrid. Many of the experiments are weird, just by themselves. Throw them altogether and The Way And The Color is just a giant gumbo of ideas. They don't all work, especially not in this hodge podge format, but if you're game, there's tons to keep you interested. (Chris Cobcroft)
Tiga VS Audion: Fever (New Remixes) (OneLove)
- The second release from production duo Tiga VS Audion - Fever precedes their joint 2014 tour. Laced with brilliant remixes such as the disco-house Tom Trago rendition, this album adds some tastiness to the already great track. (Chloe Willats)
Timber Timbre: Hot Dreams (Single) (Arts & Crafts / Create/Control)
- Single from the very well received fifth album by Canadian Taylor Kirk's band. Like a slightly loungier Bill Callahan? Disingenuously naive, slightly demented, a little lurid and inappropriate. Perfect. (Chris Cobcroft)
Tori Amos: Unrepentant Geraldines (Mercury Classics / Universal)
- Unrepentant Geraldines is the 14th studio album released by influential artist Tori Amos, a quirky pop/rock evolution from its predecessors. With a melancholic undertone, the piano carries you away on another Amos' journey. While there are more lullaby numbers than upbeat ones, the album confirms her identity as a creator and innovator of contemporary songs. (Lauren Sachs)
Trans AM: Volume X (Thrill Jockey)
- The Maryland three-piece and progenitors of post-rock, ironically or not, don't sound much like what most people think of as post-rock, here, on -yes- their tenth full-length. Instead, this is a jumble of prog. and extremely synthy kraut-rock. The prog tends to snarl like Trans Am at their heaviest and the kraut has a poppy quality that is like Neu! at their most non-threatening. I don't know if the two disparate sounds really gel. Both approaches produce some great tracks, but there are others which, even in isolation, seem to be devoid of great inspiration. Not necessarily Trans AM's greatest record, but, unsurprisingly there are flashes of genius. (Chris Cobcroft)
Trash Talk: Cloudkicker (Single) (Trash Talk Collective / Odd Future)
- A little bit more atmospheric, a little bit more tuneful than some, but mostly just bloody solid, Sacramento hardcore. (Chris Cobcroft)
Vintersorg: Naturbal (Napalm Records)
- Most people know by now if folk-metal is for them. But if you don't, then know it's a thing you should check out and if you are already a fan of the folkiest metal there is, then check out Vintersorg and their new album, Naturbal. Lots of metal, lots of folk. Screams, cleans, guitars, violins, synths, jigs, moshpits. It's really a fun adventure to listen to Vintersorg. (Mitch Cutting)
Whitechapel: Our Endless War (Metal Blade)
- Deathcore in itself is a bit uncompromising, but Whitechapel's fifth full-length seems especially uncompromising. There's a thick muscularity to both the guitars and vocals that is almost overwhelming. You don't get much else, but there's a purity in doing it that way: like I said, uncompromising. (Chris Cobcroft)
White Sea: In Cold Blood (Crush / POD / Inertia)
- m83 member Ms. Morgan Kibbie is stepping out as White Sea. The m83 influence is obvious in the synths and the HUGENESS of EVERYTHING. Where she diverges is in an even greater pop sensibility, so pop it's a bit disturbing. She's certainly aiming to give Katy Perry and Haim some kind of run for their money, and it makes this record incredibly cheesy, but since it's bonded with the truly massive synth-sound, it's also a bit impressive. (Chris Cobcroft)
Xiu Xiu: Unclouded Sky (Polyvinyl)
- Jamie Stewart has been remarkably prolific lately. His latest is a collection of spirituals from the US and Caribbean, recorded over the course of a day in Sigur Ros' studio in Iceland and released back on Record Store Day. His sparse and rending treatments are actually better suited to this sad and simple music than, say, covers of Nina Simone and there's plenty in here to like. (Chris Cobcroft)
Yann Tiersen: Infinity (Mute/ EMI)
-The same artist who gave us the eclectic soundtrack to Amelie, brings us his forthcoming LP, Infinity. These tracks are unpredictable and engaging -taking in folktronica, chamber pop, kraut and prog-rock to name a few- with just as much quirk as his previous stuff. There is also a strange infusion of France and Scandinavia through this LP, giving it an eerie, spacious feeling. (Ella Dann-Limon)