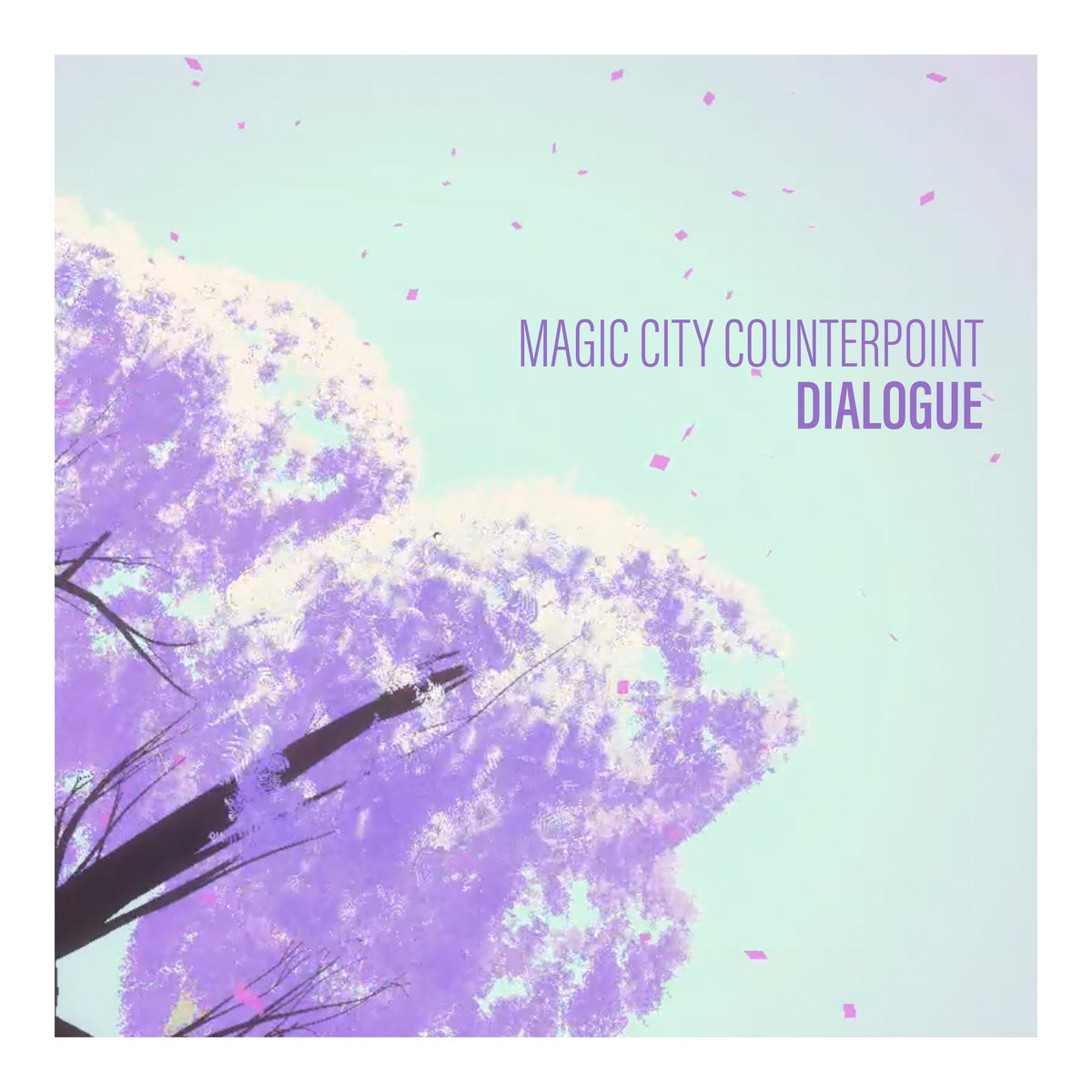 Magic City Counterpoint
Dialogue
Indie
- Magic City Counterpoint is the brainchild of two proud parents, Madeleine Cocolas, an ambient artist and composer and Chris Perren, the bandleader for the likes of chamber-pop outfit Nonsemble and cheerfully experimental rockers, Mr. Maps; both are based in Meanjin / Brisbane. It got me wondering where the Magic City, featured in the title to their debut EP, Magic City Counterpoint, might be. Perhaps they're referring to the old r'n'b club that used to be over where The Brightside is now, in the Valley? I think that's highly unlikely, but at least the mainstream urban sounds that used to pound through the walls over there are very much in counterpoint to the warm electronica explosion going on here.
It's also quite different from what Madeleine and Chris have made in the past, although you can absolutely hear every chapter of their different musical histories at work in the six tracks arrayed for your listening pleasure. I feel like the superstructure of the record is the sort of thing Chris would naturally gravitate toward. The lush, often brightly hued harmonies are full of the kind of optimism that often burst out of a Nonsemble record and Mr. Maps too, for that matter - but perhaps the layering of sounds, growing ever more intense and enormous, is even more indicative of the latter's post-rocking ways. If that is the case, it's like Chris brought the blueprints and Madeleine built it almost wholly out of the materials from which she constructs her work: highly treated instrumental samples and field recordings turned into shining, electronic facades.
In case my descriptive skills have failed me, MCC have provided a handy list of tastefully experimental beat-makers and electronic artists they've been compared to: Holly Herndon, Julianna Barwick, How To Dress Well and Boards of Canada. That all checks out, although when I was listening to the EP's opening track … it's not hip hop per-se, but definitely in a similar downtempo world to Flylo, building from unrecognisably altered, ambient harmony, layered with sweet, elfin vocals and given a down-pitched percussion sample for some deliciously textured bass. I can barely hear the spoken word sample that appears halfway through, it sounds like it might be in Hindi? The tone of voice is touchingly jovial, even as the music expands into enormous soundscapes of awe and wonder. Perhaps it's referencing the unlimited possibilities opened up by just talking? Something we may be in danger of forgetting, contemporarily.
The more beat driven numbers, like Fern Bells, make me think of folks like Fourtet and Caribou. Kinda like dance music for people who remember dancing once, but now are happy to indulge in these more cerebral echoes of the discotheque. I say that, but I understand the kids are still dancing to Fourtet, so maybe they'll dance to this too. The chimes and vocal samples are certainly already lovely, before they explode into another maximalist soundscape with lashing of very nearly lurid synth colour.
Dream State features some of the least mutated sounds on the record, including the beautifully bittersweet piano melody that drives the song. Madeleine and Chris provide actual lyrics in an equally, sadly sweet duet, which I think -harking back to that idea with Dialogue- is about humanity's bewildering inability to communicate, to bridge the divide between ideologies and do what needs to be done to save ourselves. After all, we're different, but "the bones all look the same"; that's a grim sentiment, but sung beautifully. So we're already pretty emotional, but the track roars louder and louder with layered harp, strings and ever more of that near blindingly bright synth. It's like the listener is going on the same rollercoaster again and again, but honestly it's quite an addictive emotional arc; maybe just one more go?
It's funny, when so much of what's here screams that term which was essentially made up to describe post-rock: maximalism, but many of the basic components -the rhythmic patterns and chord structures- are actually minimalist. Check out the head-spinning, tightly repeated structure of Sun, which really does evoke the awe of standing a little too close to an unfathomably large, burning orb; the sub-atomic process of nuclear fusion, writ gargantuan.
The final track proper, Main Beach, sounds more like Madeleine Cocolas' back-catalogue than anything else here, with echoing ambience over serenely dignified piano chords and a field recording of what must be the beach in question. It's very relaxed, which I thought might help decide whether it was Main Beach in Noosa or the Gold Coast - but, honestly, each is so stuffed with tourists these days, it's actually more pleasant than either.
There's an alternate, more synthesised version of Dream State included, which really does make it feel more like a genuine pop song. I'm not sure I prefer it, but there are some moments of synthwave, which, well, if it was all like that, I'd have a much harder time choosing.
Magic City Counterpoint has, I think I've already said, a highly addictive sound. It exists between the many different aural worlds that its creators already live in, but juices all of them for the maximum amount of sweetness. Like the other artists mentioned here, they take the building blocks of other sounds and create something different and head-turning. The world at large might be pathologically unable to talk to each other, but that's clearly not a problem for Madeleine and Chris, because this is a fruitful dialogue indeed.
- Chris Cobcroft.