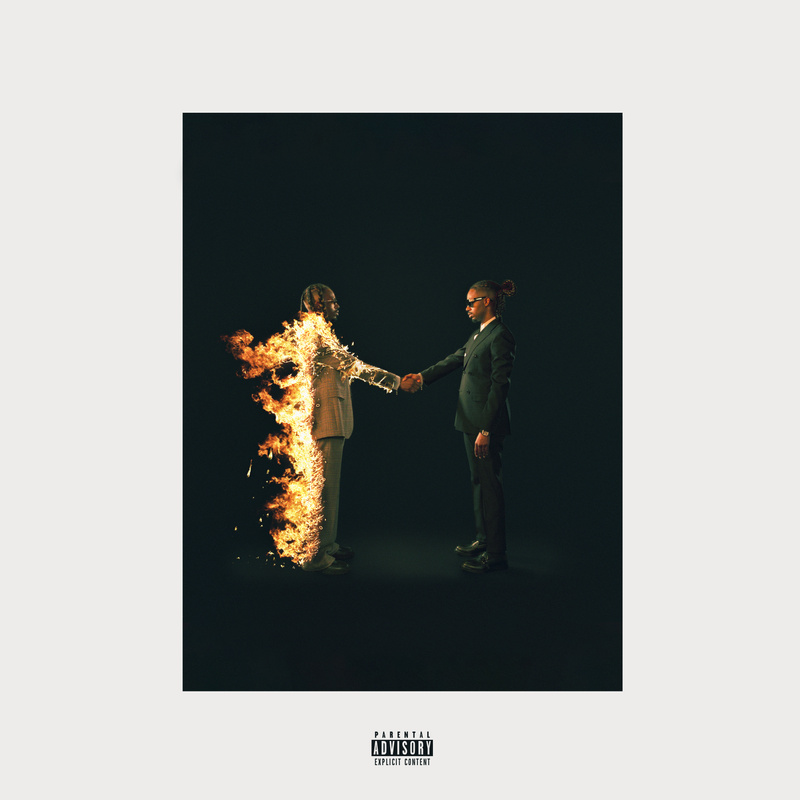 Metro Boomin
Heroes & Villains
Boominati / Republic / Universal
- Metro Boomin has remained hip-hop's hottest producer for almost a decade and it's hard to deny the credibility behind that success. Producing for almost every relevant rapper has led to a string of modern classics and helps continue to attract more big artists on to Metro Boomin Beats. Now the Atlanta artist returns for another round of trap hits on his own solo project Heroes & Villains bringing the biggest names in the sub-genre along with him.
After a string-led, John Legend featuring introduction entitled On Time, Metro wastes precisely zero time in bringing exactly what his fans are looking for. It has been almost five years since his last collaboration with Future and Superhero makes you wonder why they ever took a break in the first place. This is the best Future has sounded in years as his drugged-out vocals warp over chanting trumpets backed by Metro's signature claps. While Future's choice of topic never skews from his usual drug rants, it's nice to see the duo really try to recapture the magic that made them so popular. Unfortunately the track is dragged down, slightly, by a completely tacked on outro from Chris Brown which adds nothing to the mix and could easily be cut.
Too Many Nights sees Metro bring out the first Don Tolliver guest feature on the record backed by an outro from Future and co-production from Honorable C.N.O.T.E. While the main beat is a typical trap-club banger, there is a constant whirring sound mixed into the layering that imparts a trippy feel and stands out. Don Tolliver is as good as always as he reflects on success and all of the women he now sleeps with, thanks to being a popstar.
Umbrella is the record's standout track and it's very clear, even on paper, why that is. Metro reunites cousins 21 Savage and Young Nudy and lets them loose to deliver the most murderous and pornographic bars they can write. The production is darker than preceding tracks and is reminiscent of previous Savage-Metro collaboration tapes with its simple piano lines and powerful claps. It's Nudy who uses his one feature on the project to really shine, however, with his smooth flow that doesn't hold back, delivering lines about murdering his enemies that feel downright evil.
Metro Spider is the hungriest Young Thug has been since he became a popstar and ditched his ambition for mediocrity. It's the subtle touches in the production that make the track work with ominous choir samples layered with recurring vocals on top as well as the pianos and claps. While Thug is in his usual braggadocios mode, there's an almost eerie sensation, as if he has to deliver his last quality performance for a long time. Given his current incarceration, this theory may be true and if so, these two verses prove he'll be missed.
Metro has a clear hit in Creepin' and it's easy to see why: The Weeknd singing about a treacherous lover is a license to print money. The production is downright mournful with synths that weep over the slower claps. Even the faster claps in the chorus do little to detract from The Weeknd's cries about being cheated on and left with a broken heart. While 21 Savage's end verse feels tacked on I'm not complaining because I love hearing the man spit over anything.
Closing track Feel The Fiyaaaah is the obligatory chipmunk-soul-celebratory-finale as A$AP Rocky lets us know that, while rappers may be greedy, their whole family benefits from the success. It's almost a shame to hear recently deceased rapper Takeoff as his verse is nothing short of great especially as he delivers an alphabetic roll-call rundown of his life. Feel The Fiyaaaah is a solid closer that really draws the tape full circle as a celebration of not just the featured rappers but Metro himself, too.
In a lacklustre year for trap, Heroes & Villains really stands out: a solid project achieved simply, through consistently excellent production and performances delivered by the features. While I have some issues revolving around the number of recurring voices throughout, especially the multiple boring Travis Scott features, it's nice to see Metro deliver something that plays deep into his talents and feels like a labour of love rather than an easy cash-grab.
- James Chadwick.