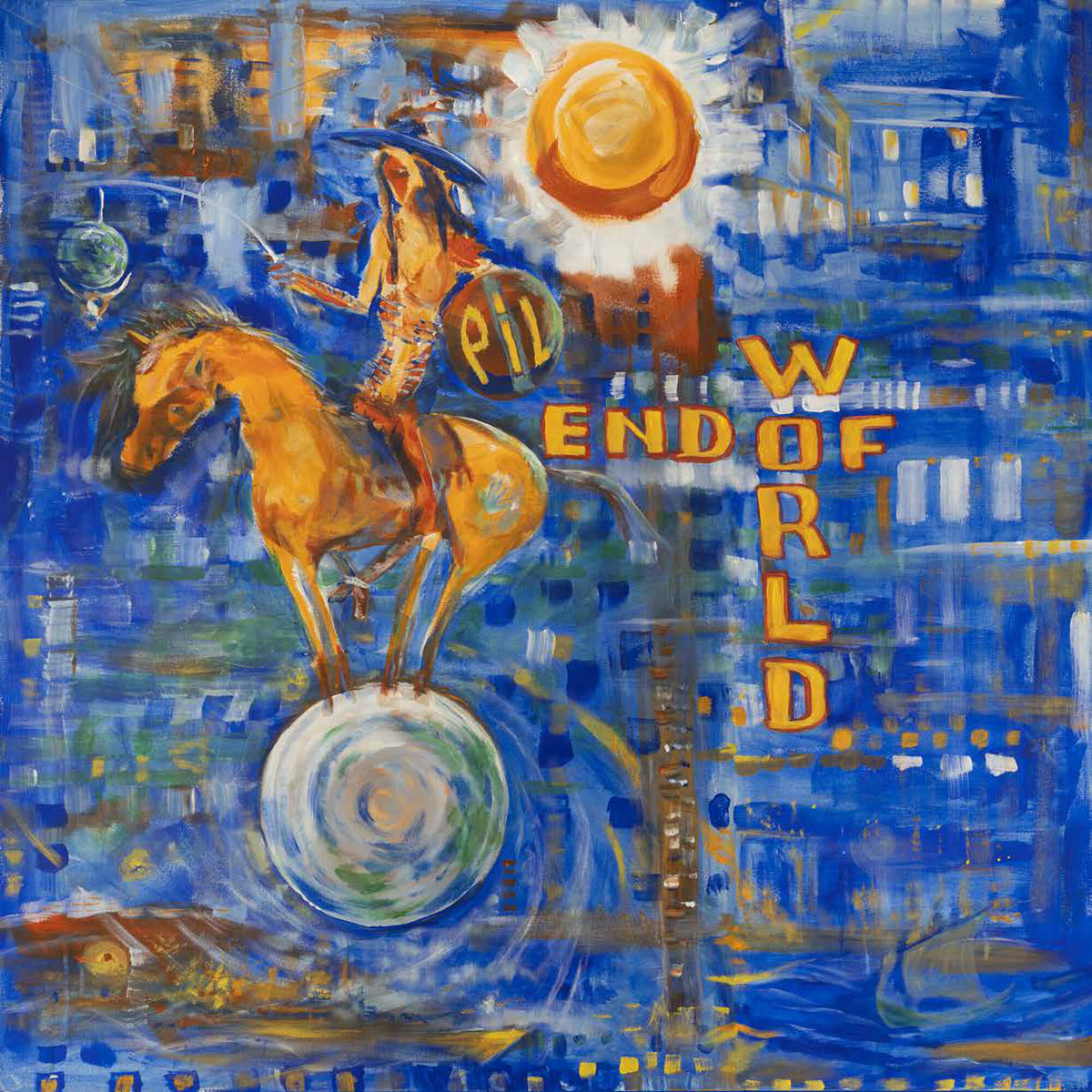 Public Image Limited
End Of World
PiL Official
- Taking John Lydon at face-value has never been an easy task. On one hand he is responsible for creating some of the most earth shattering music of the Twentieth Century. On the other hand, his penchant for inflammatory statements can render him insensitive at best and, at the worst, completely unlikeable. Regardless, he is a creative mind unlike any other and one could easily make an argument that Public Image Ltd.'s second album, Metal Box, is -if not one of the greatest albums of all time- at least one of the greatest achievements of the post-punk era.
Metal Box represented a point in musical history when new ideas ran rampant and music became interesting again. Punk destroyed the foundations of the old and post-punk erected its architecture of the avant-garde upon its ashes. Public Image Ltd. -or PiL- would continue to release groundbreaking music, mixing commercial and critical success, before breaking up in the '90s and reforming again in the 2000s. Despite their efforts, nothing could match the idiosyncratic power of Metal Box. It became their Sistine Chapel Ceiling, their Mona Lisa, their Waterloo.
Nearly forty-five years since the release of Metal Box, Public Image Ltd. return with a new album, End Of World. It's their eleventh studio album and the first since 2015's What The World Needs Now… Surprisingly, for a group with a history of acrimonious departures, the band's lineup has been unchanged since their 2012 comeback, This is PiL, with Lydon continuing to be backed by Lu Edmonds on guitar, Scott Firth on bass and Bruce Smith on drums.
In recent years, Lydon's has been struck by personal tragedy, his wife of nearly forty-five years, Nora Foster, was diagnosed with Alzheimer's in 2018, requiring him to become her full time carer before she finally passed in April of this year. This latest tragedy is just one more in a life that has been marred by the untimely deaths of those closest to him.
Music has always proved a sanctuary for Lydon, ever since his early childhood, when he suffered a prolonged bout of meningitis. It is no surprise therefore that he has now channeled his grief into End Of World with Lead single Hawaii being dedicated to the memory of Foster and referencing a holiday the couple shared on the island, several years ago. With its steel guitar and touching lyricism, Hawaii is End of World's one great surprise: an uncharacteristically lovely song and uncharted territory for a group not known for their tenderness.
If Hawaii is an unexpected detour into the realms of sentiment and sensitivity, it is short-lived. Lydon's punk sensibilities are clearly yet to desert him, even if his barbs lack the wit and intelligence of his younger years. On Being Stupid Again he rails against the misdirected activism of the student class, coming across as boorish and cumbersome and ignoring his own history as an art school rabble-rouser. Being Stupid Again contains some of Lydon's laziest lyrics, painting an unpleasant picture of the artist as the very kind of dinosaur his early bands rallied against. Likewise, the track Pretty Awful is puerile at best. Doing it's best to live up to its title, it contains the lyric, "You smell, like a bag of mice." Clearly, the author is not even trying, the less said about this bad fart of a song, the better.
Car Chase, however, with it's throbbing backbeat of synths and funky bass, contains all the disturbed disco hallmarks of the group's mid-late '80's classics, whilst Walls bears a passing similarity to, Albatross, off of Metal Box. End of World's second half is when the group really hit their stride and penultimate track, North West Passage, showcases a group who has well and truly found their groove and locked into it.
Whilst End Of World may be a mixed bag, there are fleeting glimpses of classic PiL across the album's thirteen tracks. Where the group really succeed -with the exception of Hawaii- is when they play to their strengths, creating tracks with all the pulsing bass, angular guitar and trademark sneer listeners expect from this veteran post-punk band. Though the album is not without its faults and could have been improved by trimming a few tracks, if one has to endure a Being Stupid Again for every Hawaii or Car Chase, then the punishment is worth the reward.
- Nick Stephan.