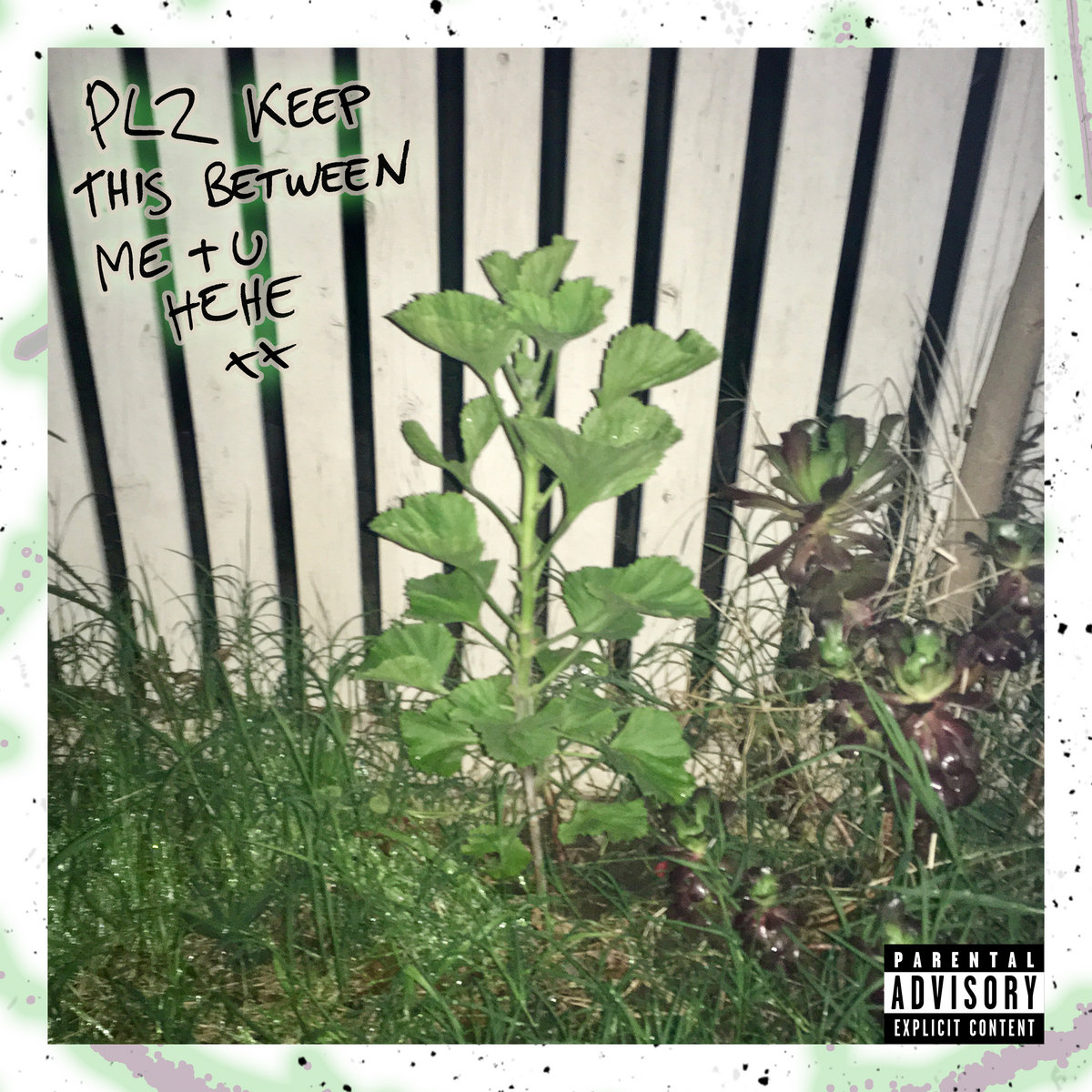 Simo Soo
plz keep this between me + u hehe xx
Yes Rave
- Simo Soo has been putting out experimental hip hop so regularly for so long I think I got a bit blasé. For that reason I was caught a bit off guard when I collided with their latest, plz keep this between me + u hehe xx. The title seems loaded with that kind of awkward humor -with a hidden barb- that has been a trademark of theirs, over the years. The record itself, however, despite still bringing that oh whatever snickering, is something else altogether. It comes from a place of profound personal pain, a place of loss. Amidst the hyperpop colour bleed, the industrial splintering and the in-your-face maximalism, there's a touching vein of honesty that's simple, plaintive and arresting from the first listen.
It's a requiem for a friend, even beginning with the Dies Irae motif before launching into a completely OTT synth-orchestral intro. It can't all be straight, raw emotion, this is Simo Soo after all, so cynical sarcasm is coming in bulk, too, but that slightly goofy onslaught, that speaks to grief as well.
All the cuts here are short and sharp, aural body blows that never last more than three minutes. The quick succession of thunderclaps also brings quite a lot of artistic excellence. The ripping, distorted synth riff on the first track proper, Suzi Up Next, that's great, right there. If you can hook into Suzi's liquid vocal flow it also introduces the complex snarl of emotions that tie plz keep this together in knots. The torture of self-actualisation, shot through with a feeling that it might all be fraudulent: "I need to get with the plan, can't stay in this scenery", inescapably linked to a very shaky sense of self-esteem: "Let me check in with friends, see if I'm a demon". There's a sensation that every effort made is happening in real-time, speeding forward, one step away from being completely out of control. Through it all, Simo's always reaching out to someone, someone missed, grieved, lost, who should've been celebrated before they left. Simo isn't just talking about MF Doom or Sophie when they say "Too many people lost before we can say hey / Your shit is so damn beautiful, it's okay."
Simo is also taking a lot of potshots at all the world's bullcrap, some of which will feel particularly relevant if you work in the arts. There's none better than the duet with Hyena, snake pit. The exhaustion of just trying to survive the industry is palpable, almost suffocating; and then there's a sax solo from Marcus Whale; which is something of a nice relief by that point.
Ground level grit is scattered everywhere. Everyday life feels like a minefield on a track like I'm So Sorry This Is Happening. "Think I'm probably crumbling but I don't wanna flake / I'm strolling to your place in vague states of hyperventilate / I get my breath straight, no suffocate, forgot my higher place." It's sweet and highly claustrophobic at the same time and with Slippy Mane's Daddy G like rapping, a little bit Massive Attack. The hyperpop anthems keep coming and they're pretty on point, just check out the trumpet's awful sound before we plunge into the horror rapping of don't look now/Amenecer which compares favourably to a bollocking by Death Grips. Even a straight-up rap cut like Bilby team-up Sunflowers, which doesn't rely on shock and awe or overmuch on pop sweetness - it's definitely on the money.
Maybe the bohemian in me connects with where Simo Soo's at, more than for other people? I don't know, but right down to the synth-baroque send-off of dales sus flores and Simo's sarcastic little "Mmm thanks for having me" this is a record which works all of its helter-skelter, car crash of emotion and style into a compelling, always entertaining and occasionally devastating whole. Like a lot of the best records, it clearly cost Simo Soo a lot to get here and who knows if the sums add up for them in the end. It's a pretty profound testament for the rest of us, however; one you should make time to hear.
- Chris Cobcroft.