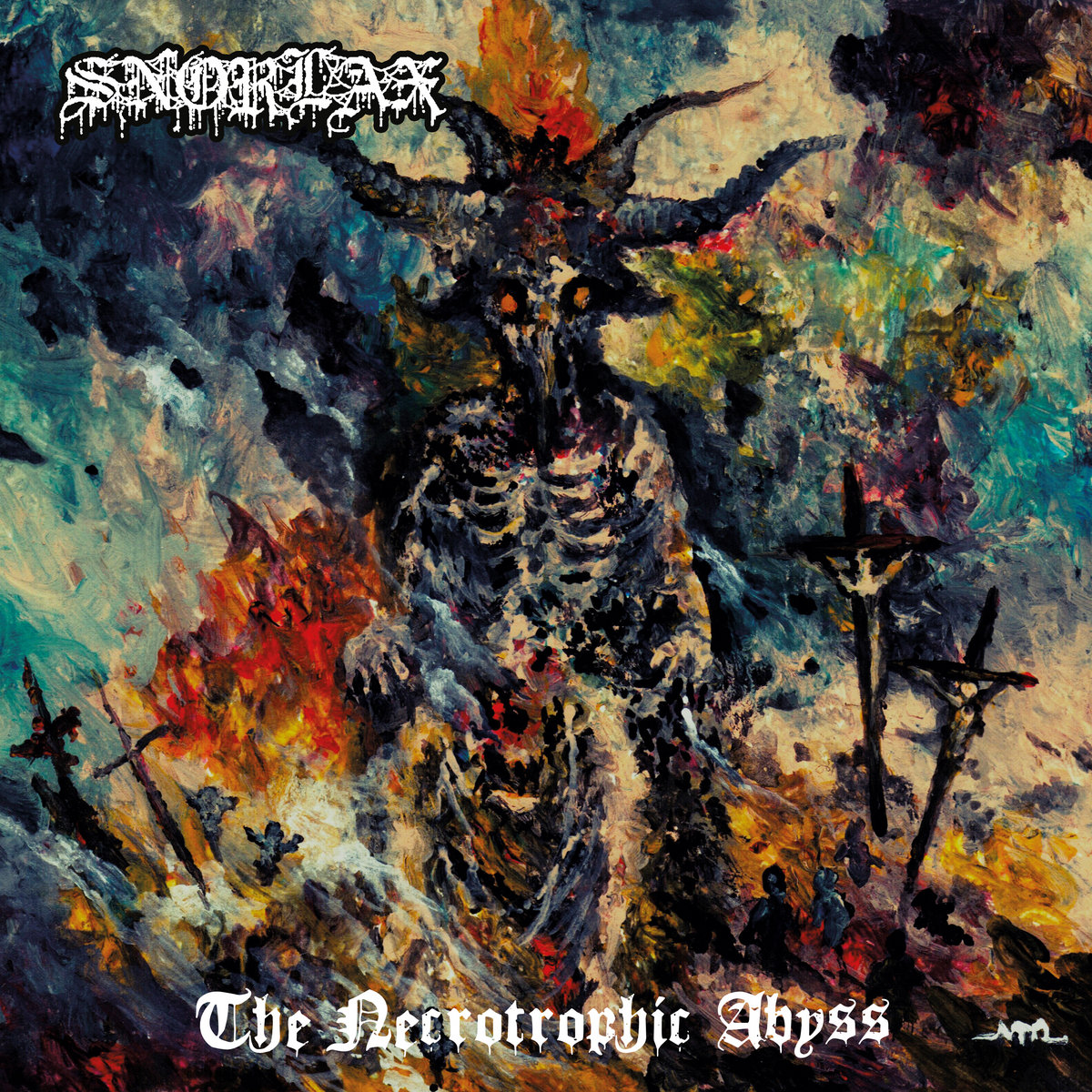 Snorlax
The Necrotrophic Abyss
Brilliant Emperor / Avant Garde Music
- In for a heavy penny, in for a pound it seems for Snorlax: the Brisbane based one man black metal project that came about initially as a way for the man behind the moniker to track how their drumming was coming along. One man extreme metal bands have a long and storied history, and the River City incarnation of that genre staple does so with a name thumbing the nose as those stuffy old pricks who substitute "u"s for "v"s and claim everyone is a poser. Building this amassing by Snorlax, we've prepared the ground with a handful of splits and now this new record marks their second outing for Australian extreme music dawgs in label Brilliant Emperor. Given a slightly different approach taken by the project and the years now spent putting the legs on this beast, there's a greater cohesion across the release, adhering to some loose narrative guidelines.
For the microbiologists and botanists among you -thanks for joining us- you'll be chuffed to know that nectrophy is not only a great word to be used in metal but provides that basis for The Necrotrophic Abyss' throughline. Foreign bodies eat away at the organisms hosting them for their own benefit and this feeding process is causing the death of said host. For us regular rock ape metal listeners, to put it simply, death and black metal combine to make a good sound.
Reawakened is a blitz of a beginning, hurling blast beats into our consciousness and it screams along, rattling like the rickety innards of a carriage on the Beenleigh line. The tremolo guitars match pace, doubling up on themselves in parts, caught in their own anxious furore. From the off, you notice this sounds better than most records of this ilk. Its production allows for each manic moment to thunder right out to the edge of the precipice but with so many doing so at the same time, it retains that visceral energy. Buried just underneath that precipice are the vocals. Take lead single Book ov Serpents: its unfeeling, unending musical barrage cages these vocals in a damped box, obfuscating them to a point that's concerning. Regardless if they come from the multi-instrumentalist or via one of the many, many guest vocals, they're never quite allowed to reach levels of clarity. Instead, they're restricted behind this veil. Doing this hacks away at some of this records smoother edges, bringing them back to a rougher state, and reigniting the dangerous spark that would have otherwise been lost.
Repudiation ov Disharmony, ironically, provides some semblance of harmony as those less abrasive moments are given time to breathe. The necrotrophic bodies have found some pockets of levity in their host and this track's final half brings some black metal light into the dark. Regenesis Arrival marks the reformation of the host into something new and does so by turning a dated phone ring tone into an entirely degenerated piece of power electronics, crushing any possible song under its heavy boot.
It's a cohesive whole, is The Necrotrophic Abyss. The dirge and dredge cohesion of narrative -a narrative of rebirth through the erosion of the former- acts in a way that galvanises the cramped air this record forces on you. None of these songs outstay their welcome either. Consistent with the project's approach, and deviating from black metal norms, most songs clock in at under three minutes. Snorlax is hitting its straps with each release and this expedition in regeneration through erosion is the band at its best.
- Matt Lynch.