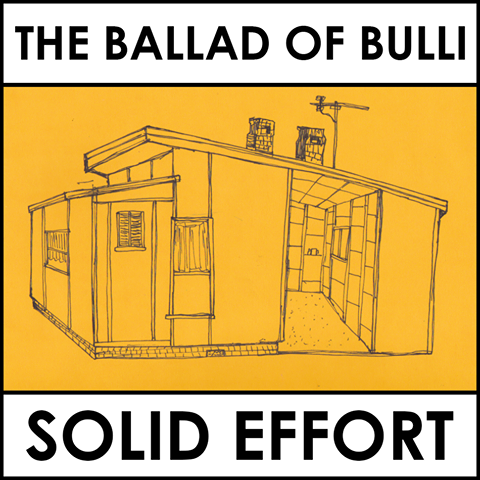 Solid Effort
The Ballad Of Bulli
No Safe Place
- From the opening flourishes of The Ballad Of Bulli, lads of the coal coast Solid Effort lay down an equally serious and droll claim on auscore: all that is quintessentially Australian; or, as they label it, leisure punk. Everything that has resonated out of the likes of Paul Kelly or Gareth Liddiard is found here in salty, ladish form. You can hear the many idle, sunny Saturdays spent in garages, RSLs and nowhere in particular, discussing whether it's un-Australian to charge for tomato sauce. Yet The Ballad Of Bulli has a little more than fourteen grams of gelatinous salt.
For all of the jangly and fuzzy irreverence that Sydney and Wollongong produce, Solid Effort's post-punk predilections give them an advantage over rest of that garage shlock. Their thorough appreciation of punk expression and its manipulation of the old injects a level of menace into the songs, like the fundamental swagger of One Loose Wire with its Pixies dissonance or that Minutemen rabble-funk in Bloodstream Corrosion that has no time for timing. What's admirable about all this is their ability to be surreal, political or morally righteous and support it with the complimentary noise and energy.
This is what you want in your rock musics: that element of excitement. Solid Effort have those tense, spirited moments where all the flailing and wailing disorient you. They'll make you anxious when they fail to please you, to soothe your desire for order and control, but they'll also indulge you with a rousing chorus.
With its corrugated grit and youthful charm, The Ballad Of Bulli is a polaroid snapshot. Grainy representations of how coastal backstreets nurture revelry and creativity in the face of boredom and frustration. Given that Australia is an island, it's to be expected that Solid Effort should make sense in any, if not all, of the many coastal clusters of leisure punks out there.
- Nick Rodwell.