Arts Review
Guy Noble's Great Tunes A Morning of Favourites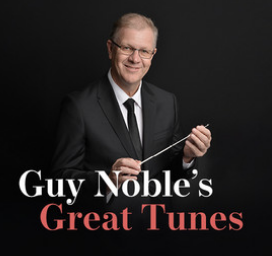 Farewell to Guy Noble with his Great Tunes: A Morning of Favourites
17th September 2023
Concert Hall, QPAC
Engelbert Humperdinck Hänsel und Gretel
Nigel Westlake Babe ,Concert Suite
Carl Maria von Weber Andante e Rondo Ungarese
Emmanuel Chabrier España
Jean Sibelius Symphony No.5 in E flat, Op.82 - mvt.3
James Horner End credits from Field of Dreams
George Enescu Romanian Rhapsody in A, Op.11, No.1
It was the end of an era with a farewell to Guy Noble with his funny quips and his famous swinging hips!
Dr Gemma Regan
It was a bittersweet last Music on Sundays concert as Guy Noble hung up his costumes after 18 years of hosting the unique series for the QSO. He has conducted a myriad of themed concerts all with a costume, a joke and some unique anecdotes. For his final fling in the popular concert series, he selected his favourite Great Tunes to end on a high.
Cellist Kathryn Close introduced the concert with a lovely tribute to Noble and the fantastic relationship he has forged over 18 years of working with the Queensland Symphony Orchestra. She described him as "A professional, kind, funny and humble man who could always read the audience well," citing how he had overcome rows of despondent teenagers at a recent school concert in Maryboro with tales of Mozart's misdeeds. The concert program also had many written tributes from members of the QSO to the incorrigible host and musician, bidding him a fond farewell.
Humperdinck's Hänsel und Gretel, Dream Pantomime opened the show with waves of crashing crescendoes and flagrant cymbals and timpani. Noble welcomed the audience with a croaky voice, commenting that it was a blessing for the audience that he couldn't speak much!
He has always brought a sparkle to every concert, often wearing a costume to reflect the mood of which there have been so many he admitted he has seven boxes full! It was disappointing that there was no fancy costume to round off the era, with Darth Vader and his pink flamingo being favourites.
Babe by Nigel Westlake was a highlight of the concert, popularising Saint-Saëns' Symphony No.3 in C minor by using parts of the Finale in his soundtrack for the 1995 hit Australian movie. The familiar motif contrasts between a slow and mystical Adagio and a melodic energetic Allegro, all evoking a magical majesty. Noble quipped that when he worked on the movie soundtrack with the Melbourne Symphony Orchestra, he couldn't eat a bacon and egg sandwich for at least a couple of days!
Section Principal Bassonist Nicole Tait arrived onstage for her solo in von Weber's Andante e Rondo Ungarese wearing an incredible pair of sparkly copper trousers, described by Noble as looking like a disco ball.
The piece was composed for the viola, but von Weber quickly arranged it for the bassoon after the popularity of his Bassoon Concerto. Tait commented that "both the viola and bassoons are the black sheep of the orchestra," so it was fitting for both instruments to have featured.
The piece was full of fun and frivolity despite being technically challenging. Tait flitted amongst the registers seamlessly like a moth in the moonlight whilst Noble conducted with his famous swinging hips and circular arms as he aurally painted with the orchestra.
One of Noble's anecdotes introduced James Horner's Field of Dreams by describing how he loved the film, especially James Earl Jones, whom he had longed to meet and ended up meeting Jones whilst hosting the Sydney Theatre Awards at the grotty Paddington RSL!
The poignant concert was full of Noble's memories of working with the QSO and how each piece of music was significant to him. His daughter seems to have inherited the funny gene as he related how she had commented that his relationship 18 years was so long with the QSO and Music on Sundays that he was now legally able to drink!
The concert closed with a fast and furious Romanian Rhapsody in A by Georges Enescu reminiscent of whirling dervishes as the orchestra phased in and out with a brief pause until it wound up again to an ear-piercing finish!
It was a bitter-suite end to an era for Guy Noble hosting the QSO's Music on Sundays with his funny quips and his famous swinging hips! The audience thanked him with a standing ovation as he unceremoniously fled the stage, he will be sorely missed!