Arts Review
Pygmalion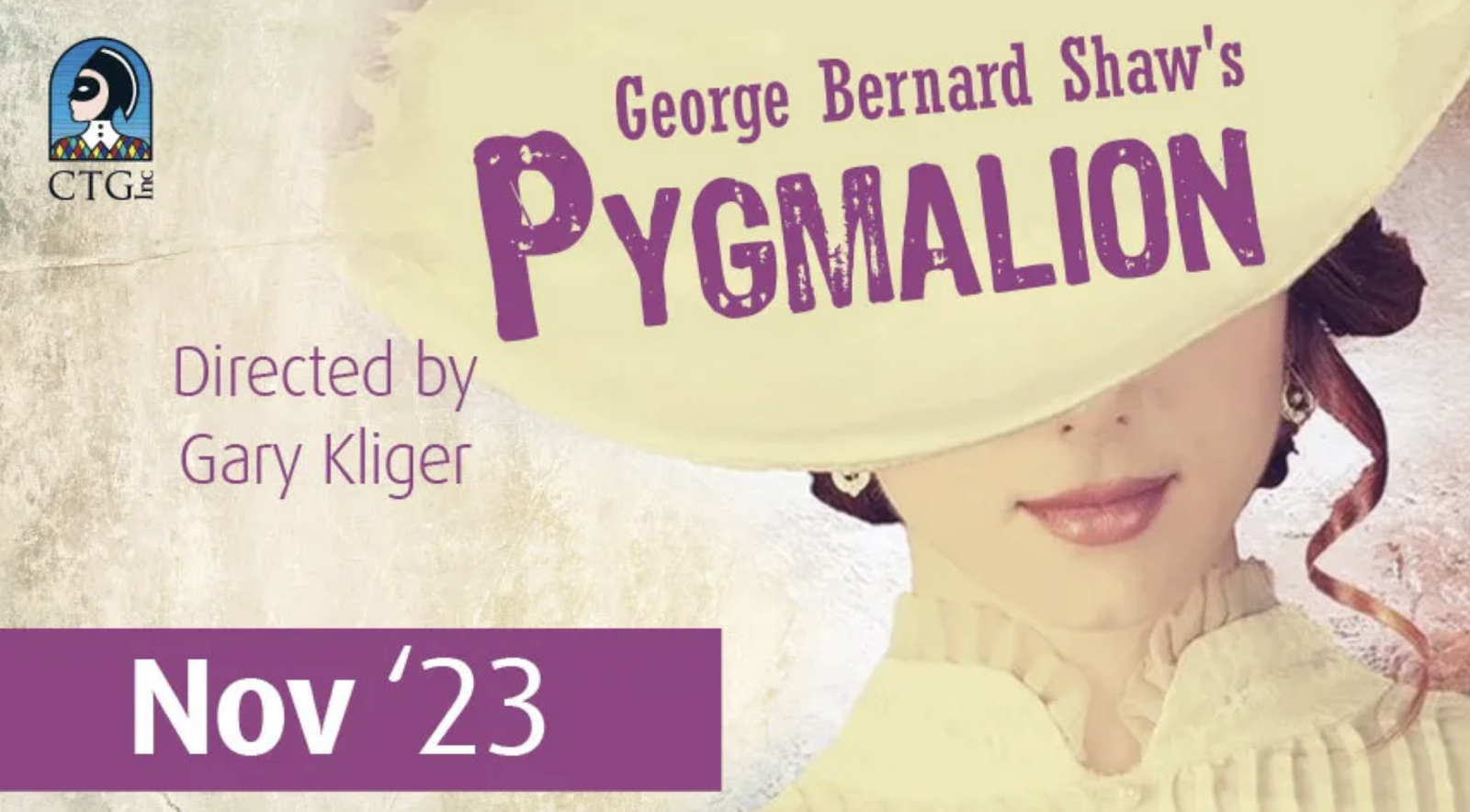 Pygmalion presented by the Centenary Theatre Group
4th Nov-25th Nov, 2023
Chelmer Community Theatre, Chelmer
Dr Gemma Regan
Drop your drawls and diphthongs for an entertaining, refined evening with the gentry!
It was all How's ya father and Cor blimey guvnor at the last Centenary Theatre Group's production of 2023 with Pygmalion, written by George Bernard Shaw and directed by the ever-busy thespian Gary Kliger. In classical mythology, Pygmalion is the King of Cyprus who creates his perfect woman out of ivory, brought to life for him by Aphrodite.
Pygmalion is the original anachronistic British classic, set in 1910s London where a rich and ageing professor, ever to be the bachelor, changes the fortunes of a poor cockney waif at his whim for a bet. The story is popularly known from the smash-hit 1956 stage musical My Fair Lady by 1956 Lerner and Loewe, adapted into the 1964 film starring the iconic Audrey Hepburn and the roguish Rex Harrison.
The CTG's adaptation has its own Rex, with Rex Callahan as the snobby phonetics professor and Hannah Boyd as the incorrigible flower girl, Eliza Doolittle. Callahan has always wanted to play the role of Henry Higgins as Pygmalion was the first play he ever saw! He is a seasoned Aussie thespian starring in films and TV series, including Stingers, Blue Heelers and The Sullivans. With such a long CV, one would have expected more from him on the opening night, but he seemed to be bumbling and gasping for some of his lines with evident frustration. The result was a more absent-minded and less assured Professor Higgins, which fortuitously seemed to work.
The cast was magnificent and filled any prolonged gaps or misplaced words like pro's. With David Scholes, a former TV producer and writer, playing Colonel Pickering, Higgins' jolly good friend and upstanding gentleman. Despite Callahan's first-night hitches, the synergism between the two actors was convincing as they hatched their plot to transform the accent and life of a wretched flower girl through months of lessons in elocution and deportment.
Hannah Boyd is a fabulous Eliza Dolittle in her first production with the CTG who, despite being a local, pulled off a cockney accent without the cringeworthy Dick van Dyke issue, which he had blamed on having an Irish elocutionist! She is a loud and brash Eliza, with a convincing transformation correctly enunciating that "The rain in Spain falls mainly on the plane" after living and training with the English professors.
Sarah Britton skilfully plays the comical Mrs Pearce, Professor Higgins' poor housekeeper, who reluctantly takes the brash, obstreperous Eliza under her wing for a scrub and polish. Her aghast looks of disgust at the wretch Higgins has brought home are priceless. Higgins' opinionated mother also helps with the gentrification of Eliza, wishing she had done a better job of refining her son, who is a constant embarrassment whilst entertaining the prim and proper Eynsford family at her home.
Dominic Tennyson is hilarious as Alfred, Eliza's rapscallion father, who blatantly demands money from the gentry with a wink and a smile. His bombastic appearances delighted the audience as he staggered around the stage and coerced Higgins into buying his ragamuffin of a daughter!
The sets are simple, with basic homely furniture and an effective use of a multi-media screen to create the backdrops. As with all CTG productions, the foyer has been decorated according to the production, with a scarecrow Eliza at her flower stand and there are cheap drinks and snacks aplenty.

The CTG's production of Pygmalion is a well-produced, amusing slow-burner capturing the life of ol' London town in the 1920s without the annoying songs of My Fair Lady. So grab your tickets and drop your drawls and diphthongs for a refined evening with the gentry!