Live Review
Béla Fleck And Abigail Washburn @ QPAC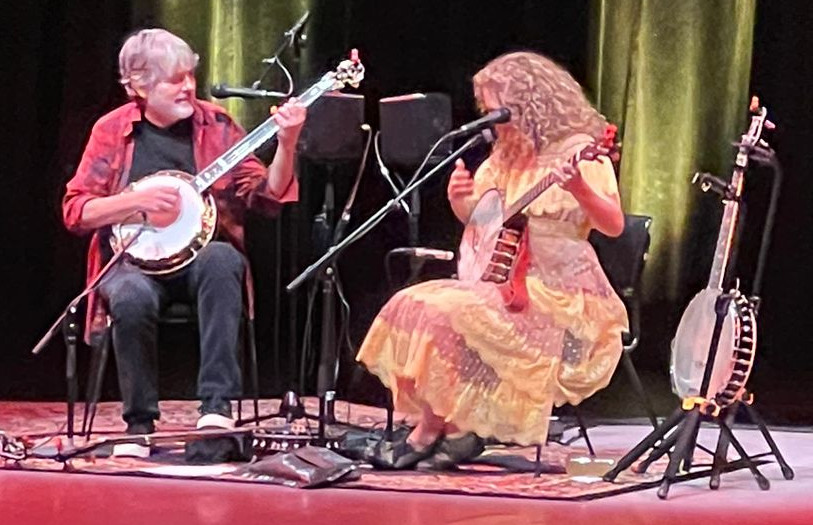 Last time I saw Béla Fleck was at a Bluesfest gig ten years ago with his full band The Flecktones in tow and it was jaw dropping then. He had genius eight times Grammy award winner bass player Victor Wootton on board and you never wanted the night to end.
Roll forward to March 8th 2023 at QPAC in Brisbane and Béla is back – the winner of sixteen Grammys and with his endearing partner Abigail Washburn and a slew of banjos and tales of life on the road and their two little boys. Abigail comments, very nicely, that the boys loved the Southbank pool and beach and the river city cats and never wanted to leave.
The two met at a square dance. Abigail is from a more traditional roots background, plays clawhammer style banjo and is a proficient clog dancer (which she busts out three times during the performance). Béla is a virtuoso who has fused jazz and classical together for banjo in a field of his own. Aware of his staggering gifts Béla is quite humble and still pinches himself as he rattles off who he has played and recorded with, oh and that includes the number of orchestras who just keep on inviting him to collaborate.
The night opens with both Béla and Abigail playing together. They have a Grammy winning (2014) self-titled album and two more, -their most recent record is Echo In The Valley- as well as a wealth of favourites to draw on. Abigail features on vocals for Little Birdie and My Home's Across the Blue Ridge Mountains (a traditional number – with Appalachian nods).
They tell us that, on tour in the USA, they cart their two children in a wagon with about twenty banjos. Abigail giggles and admits to living in a "three storey house with level one so full of banjos that you need a guided tour to walk through the room".
They play a blissful mix of favourites and new tracks - highlights being Weary blues from waitin' (Hank Williams), Pride of Man (a Tony Rice tune: Béla says Tony is the best bluegrass guitar player ever and to really check him out). There's Long as you are living (an Abbey Lincoln cover) and Rhapsody in Blue (a Gershwin number), truly highlighting Béla's skills as a classical virtuoso, where he's on a level of his own.
Béla tells of a concert he played soon after Nelson Mandela was made South African President, one where he was asked to write a track for the occasion. That song was New South Africa – and here his banjo sounds like the African Kora along with some other African stringed instruments, all intermingled; simply spellbinding.
Abigail and Béla play two one hour sets and a fifteen-minute encore. They receive two standing-ovations and that probably lets you know: they can do no wrong. It is rare in this day and age and a privilege to see and hear such gifted musicians. If you thought Béla And The Flecktones were good – you need to hear Béla Fleck and Abigail Washburn. I'm not sure if it's mathematically possible to do this, but I'm giving the evening an eleven out of ten.
- Donald Gunn.