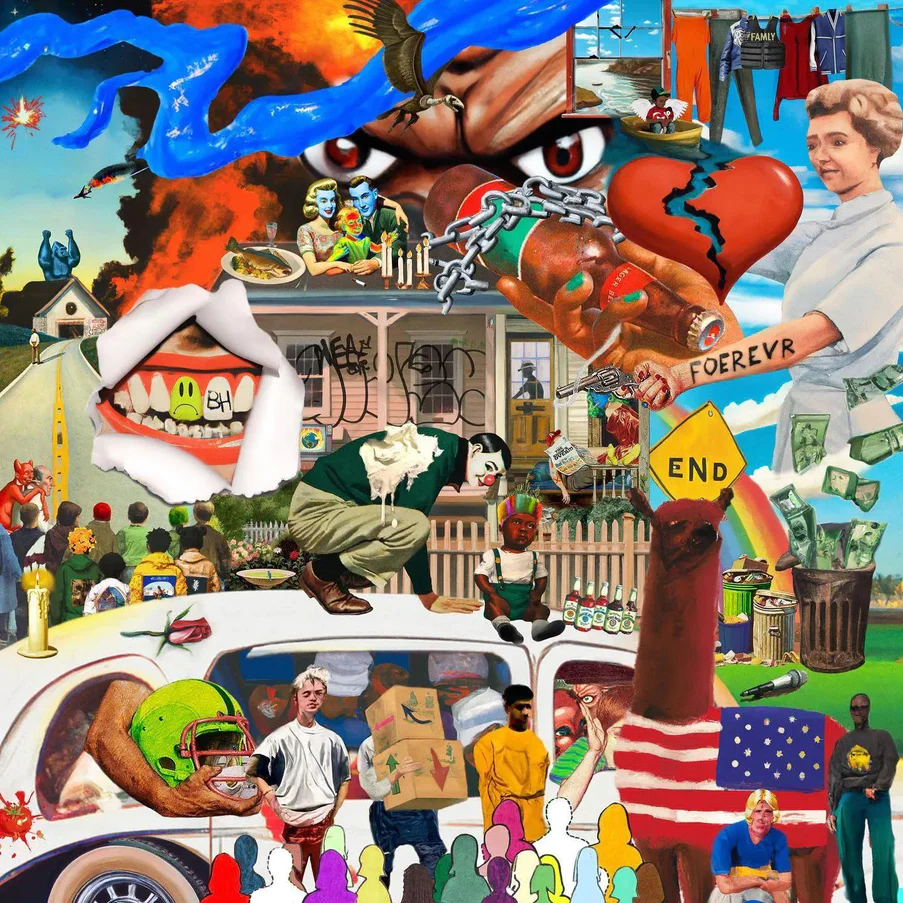 Brockhampton
The Family
Question Everything / RCA / Sony
- The latest and supposedly final Brockhampton record, entitled The Family, is the most unique record the group has delivered yet: in that it features none of the core members other than head artist Kevin Abstract and Bearface. Acting almost solo Kevin Abstract record-created to fulfil label obligations, The Family explores the group's dissolving from the perspective of its leader and plays out similar to the passage of a diary in which Abstract reveals his most personal emotions.
Opener Take It Back draws inspiration heavily from early Kanye West -the artist whose forums created Brockhampton in the first place- but in a sped-up style reminiscent of mid-'10's Chance the Rapper or Drake. While this style seems good on paper, I find the tempo of the production to be slightly irritating as it rushes through a meagre two minutes. The use of chipmunk soul is purposeful as Kevin draws on memories of the group's early days and his clear disappointment of what has come since.
Gold Teeth is a punchy two minutes with powerful jungle drums booming behind a short and repeating vocal sample. In the track's short runtime, Kevin makes his anger and frustration known and is very clear on the record being a label satisfier without the involvement of the rest of the group. His performance on the track is almost too realistic to bear as he pours his complete soul into his rhymes in an unflinching manner.
Big Pussy is a chaotic whirlwind of as many styles as possible in just over two minutes. Beginning with a percussion-based jazz assault, the track evolves into heavy bass riffs over which Kevin's performance is once again raw and unfiltered. The constant sound of barking dogs backs the rapper as he lets you know that you truly have to bring it to perform on his level. Once again the style switches to a more traditional hip-hop sound as Kevin reflects on the rowdiness that Brockhampton brought to every live performance.
While Good Time once again reflects on the early days of the group, Kevin seems to be less antagonistic and more in a place of acceptance. The rapper acknowledges that it's time he goes back to his real family without the pressure of performing in what is an unusually down-to-earth statement from someone within the genre. The production is once again chipmunk soul but more subtle and less obnoxious than earlier tracks, with only a choir to support Kevin's diary entries.
The Ending feels just like that: a full-circle moment for Kevin as he details the early recording days that led to the millions. It is most interesting to hear his plans to reconcile with departed member and sexual misconduct accusee Ameer Vann, as Kevin seems to have reached a place in his life where he is doing what he feels is right rather than responding to online stipulation. The production is soulful with chopped up female vocal samples backed by trumpets and drums.
The final, self-titled track is the album's finest moment and it's no coincidence that it's the only song on the record to reach over three minutes. While everything else Kevin has detailed has been personal, Brockhampton feels directly aimed at long-time fans and their support. It's beautiful to see Kevin express on the talents on every member of the former band as the project comes to a storybook close over vocal samples and gorgeous strings.
The Family will be a divisive project for Brockhampton fans, especially those who walk in with the expectations of a complete finale. Instead, Kevin Abstract has reluctantly provided RCA with thirty-five minutes of music in which he just digs his inner monologue up and pours it out on to the page. While I sometimes found the production choices obnoxious and wish the song lengths were extended in order for ideas to be fleshed out. I will say, it is nice to see a rapper take a stab at creating something unique for the purpose of a middle finger.
- James Chadwick.