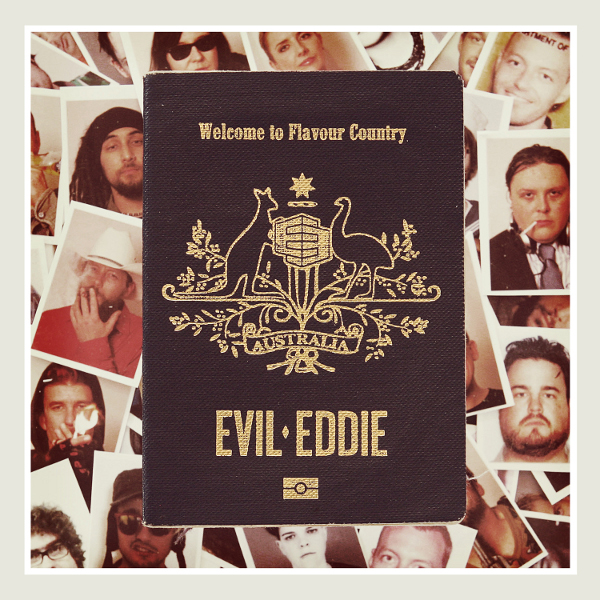 Evil Eddie
Welcome To Flavour Country
Bewilderbeats / MGM
- It occurs to me that Evil Eddie should've been done years ago. Gimmicky, sleazy, like an indelible stain / funny smell / carpetty aftertaste lingering too long after the rest of Butterfingers have been tipped unceremoniously into a mass-grave. Something about the guy, though, he just won't go away and, really, for all his shortcomings (which he takes every opportunity to celebrate), he has a thing which a lot of people want to listen to.
You hear about a lot of artists who 'tell it like it is', but do they? I don't know, even if they do, their gritty reality usually has very little to do with where I'm from. I'd like to say that I find it difficult to relate to Eddie's brand of bogan-stoner cockiness, but at my lowest moments, I may have seen the bleary reflection of his stubbly mug in the bathroom mirror staring back at me. Even if – thankfully – it isn't something I can personally relate to very much of the time, Eddie's Sunshine State antics do describe a lot of things that I know. More importantly he can capture these situations with the keen eye of the street-hustler for human weakness and has the merciless wit to take the piss out of it.
His machine-gun style doesn't really have an analogue in Australian hip hop. Like Funkoars on (substantially more) crack? That's about as close as I can get. He uses that natural talent to write cheesy, hand-waving anthems and more often than not it makes them work. It's not the only talent he possesses, either. From what I can gather, his debut full-length, Welcome To Flavour Country is largely self-produced (and I think he screwed up the release-date doing last-minute tinkering). I'll be honest: it was totally worth it. A lot of the beats here, both the barnstormers we've known for years ((Somebody Say) Evil) and heretofore unknown smashers like the storming groove for the funkstramental The Bomb, closing the album, they're just boss.
Serious achievements like this help to bring Flavour Country lunging drunkenly back from hopelessly shallow and self-indulgent raps like Hungover which would otherwise make you question what you ever heard in Evil Eddie. He's a homegrown iconoclast and I don't know what anyone beyond the borders of Logan City will make of this, but for all the grinding lows that Eddie revels in, there are moments where Flavour Country is an undeniably good place to be.
- Chris Cobcroft.