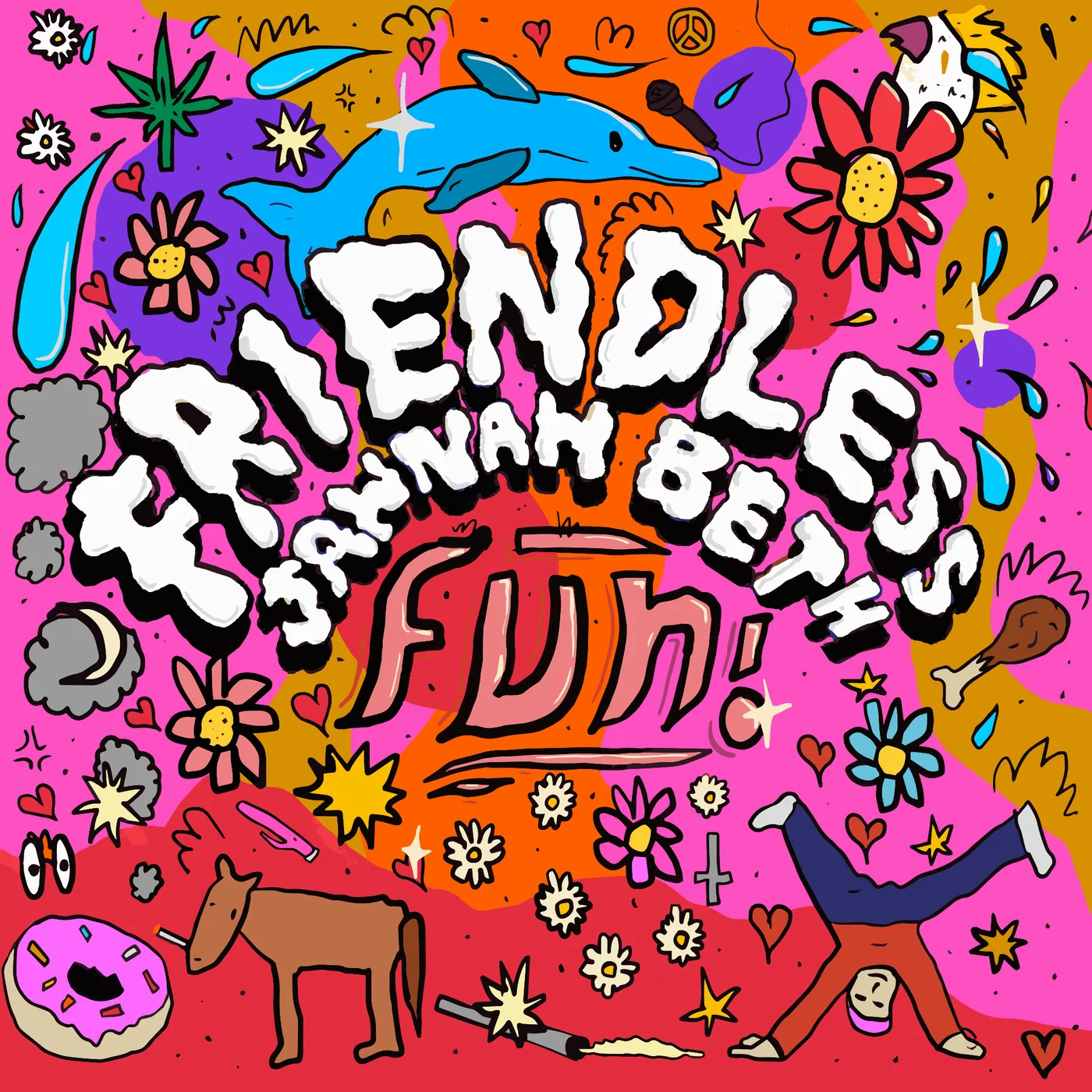 Friendless & Jannah Beth
FUN!
Be Rich / Vicious
- There's more emotional colour to this record than the title FUN! might suggest. The name is less about tearing around, pilling your head off like an idiot and more about the working relationship of its two instigators. Following up on the success of a couple of shared singles -the latest was 2021's Drip- all the way along the pairing has been a very fruitful one. Multi-talented collaborators Friendless and Jannah Beth just seem to bring out the best in each other and this record, bubbling with energy and enthusiasm, is ample evidence.
Both Friendless and Jannah Beth have a reputation for being musically adventurous, but I think Beth especially. Apparently she's had meetings with industry figures where she's been told by exasperated execs to "pick a lane", genre-wise. The vocalist / rapper / instrumentalist is impressive in gospel, soul, r'n'b, hip hop, pop and more and I really do hope she's never forced to choose. Friendless is a producer from a breaks background and that matches the string of singles from him, maybe it's Beth's encouragement that has them both diving into the bunch of new sounds on Fun!
The foundation here is UK Garage. Kicking off on Player, a wistful but warm ode to having a partner in the game, the deep house elements and deeply syncopated beat are the key. It doesn't sound as…I'm not sure…old school as some Garage? More like what's actually still pumping out of the UK? Jannah Beth's vocal does have a distinctly urban and British twist. I'm really glad Friendless admitted he was on a Garage tip here, because it's innovative enough to be confusing and I get very nervy when I can't put something in a genre box! Whatever else it is, it's a good start.
Well, 4U is much easier: more like 4Hero, yeah? Ehhh. It's a delightful vocal drum'n'bass anthem with Jannah Beth switching adroitly between singing and rapping, banging out the braggadocio. When she delivers lines like "when it comes to number one you know I never fail" it just sounds like the truth. Credit to Friendless too, the d'n'b is badass and fast. I heard him say somewhere that since he and Beth have come together the bpm has risen from one-hundred-and-twenty-four to one-hundred-and thirty-seven. Again, it sounds like it checks out.
Next up is the sweet pop single and By Ur Side comes complete with a video featuring off-brand Care Bears; they even made a hackneyed industry veteran like me smile indulgently. Friendless is doing his Garage thing again, spliced with a little trap and Beth is doing her own r'n'b close vocal harmony. They do a duet at the end crooning "I'll be by your side!" It's cheesy but you would literally have to be dead not to be won over.
Don't get stuck on it because the party rap of popular, early advance Ego Drop has arrived. Beth is picking a fight with some other MC "you been on the attack since you set up shop / All the way up till you reach the top / Now you must come down call it ego drop" and that other MC appears to have already fled the scene. Friendless brings big, bouncing bass and electro synths that are a great accompaniment. This one, which was the first thing completed for the new EP, sounds a bit more like the more urban stuff I heard from JB and Friendless previously.
If it's the most obvious, then closer Never Enough, is the least. A piano ballad entwined in a tight embrace with a bittersweet house anthem with stabs of bassy synth brass that are spine-tingling. Touching on the painful nerve that runs through the infatuation of love, Beth is still here for it all as she whispers "don't wanna be without you". The echoing reverb and house sweetness reminds me of the sophisticated meetings of Robyn and Röyksopp.
Togetherness, partnership are the constant thread that run through this record. There are other emotional colours, there are disagreements, but there's a strength in a shared bond that is sure to hold through it all. If the music is the real evidence of that, it's pretty hard to dispute: Friendless and Jannah Beth have something special going on. It might be called Fun!, but this is much more than that.
- Chris Cobcroft.