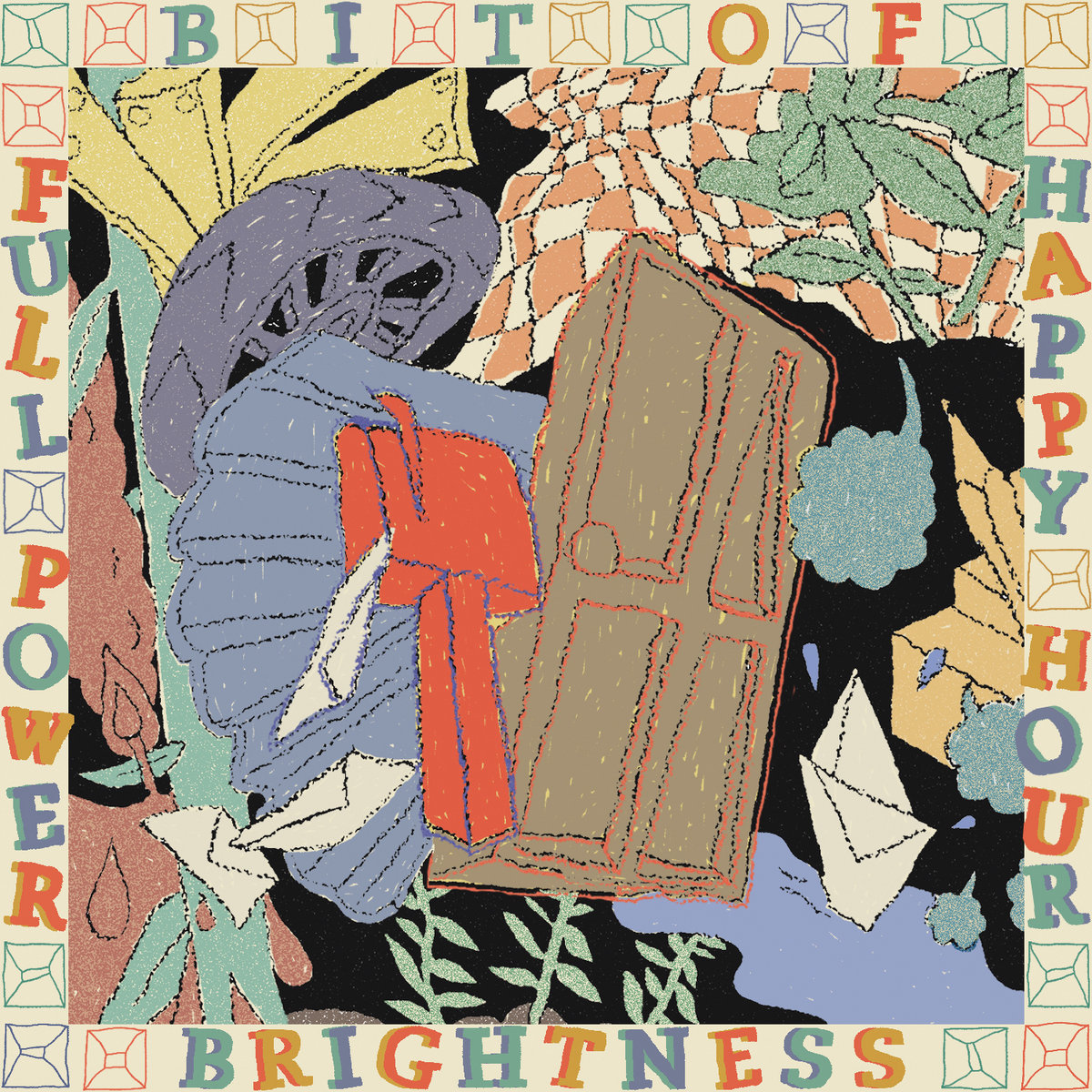 Full Power Happy Hour
Bit Of Brightness
Coolin' By Sound / Redeye
- Jangle-pop is an inherent part of Brisbane, just like a certain brand of cynicism. I'll get to what is and isn't jangle about one of the town's better bands, in a minute. I can say that Full Power Happy Hour really seem to be owning the name, on their new full-length; I don't even hear any irony in it. I'm not sure that's the Brisbane way, up till now, but it's good to grow isn't it? There's an unbridled, joyous quality in this band and they may be sparking something similar in me, with a Bit Of Brightness.
Being who I am, I feel a tremendous urge to talk about what-the-hell jangle-pop is these days, or even if anyone is actually playing it anymore. The kids who leveraged an inability to play their instruments into off-key, dolewave aspirations, are often, actually, pretty good now. Full Power Happy Hour is an excellent example. Many of its members, having done plenty of time in bands like Gunk and Mouldy Lovers, were already veterans when they kicked off their latest outfit. You could hear some of that in the depth of musical knowledge they brought, referencing the sweetness of Joan Baez and Joni Mitchell, even while they jangled like The Clean. On their second full-length, Bit Of Brightness, I'd say I'm hearing less of the seminal Kiwis and more …Tom Petty?
Maybe it'd be more apropos to cite, like the band do, Lucinda Williams. Whichever you go with, the country licks are very regular, now, but so are a lot of other things. FPHH have the ability to fuse indie with Americana that makes them just about as versatile as a band like, uh, The Band. That being the case it'd explain why my reference warning klaxon goes off all the time listening to this record. Hey, did that sound like The Proclaimers? I'd even say I heard some stuff that'd be worthy of Dylan, but, y'know Alex Campbell sings nicer than he does; better wink emoji that statement before I get burned alive by the Dylan fanatics.
The lyrics are quite similar in many ways to the band's last full-length outing and they're substantially less country than the music is. Alex Campbell is, again, singing her personal experience and it speaks of a clear-eyed perspective and a courage that feels a lot like those icons of the '60s. It's that meeting of a political project with a deep and abiding sense of happiness, joy; it's moving and infectious in the same way as Mitchell and, well, there's even a song called Joan which I'm reasonably sure is about Baez. Listen to the lyrical flourishes on the title track though: "And I'm safe and I'm loved / Beneath this strong tin roof / I dream about the day that I can tell a story / With both lungs and throat / To relieve a little pain / I've got a lot to say And I wanna hear the silent voices / I'll raise them up in darkness / I'll make a bit of brightness." Really, damn good stuff.
Even the more negative emotions -which Campbell appears to have snuck in at the end, almost like she was a trifle embarrassed- never abandon a calm sense of self, a knowledge of where the personal boundaries are and how to make 'em stick. Neither the melancholy coming-of-age ditty in Fledgling or the curiously bittersweet closer You Can Be Cold -which lets the final word be a rejection of other people's crap- lose their footing. If things don't feel right just "Put on your sunglasses and walk away.
There's a great line in Nick Hornby's High Fidelity: "People worry about kids playing with guns, and teenagers watching violent videos; we are scared that some sort of culture of violence will take them over. Nobody worries about kids listening to thousands - literally thousands - of songs about broken hearts and rejection and pain and misery and loss." I think that makes me all the gladder that I've listen to Bit Of Brightness. I feel marginally stronger, happier and like I want to make the world a better place, now. Forget jangle, I'm pretty sure a record this emotionally healthy can't be a country record either. Whatever, I've got to say thank you Full Power Happy Hour, I'm going to try and make good on the feeling.
- Chris Cobcroft.