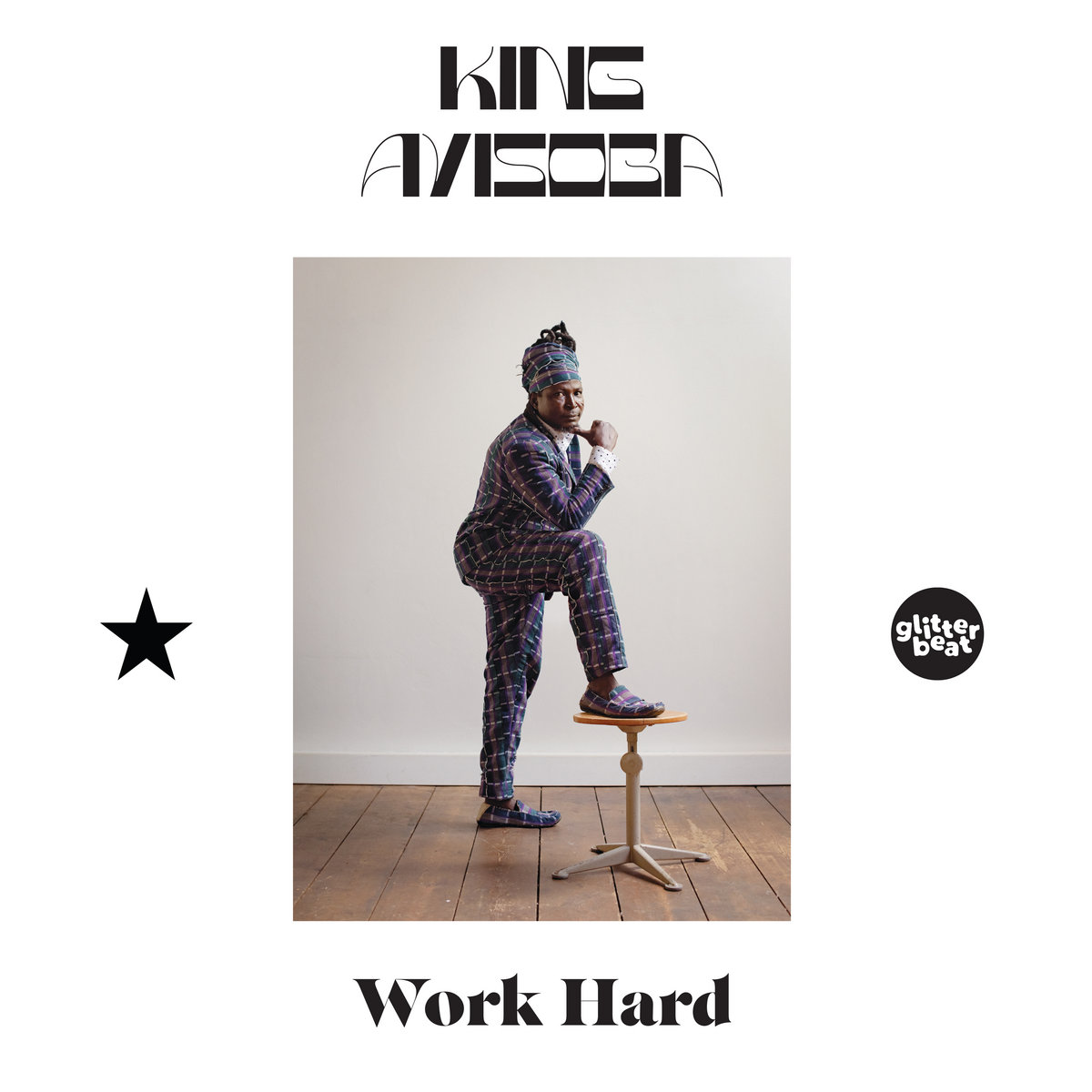 King Ayisoba
Work Hard
Glitterbeat
- King Ayisoba – the self-proclaimed King of kologo – is back. Work Hard is King Ayisoba's sixth album, and first in over five years. Ayisoba is from Ghana in West Africa, and plays a hybrid of modern pop with traditional folk, full of political messages and the King's own unusual singing voice.
The kologo, in case you were wondering, is a traditional Ghanaian lute-style instrument - a gourd with goatskin stretched over it and four strings making something akin to a guitar sound. It is present on all the songs on Work Hard, mixed in with polyrhythmic percussion, electronic beats, flutes and the occasional brass section. The vuvuzela style horn that has often featured in Ayisoba's music is sadly less prominent here, though it does pop up in the advance single People Talk Too Much.
For those of us who don't know much about Ghanaian music, it's hard to know exactly where to place King Ayisoba. The 49 year old cuts a pretty strange figure with his long dreadlocks, colourful baggy clothes and voice that sounds like an extreme African Tom Waits. The music is certainly a long way from what we in the west would consider either mainstream pop or traditional folk, and the lyrics are full of strident political messaging often very critical of his government.
Yet as far as I can tell, the King is quite a respected figure. In the last couple of weeks he was invited to perform at the funeral of Ghanaian soccer superstar Christian Atsu, who was killed in Turkey's recent earthquake. Not every country's mainstream pop culture is as bland as our own, and King Ayisoba's musical experimentation and political protest is proof.
Both these elements continue on Work Hard. The album is full of guest stars; mostly Ghanaian rappers and autotune pop singers, though there is also a few contributions from Arnold De Boer – West African music enthusiast and member of legendary Dutch experimental anarcho-punks The Ex. Whereas King Ayisoba has built a career on playing traditional music on acoustic instruments, Work Hard is full of electronic rhythms courtesy of producer Francis Ayamga. Sometimes the juxtaposition can make for some pretty far-out sounds, like the trap-style electronic snares and traditional flute combo on Abome. Mostly it results in a joyous style of Afropop, full of frenetic rhythms and different vocalists jumping in and out.
The album notes helpfully include a song meanings guide for us English speakers. In it we find a wide variety of topics – about protecting traditional languages and eating healthy; to invectives against corrupt leaders; a demand for harsher border protection against foreign gangsters; and Bossi Labome which highlights the hypocrisy in how women who commit adultery are treated compared to men.
All this adds up to a fascinating record. King Ayisoba is a product of a context very different from ours, and his openness to incorporating elements of Western pop has not diluted his individuality. The King of kologo is a benevolent ruler with something to offer us all.
- Andy Paine.