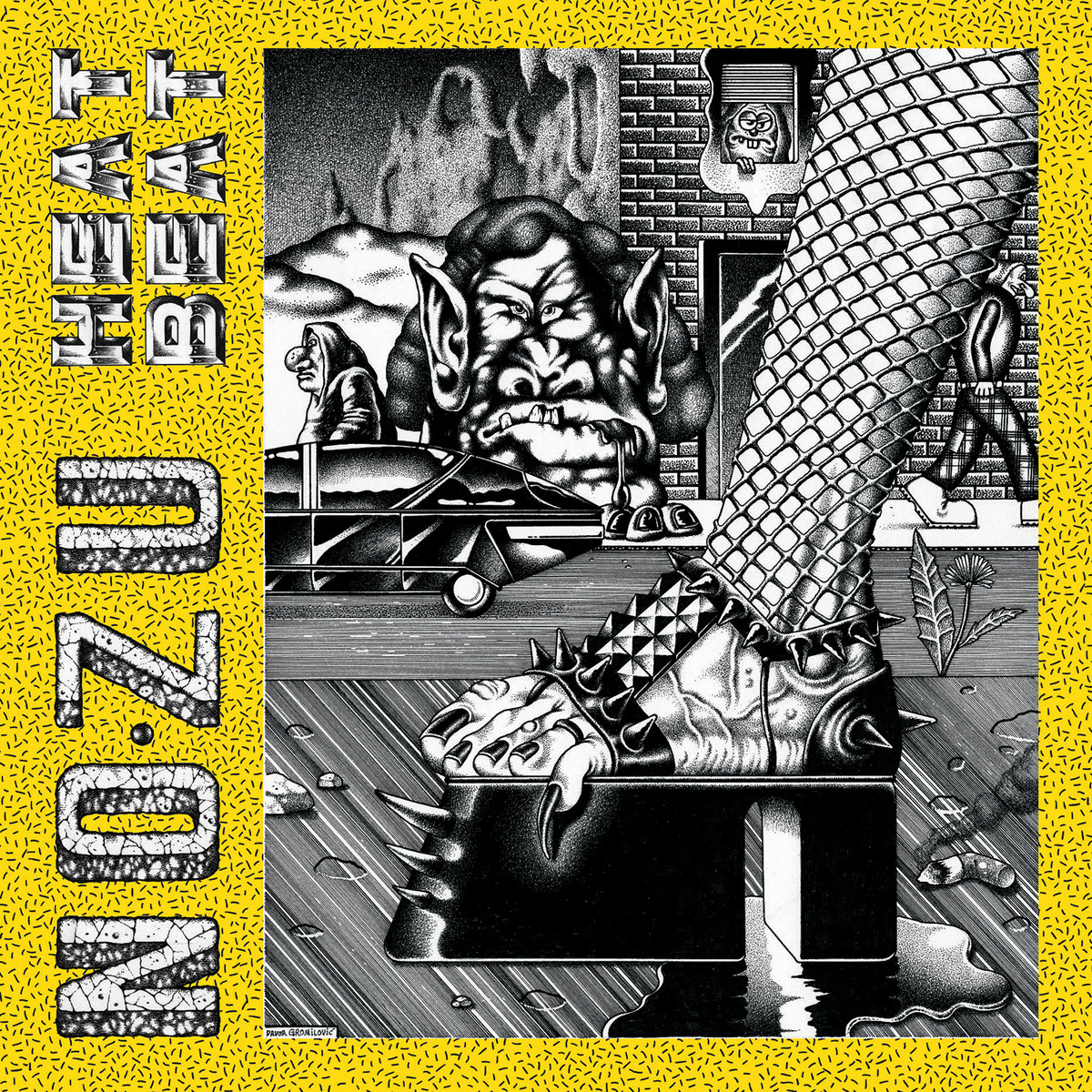 No Zu
Heat Beat
Chapter
- One of Naarm/Melbourne's most unmistakable outfits returns with their first, properly new music in, what is it, seven years? I can't speak to all that time but recently things have not been easy for the funky collective, most notably with the sad passing of lead vocalist Daphne Camf in 2021. Heat Beat is a tribute to both Camf, featuring her final recordings with the band and what they've done together: its very title is the name of No Zu's self-styled 'genre' of funky, dancey, percussive no-wave. A loving memory, a long desired taste of new music - despite the sad circumstances, it's hard to say no to new No Zu; bring on the Heat Beat.
The four cuts proper that make up the EP are not a radical departure from the No Zu you know, which, given the passage of the best part of a decade is, possibly, a little surprising? Then again, since early '80s New York, who else sounds like No Zu? There aren't many –!!! maybe?– and outside of New York, round our neck of the woods, the outfit has a parti-coloured uniqueness that stands out in a sea of bands.
If the sound hasn't changed, it was always a lot to begin with. No wave with its joyous abandon bricolage, throwing in anything you feel like till the style is almost shapeless, is the only way you can explain that Sonic Youth and No Zu were once, nominally, in the same genre. No Zu are, of course, in the boiler room of that higgledy-piggledy festival of sounds, still taking their tips from forerunners like Liquid Liquid.
In a strange way the high energy, percussive brightness of their sound has an uncanny resemblance to …advertising jingles? No Zu are nothing if not self-aware and they embrace this satirical potential again on the new record. The single, Liquid Love frappes mysticism, romance and fossil fuels? Cooing about "fantasy, mythology, an oil-slick pump burning energy", everything is enveloped in a haze of arousal and you're not sure if everyone's more excited about sweaty bedroom action or watching an oil derrick spurt black gold.
This is made even more explicit on the track Cosmetic Beat "Loreal, Maybelline, maybe it's in your skin / Estee Lauder, Revelon, bribery and blood and bone." It's a consumer fever dream which, I think, is poisoning us? "Lip gloss and blush / Blood and bone and bloodshed eyes / And melts the foam, burning tires / Hume Highway conquered our tears and heirs and lingerie / Diesel and dust and iron and rust / Petrol bodies, burning lusts..." On it goes, the fortune 500 sweltering in the Aussie sun, lustily embracing hyper-capitalism and enthusiastically vomiting it all back up in a spoken word torrent of toxicity. If I understand it right, I think the human race may be in trouble. Although, wait, I think we knew that. Oh well, at least the knell of doom is danceable now.
Danceable like it always was. I've definitely melted my mind to No Zu in just this way before. The song remains the same, Nicholas Oogjes and crew aren't exactly making great new leaps, they're happy to dance like nutters and deliver mystical phone-sex rants over the top. Actually I commend that one to you, a happy little surprise: Mind Melt has modal melodies transforming into Rocky Horror Picture Show vocal harmonies with a mystical phone-sex chat to finish things off; it's hard not to crack a smile. In the end, after absence and sadness both, the romance might be covered in oil stains, but it's just nice to get it on with No Zu again.
- Chris Cobcroft.