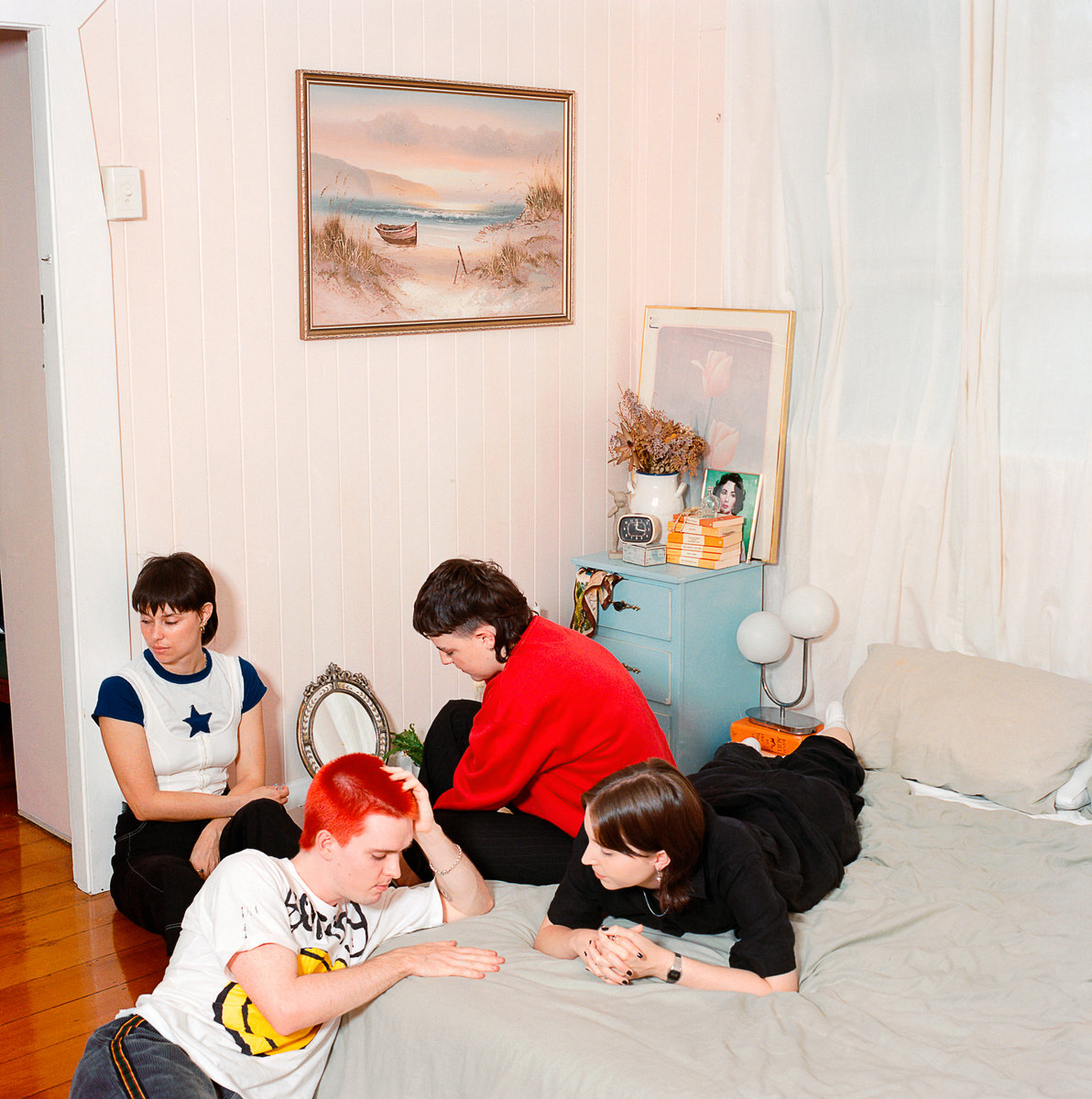 Platonic Sex
Grip
Zang!
- There's recently been a resurgence of grunge, and there's a strong contingent of bands in Brisbane/Meanjin who are doing it very well. Queer alt-rock band, Platonic Sex deliver their own brand of this genre, on their debut EP Grip out this week via Zang! Records. Very talented musicians Jane, Ryan and Mikki back a very talented singer-songwriter Bridget, who manages to be so eloquent in their f*** you that, as a listener you can't help but be charmed, ignited and uplifted all at the same time.
This six-track cassette, definitely has grungy elements, like the angsty lyrics, and soft/loud build-ups to shaking crescendos that make you wanna throw yourself around in a sweaty moshpit. It's reminiscent of early grunge stalwarts Screamfeeder, or Garbage, and is most definitely influenced by the love sick indie fuzz rock of Snail Mail or Beabadoobee. However, Platonic Sex combine angst and distortion with delicate moments of vulnerable reflection on themes of queerness, mental health, community, and love in all its forms: familial, platonic, romantic.
These songs are expert at punching the listener in the guts with lyrics that describe recognisable situations, feelings, and ideas, in an accessible, yet poetic way. For example, Devil's Advocate is not subtle in it's political message. It's a scathing commentary on men who obtusely perpetuate sexism and misogyny towards women and gender diverse people. It's a call for accountability, but it's done with a hint of humour and even compassion. This band gives second chances, but conditionally. This song says go and do the work and try again to be better.
Disappoint Another also hits hard, lifting the energy again midway through the EP. Bridget questions a partner not being true to themselves, hiding for the sake of other people's happiness. Bridget croons these questions over Ryan and Mikki's driving percussion, and Jane's crunching riffs, and honestly, this track might be the catchiest song of the release. Every time I listen to it, I have it buzzing pleasantly around my head for days.
What makes Platonic Sex distinctive, is the acrobatic vocals. On this EP, Bridget's voice constantly surprises the listener. At times it's a wailing vibrato, like on Exhausted Competing For You, which, enhanced by a lot of atmospheric reverb, makes me think of Björk. Then, there's a song like Alright, where Bridget's clear and soaring melodies evoke an almost country-pop-diva sound. I'm reminded of Alison Krauss, Dolly, or Kacey Musgraves. But then, bam! It gives way to a guttural and raw growl and then, back again to the melodic soprano. At the beginning of the track, Be There, is that vocals or is it a Theremin? It never feels like too much though. Bridget has master control over their vocals, and each decision although heartfelt, and raw, also sounds like it's intentional and carefully placed to surprise us at just the right moment, on just the right lyric.
The title track Grip has that same driving guitar and beat that instantly hooks the listener, and is more indie pop than the other tracks. It still has the grungy soft build into another ear worm chorus, that by the end of this EP, you've come to expect. This time, however, the band is joined by a choir doing back-up vocals which leaves the listener with a hopeful feeling of camaraderie. Bridget who co-wrote the song with long- time friend Kate McGuire -lead guitarist of Meanjin bands Mouse and Voiid- explains that this final track is a "tribute to the amorphous, self-defined structures of queer relationships, and the transitions - from friendship, to romance, to exes, to friends, and so on - that occur so frequently within queer communities". At the end of the song, the choir sings the message like a joyful footy crowd, that shouts the gist of, "let yourself fall in love, let yourself change and grow, and how good is queer love in all it's forms?".
I first saw Platonic Sex live, back in 2021, and immediately investigated where I could buy their album. With only a handful of singles under their belt for the past eighteen months, I was pretty impatient to have this band's recordings in my hot lil hands. I'm glad they didn't rush, though. You can tell they've taken their time and worked hard to create this stellar debut body of work.
A powerful first release from an up and coming band that is truly going places. Take note.
- Alex Campbell.