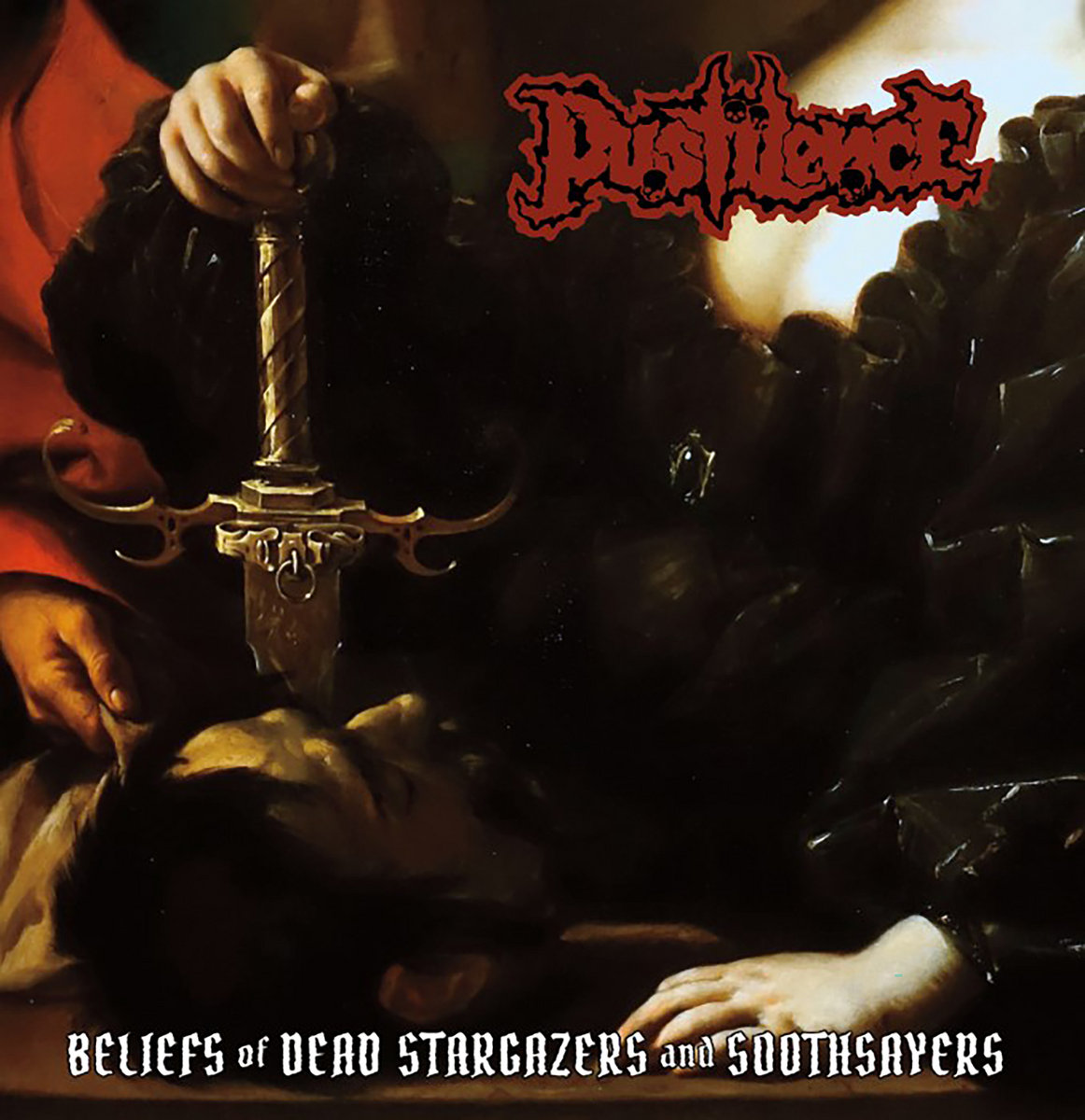 Pustilence
Beliefs Of Dead Stargazers And Soothsayers
Rotted Life / Memento Mori
- Be forewarned and forearmed that I'll be dipping our toes into the shallows of numerology for this Pustilence review; don't worry too much, as we go, it will make more sense. For their debut full-length release and first release altogether in roughly three years, the Brisbane group have enlisted a fourth horseman for their brigade. With a theme of threes, the music is trisected into equal parts with each conforming to a uniform structure. You can take Beliefs of Dead Stargazers and Soothsayers as three separate EPs or as one entire record, but regardless of how it is consumed, it is well worth your time. When the album starts to unfurl itself like those Papua New Guinean flowers that stink of rotting flesh, its ultimately repulsive nature is what draws you in. A member stronger, a full release now in the world, the horsemen are here to spread Pustilence and make that intent and horrific appeal clear.
Intent is established in how the record is trisected: the dense, convulsive compositions that structure every track across the record and their adherence to the themes they've established. The now quartet avoid the pitfall of garrulous lip service death metal bands can provide to the esoteric and the macabre. Instead, they aim to entirely weaponise it by making it a focal point. The contorted music hurled up here is cosmic death metal at its finest, blatantly and cruelly teasing a consistent and recognisable groove, only to eschew it for a unending labyrinth of twisting riffs and relentless rhythms. Concupiscence might be the first time -and it's three tracks in mind you- that some breathing room is achieved, or allowed, depending on how you want to look at it. A peculiarly roomy opening pairs, initially, with divebomb guitar squeals before a mutated, gargling voice dictates a message. It's a message that we know is language of some sort but which and what's being said are still foreign to us.
Interspersed between these channellings of something from the fringe of our world are well-placed, well-weighted ambient interludes. As someone who loves both this kind of cosmic death metal and the associated ambient sounds used to foster the necessary atmosphere, these three punctuation pieces are exactly what a record of this style needs. The meat of Beliefs of Dead Star Gazers and Soothsayers is comprised of the heady death metal that wanders into the abyss, just as it pleases and doesn't really care if you follow into the tumult. So these moments that feel more intentional are all the more pertinent.
Three became four to birth their second, which is split into three parts and blooms like the bulophyllum phalacnopis: when it comes to their first full length release, Pustilence make an impeccable statement. The ever winding, ever evolving, from-another-place death metal swarms as it pleases but never loses us along the way. What a way to bring things to life.
- Matt Lynch.