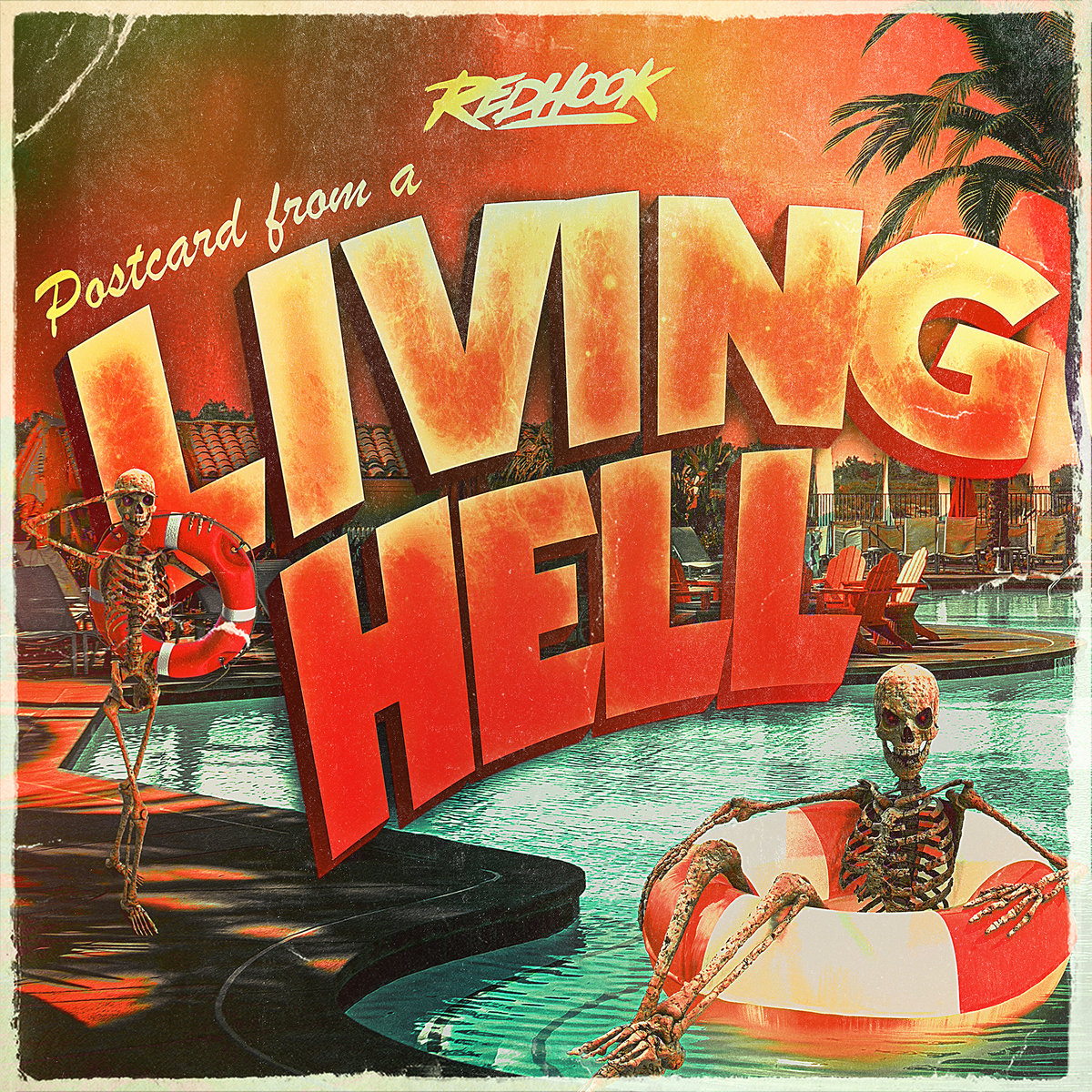 RedHook
Postcard From A Living Hell
Indie
- Postcard From a Living Hell, the debut album from the Eora / Sydney based alt-rock group Redhook is an angry, hard hitting ode to mental health, traumatic life experiences and struggles with self that will catapult you down the rabbit hole and spit you out the other side. The long anticipated release – produced by Stevie Knight (Stand Atlantic, Yours Truly) in collaboration with band member Craig Wilkinson and mixed by James Paul Wisner (Paramore) - builds on the popular 2021 EP Bad Decisions and is full of spitting vocals, punchy riffs and explosive instrumentals, that are balanced out with some refined pop and EDM moments, but heavy where it counts.
Opening with a furious bang is Postcard XO, a self-deprecating track written as a letter from rock bottom where vocalist Emmy Mack reflects on her struggles with depression and thoughts of self-harm. It's a dark start full of blistering guitar riffs and a sound that switches seamless ease between dance and scream. Even with harsh lyrics like "PS I'm drinking / To drown the failure" Postcard XO showcases Emmy's powerful and demanding vocals and is guaranteed to be moshpit worthy.
Off With Your Head is the heaviest song on the album. With the catchy, rage-fuelled lyrics "I'm Angry" on repeat there is more of an electronic sound here than other tracks. The Critic and Imposter Ft Yours Truly are frantic and furious with catchy hooks accompanied by heavy basslines, synths and drums. Psych vs Psych is a chaotic blend of rap, punk and electronic sounds.
The entire album is a sucker punch of heavy themes and allusions to Alice in Wonderland, which takes listeners down that rabbit hole, toward the Jabberwocky (a mythical beast from Through the Looking Glass) and into the hands of the Queen of Hearts as she screams "Off with your head" as we venture through -and I quote- "Just another fucked up fairy tale".
There is a bright side of course and not all the tracks are heavy and filled with angst. Soju ft Sly Withers is a more upbeat self-roasting inclusion with a sexy saxophone solo. Inarticulate ft The Faim and Say are the final two tracks which round out the album in a softer way, touching on the lighter moments of life without being too cringey.
Postcard From a Living Hell reminds me of a journal, written by someone working their way out of their own hell and into empowerment. The eleven-track album is an exciting and contemporary pop-punk release counterbalanced by old-school nu-metal at its core. It's worth a listen because it's loud, dark, honest and raw.
- Andrea Peirce.