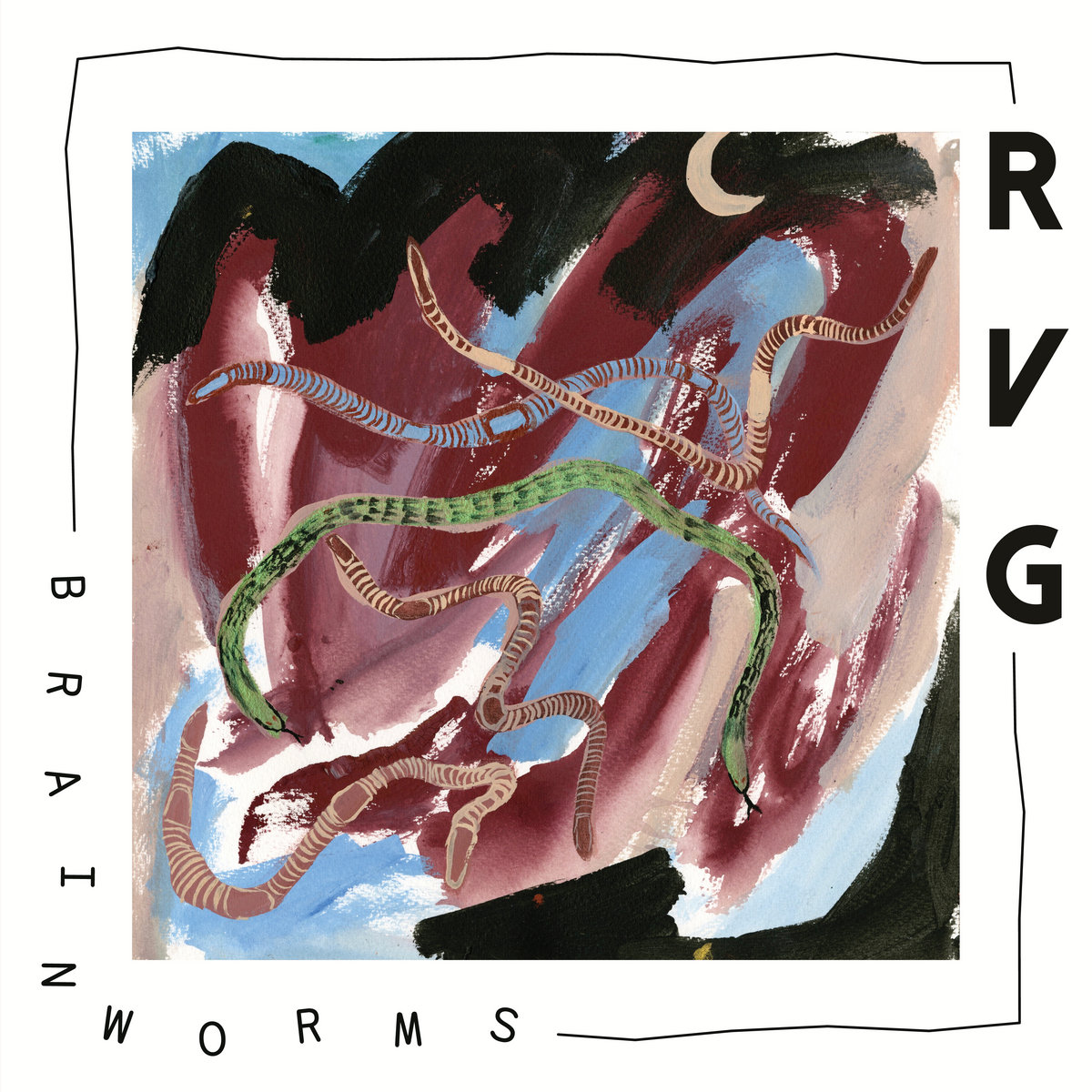 RVG
Brain Worms
Ivy League / Mushroom
- Brain Worms, the latest effort from Melbourne's RVG is full of contradictions and surprises. Songs about heartache and COVID lockdowns cohabitate with images of Ivan Milat holding a snake and the Kafkaesque nightmare of turning into a squid. At times honest and earnest, at others strange and surreal, Brain Worms keeps you guessing, never quite sure of what is around the corner.
Sonically, the album is a continuation of -and improvement on- the sound the group has been working toward since their first album, 2017's A Quality of Mercy. RVG draw heavily from 1980's post-punk, both Australian and international, somewhat reminiscent of The Go-Betweens by way of The Gun Club.
Romy Vager is the group's front woman and primary songwriter, she is also the basis for the band's name, RVG being an acronym for Romy Vager Group. She has a knack for a catchy riff and a bizarre line, but also a penchant for darkness and gut wrenching sincerity, making her songs, at times, both toe-tapping and heartbreaking. One such example is the incredible Alexandra, from 2020's Feral, which fuses her own experiences as a trans woman with the stories of others, to form a grim narrative of anxiety, rejection and violence.
These bleak tales of hard-up people in desperate situations continues on Brain Worms. Midnight Sun is a classic three-minute punk song that details the longing of an individual on one side of a broken relationship. Within a landscape of destruction, and despite the writing on the wall, the protagonist still holds dim hope that the object of their affection may one day return home.
Songs like Midnight Sun really demonstrate RVG's strengths as a band. Short blasts of well-crafted rock n' roll with lyrics that are both compelling and accessible. Even with the added dramatic license, the characters that live inside Vager's lyrics are ultimately relatable: their traumas are our traumas, albeit turned up to eleven.
Vager's lyricism also displays an obvious penchant for absurdity, wherein the past she has described the hypocrisy of playing God; on Christian Neurosurgeon, or lampooned technological dependance; on IBM, from Quality of Mercy and Feral, respectively. Squid, however, with its lyrics describing time travel and metamorphosing into a giant mollusc, really ups the irrationality. Is it a clever metaphor, or just an exercise in surreality? Only RVG know for sure.
With its intro of slow drums and heavy synth, Tambourine sits worlds apart from the rest of the record. Describing the anguish of losing a loved one at the peak of COVID, where final goodbyes are said and funerals attended, through the impersonal lens of a computer screen. Tambourine is a poignant reminder of the recent past, a remembrance of the enormous impact the pandemic had on even our most personal, and private spaces.
Another slight departure is the hooky Nothing Ever Changes. Released as the album's lead single, it owes more to '70's stadium rock than anything the band has created previously. An ear worm on album called Brain Worms, Nothing Ever Changes demonstrates a more obvious pop sensibility, previously only hinted at, and a versatility missing from past releases.
After the critical success of Feral, RVG had a lot of hype to live up to. Fêted as the next big thing upon its release, the band barely had a chance to prove their worth before the music industry, and the world, shut down. RVG have clearly used this down time to carefully plan their next move, with Brain Worms being both an answer to Feral's success and an argument that their best work is not yet behind them.
- Nick Stephan.