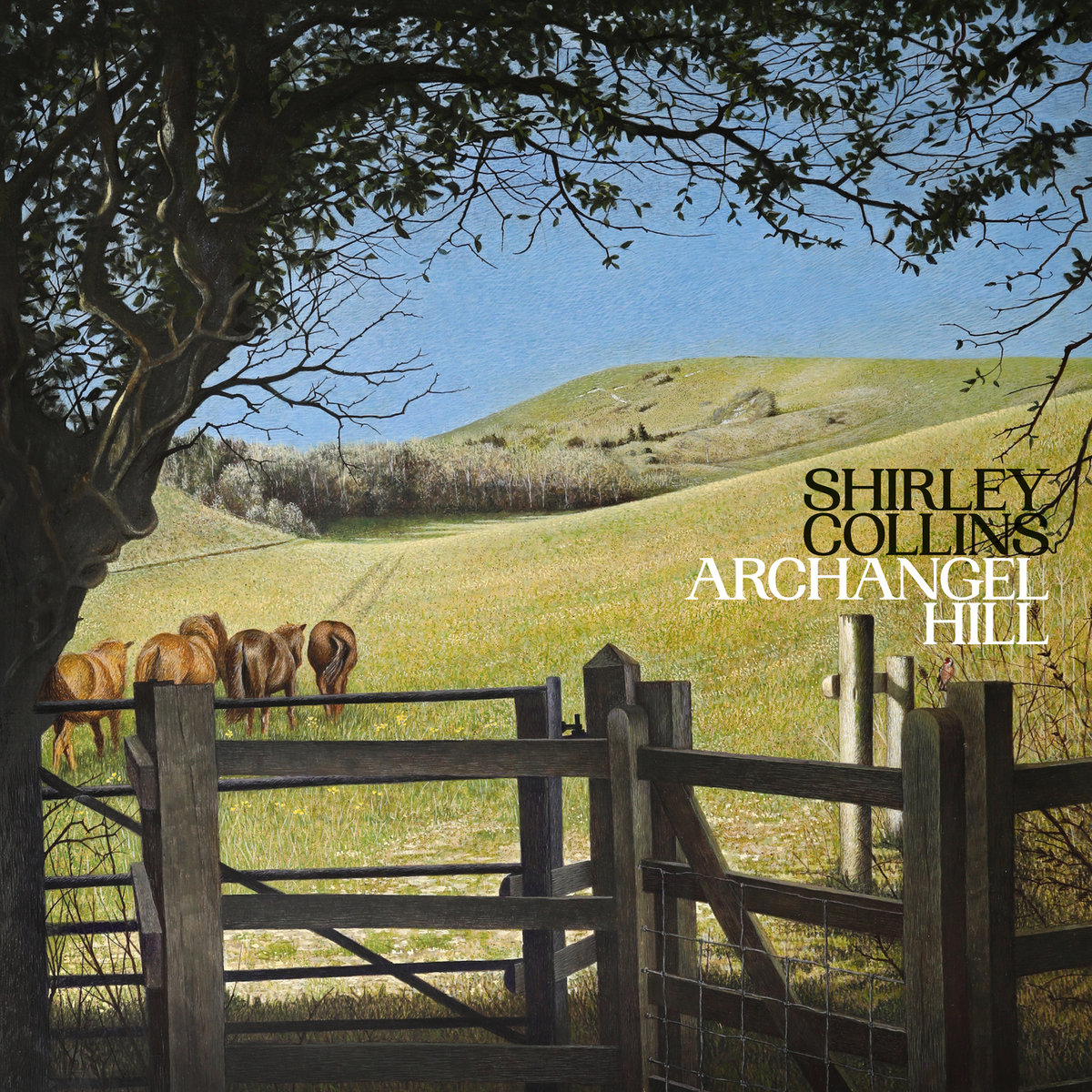 Shirley Collins
Archangel Hill
Domino / EMI
- Like many esoteric things close to my heart, Shirley Collins was introduced to me by way of David Tibet, the idiosyncratic creative force behind the experimental group, Current 93. Tibet would wax lyrical in interviews about the genius of Collins, and he was instrumental in encouraging her return to the studio and subsequent Twenty-First Century revival.
Shirley Collins' career dates back to the late 1950s and whilst she is loosely described as a folk artist, her sound and style are more closely linked to the myths, legends, pastoral tales and traditional songs of olde Albion. Her albums, Anthems In Eden and No Roses, were a major influence on the progressive folk acts of the 1970s, such as Forest, Jan Dukes de Grey and Spirogyra. Beyond this her influence can be felt in folk-horror films like The Wicker Man and, more recently, in the hauntological music of groups like Belbury Poly and the record label A Year In The Country.
Following a painful divorce in the late 1970s, Collins lost the ability to sing, retired from music and faded into obscurity. Gone, but not forgotten, she continued to be championed by artists as diverse as Billy Bragg, who described her a national treasure. In 2016, she released Lodestar, her first album in 38 years, a beautifully bleak collection of songs, whilst the softer, Heart's Ease followed in 2020. These albums heralded the welcome -but wholly unexpected- return of one of England's most important musical voices.
Archangel Hill contains thirteen, mostly traditional songs, recorded in 2022, with the exception of Hand in Heart, a live recording from 1980. Recorded at the Sydney Opera House, Hand in Heart captures Collins immediately before she lost her voice and retired from music. Any evidence of Collins' then imminent personal struggles are wholly absent from the recording and her vocals are eloquent, yet compelling.
Collins back catalogue is a sonic encyclopaedia of traditional English balladry and Archangel Hill boasts several songs whose origins stretch back hundreds of years. Lost in a Wood is from the early Fifteenth Century, and The Golden Glove from the mid-Sixteenth. The Oakham Poachers is a despairing, though beautiful ballad which details the arrest, trial and subsequent execution of a small gang of Eighteenth Century poachers. Recent by traditional standards, The Oakham Poachers is a particular standout on an album with no shortage of highlights.
High and Away, the album's first single, and Archangel Hill are the album's only new compositions. Despite this, the two tracks could not sound more different. High and Away is a breezy folk tune, replete with wind effects. Archangel Hill, an ode to the landscape of Sussex, is more spoken word than song. This pastoral vision provides a fitting end to an album rich with the imagery of an England that for most, no longer exists.
Archangel Hill is a relatively conservative record, a fitting companion to her previous release, Heart's Ease, but far removed from the more experimental stylings of her comeback album, Lodestar. This is not a criticism, but merely an observation, and, in fact, this transition makes sense, given Collins' age and her statement that Archangel Hill will likely be her last record. It is understandable, that in her final years, she wishes to immerse herself in the traditional songs that have provided a soundtrack to her life, songs which have given her, and her audience, so much joy, songs that will continue to engage, and inspire, long after she has left this mortal plain.
- Nick Stephan.