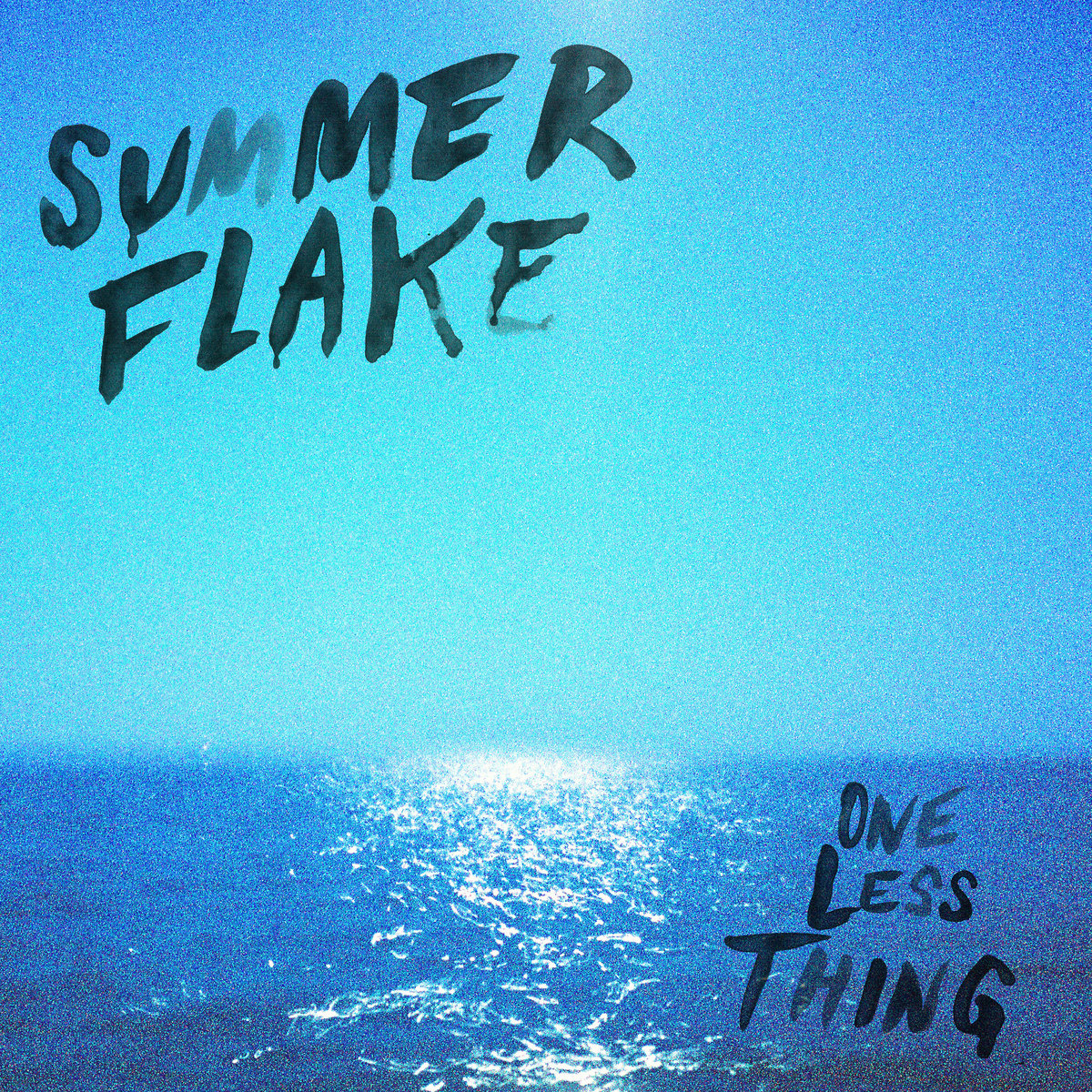 Summer Flake
One Less Thing
Rice Is Nice
- It's kind of funny, I was going back through reviews our team had written about Summer Flake records, over the years. To my surprise we'd covered just about all of them and each one, reads with … a certain uncanny similarity. Like: it's a Summer Flake record, sounds a bit like Mazzy Star, Liz Phair or The Breeders, with Steph Crase crooning quietly over a small selection of styles that could be collected in the songbook "ye olde, cool alternative rock, 1996 edition"; each one a bit like the last one. Yet, without fail the reviews are glowingly positive.
I mean, really, we can't get enough of her stuff and it's not like we were lazy that day and got the office intern to cut-and-paste her press release. Let's quote some people who definitely know music: Cam Smith, for instance, (of Tape/Off, Spirit Bunny and many other bands, as well as czar of Incremental Records, which must've produced about half the music coming out of Brisbane in the last decade) wrote "Summer Flake doesn't display some of the quirkier tendencies of some of Crase's contemporaries: not the rawness and weirdness of her ex-Batrider bandmate Sarah Mary Chadwick, or the off-kilter other-worldliness of her other act, the Ellen Carey lead Fair Maiden. Nor is it quite as immediately poppy as something like the various guises of our own Kellie Lloyd, or as wordsmithy as someone like Jamie Hutchings. Yet, Steph Crase has crafted a collection of songs that is absolutely the equal of any of these artists, both on [2019's] Seasons Change and throughout the entirety of the Summer Flake catalogue." Going back a bit further Grace Pashley (former 4ZZZ boss and member of Full Power Happy Hour) wrote "To compare Summer Flake's sound to her '90's alt/grunge forebears would suggest [2016's] Hello Friends is derivative, which would be wrong, but I'm going to say for anyone who likes Liz Phair or Elliott Smith give this a spin. Listen once, you might miss the brilliance of this record. Listen twice and you'll be carrying Summer Flake around in your head for a while yet."
Do you get that gentle sense of surprise? The same subtlety that's evoked by the music? '90's alt-rock revival is legendarily capable of inducing eye-rolls serious enough to snap the optic nerve, but not Steph Crase and she revives it again and again. Speaking of which, I've let other people write about half of this review, so I better say something about this new record, One Less Thing. That is if, after what we've heard, there anything new to say.
The music is -haha- exactly what you'd expect. Crase and her crew of Joel Carey (of Peak Twins) on drums, and new bassist Perry Mahoney (from Civil Union and The Shifters) have really got things working like a soft-rocking machine. So much of this has the countrified lilt of Mazzy Star and, reaching back through them to the soft and sweet girl group sound of previous generations. I think you could once have called Summer Flake lo-fi, just like you could call them shoegaze. Now it's like, you know that they can do that stuff, but most of the time it's more elegant not to thrust it out there, shove it in your face; you know what they can do and they know too and that's enough.
I think I need to spend a long time with the lyrics. For such a softly spoken set of words, both literally and figuratively, Steph Crase has a lot to say. To begin with, you've got to contend with the deep conflict that's playing out here. The title track is a perfect example: rattling off its list of concerns to music so gentle you can't help but know, if you face it, there's no problem so serious "that we can't try / I promise everything will be alright". In part this is a pretty contemporary acceptance of both our fragile emotional existence and how we hold on, by dealing with it together and not bottling it up: "Cry a river until your tears run dry / Scream and shout until your voice is shy / And now it's one less thing to worry about."
Then there are lines like "Punch the clock until your time is up / Burn your candle until your fire is out." Wait, isn't that kind of ghastly? An invitation to keep going until you're too weak to even rattle the cage of your existence any more; a death sentence by increments?
It took me a little while to understand, but I think that Steph is saying both things are true at the same time. The key here is: that's life! And when she sings "Everything will be just fine / Don't worry baby / Everything will be alright / One less thing to worry about" it's a philosophical consolation of pretty profound implications. There will be terrible days and moments of rage where you throw yourself against the bars. Most of the time, however, will pass, slowly, imperceptibly, right until the end. That's just existence and if you think about it too much, yes it is monstrous. Hey though, we're in this together, it is what it is and we don't even have to hold on too tight; that's how we get through.
The music ebbs and flows, sometimes crescendoing toward rage and despair, sometimes multitracking as concerns pile up on top of each other in an almost surreal jumble of issues. Always, though, the softness returns, led by the golden thread of harmony. It's something as simple and fundamental as a pop song that makes it alright again.
If I talk about what I thought about every other song and the album, we'll be here until life is one less thing to worry about. I commend you to engage with each and every one, however. There's mature examinations of how relationships survive, the existential dread of aging, the balancing of emotional debts we owe others and ourselves, even the greater implications of being too bloody tired to go out and do something this evening.
Like good literature One Less Thing presents the mundane and teases out of it philosophical threads that have the power to confound, even to destroy. Its very special gift is that it gathers all of these back in and sews them into the fabric of life. One that's as familiar and easy-going as the music we grew up with. In this way, sometimes an alt-pop song is more than an alt-pop song. So too, I think that Summer Flake is worth a repeat listen, more than a few times.
- Chris Cobcroft.