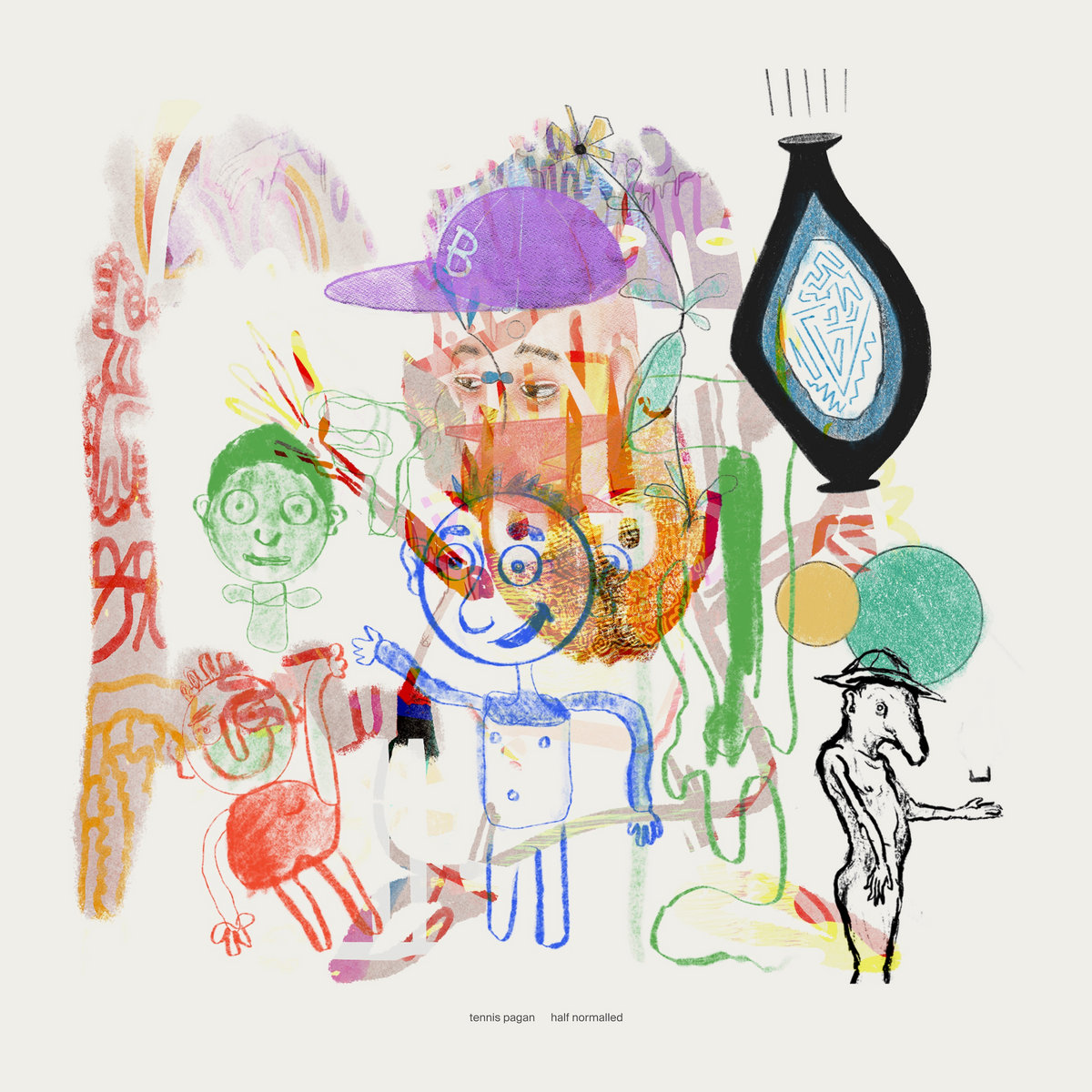 Tennis Pagan
half normalled
Spirit Level
- One of the things I've learnt over the years is that there is more music in the world than we can possibly comprehend. With the means of production growing ever simpler, that volume is only increasing. If you try and engage with it all, as some very earnest young music fans are tempted to do, you will drown and probably look a bit silly, flailing about trying to say something serious about techno that somebody banged out in half the time it took to write about it. The enigmatic Tennis Pagan has been releasing quite a flow of electronic tips, over the last three years -six EPs, I think they said?- all with a nostalgic fondness for the ambient techno and more experimental end of dance that began appearing in the late '80s and through the '90s. In that time TP's Facebook fandom has doubled from thirty to sixty followers, so I think we can say, all this output has very much been pleasing themselves. Hey and me too, I have to say, although I wonder if I shouldn't just listen to it and keep my damn mouth shut. It's the occasion of Tennis Pagan's first full length though, so, here I go again…
The album half normalled is Tennis Pagan remaining as enigmatic as ever, still taking their name from an obscure AFL joke and letting us know little else about who TP is and what they're up to. Oh, wait, there is a friendly little post-it note stuck on their Bandcamp page, cheerily introducing you to another collection of "[s]kittering rhythmic patterns and warm ambient tones [with a gentle nod] to the landmark artists of Warp's IDM heyday." Like a tiny little tourist pamphlet it tells you to look out for a humorous sample here and the influence of Japanese experimental music there. It neatly circumscribes what Tennis Pagan is up to and, again, makes me wonder what the hell I'm doing.
I can say that after all the weird little dance ideas thrown together in blink-and-you'll miss them EPs, it is very nice to have a full forty minutes of music. Many of the cuts are still fragments, a passing musical thought that Tennis Pagan threw out there, never feeling any kind of obligation to blow it up into some sort of Jon Hopkins epic. Here however, there's a strength in numbers, all of these little fellas feel like they have a home together.
They can also hide behind the bulk of those cuts which are more fleshed out, like focus track a void dance. It makes its presence felt, both by being as full of ambient wonder in its synth chords as anything on the record and, more so, through an intensely frisky beat. As with previous TP outings it's like a drum'n'bass beat from a slightly different universe. Oh and is that …a time-dilated Jordan Shanks leering at us as he slurs out "please remember to like and subscribe"?
There's plenty of other things to like, many of them a meeting of the friendlier end of avant-garde electronica and an oddball sense of humor. What kind of hilarious name, for instance, is cost price for the melancholy piano-tronic vignette it titles? Like you were forced to let go of your heart's very desire, for less than you purchased it. The genial Euro beat is happy to play along with the confused welter of emotions. A sophisticated cocktail of bittersweetness and smirks.
Going back to the Bandcamp explainer, it is, as the label says, comfort food for avant-garde 'tronic freaks and if you wanted something to remind you of the heyday of Boards Of Canada or Polygon Window, here's an early Christmas present for you. As for me, I think I'm going to take my own advice and shut my yap; less talking, more music please.
- Chris Cobcroft.