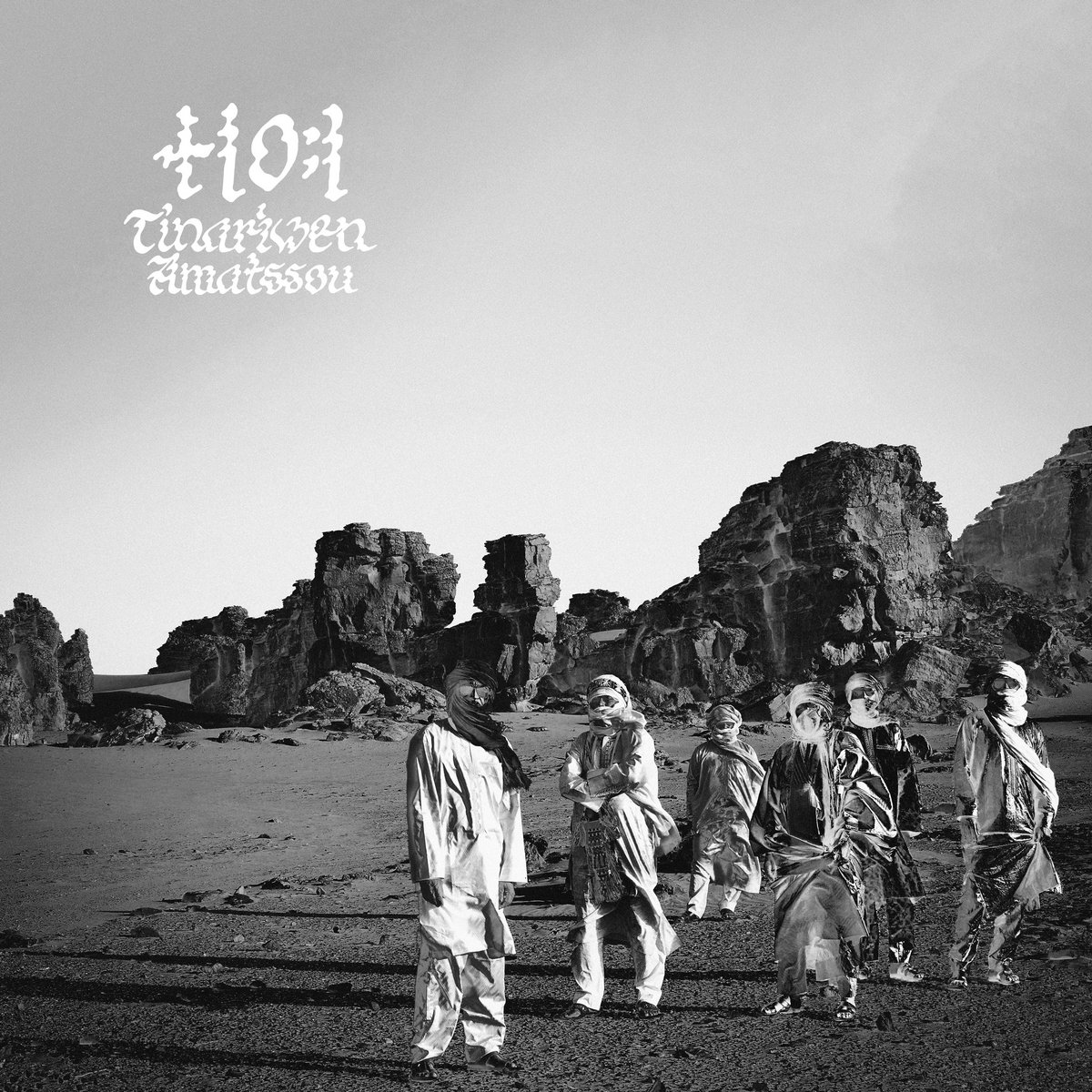 Tinariwen
Amatssou
Wedge / Inertia
- They're not often credited as such, but Tinariwen deserve to be included in the lists of all-time great rock bands. Formed in the early 1980s in an Algerian refugee camp, the band developed their own unique brand of Tuareg rock that is now widely imitated. They survived war, government repression and the deaths of band members; and by the early Twenty-First Century they were a world-touring band, outspoken political rebels, a multi-generational rock'n'roll dynasty and undoubtedly the most famous export of their native Tuareg culture.
All the while, their albums have been consistently brilliant. Tinariwen's music is an intriguing mix of the simple and the complicated - the most basic equipment played like virtuosos; and song structures often revolving around a single chord but constructed of intricate polyrhythms and intertwining guitar parts.
Tinariwen's music is always identifiable, and there are few other bands who would be as happy to play on for four decades with such minimal ingredients. But it should also be recognised that they are, and always have been, musical innovators. They were in fact the very first people to attempt mixing electric guitars with the traditional melodies of Tuareg travelling songs. Their first recording from 1991, which was excitingly unearthed last year after decades of being presumed buried in the desert sands, showed them experimenting with synthesizers. And since their global fame they have always been up for collaborating with Western musical admirers.
The list is truly remarkable – legendary artists in different fields from Santana and the Red Hot Chilli Peppers to jazz pianist Herbie Hancock, drone rockers Sunn O))), and indie darlings like Wilco and TV On The Radio.
Which leads us to Tinariwen's new album Amatssou. Another record and another musical companion; this time Candian superproducer Daniel Lanois - most famous for producing U2's classic albums but also on the mixing desk for career renaissances by Bob Dylan and Peter Gabriel. The pandemic kept the band and producer on separate continents, but Lanois did some post-production on Amatssou – most noticeably adding elements of American country music like banjo, fiddle and slide guitar.
The idea sounds intriguing on paper and as the album promo points out Tinariwen have always evoked rural landscapes with their desert blues. In practice though, the country additions can't actually add much to Tinariwen's full sound. To be honest, all those other collaborations worked best when the star musicians blended into the background and just enjoyed the thrill of playing with one of the world's great jam bands. Lanois' touches here sound mostly unnecessary, at times even a bit silly. Not quite as silly as when Mumford & Suns claw-hammered away behind Senegalese popstar Baaba Maal, but it is a bit of a relief to find the banjo is only on a few songs.
Tinariwen don't seem to mind much. They are, as always, magnificent. While the lyrics are often about heartbreak, exile and oppression; there is always such a joy evident in the way all the many members play together – multiple voices, percussionists and guitarists combining for a funky and emotionally powerful outpouring. It's no wonder everybody wants to be part of the band.
- Andy Paine.