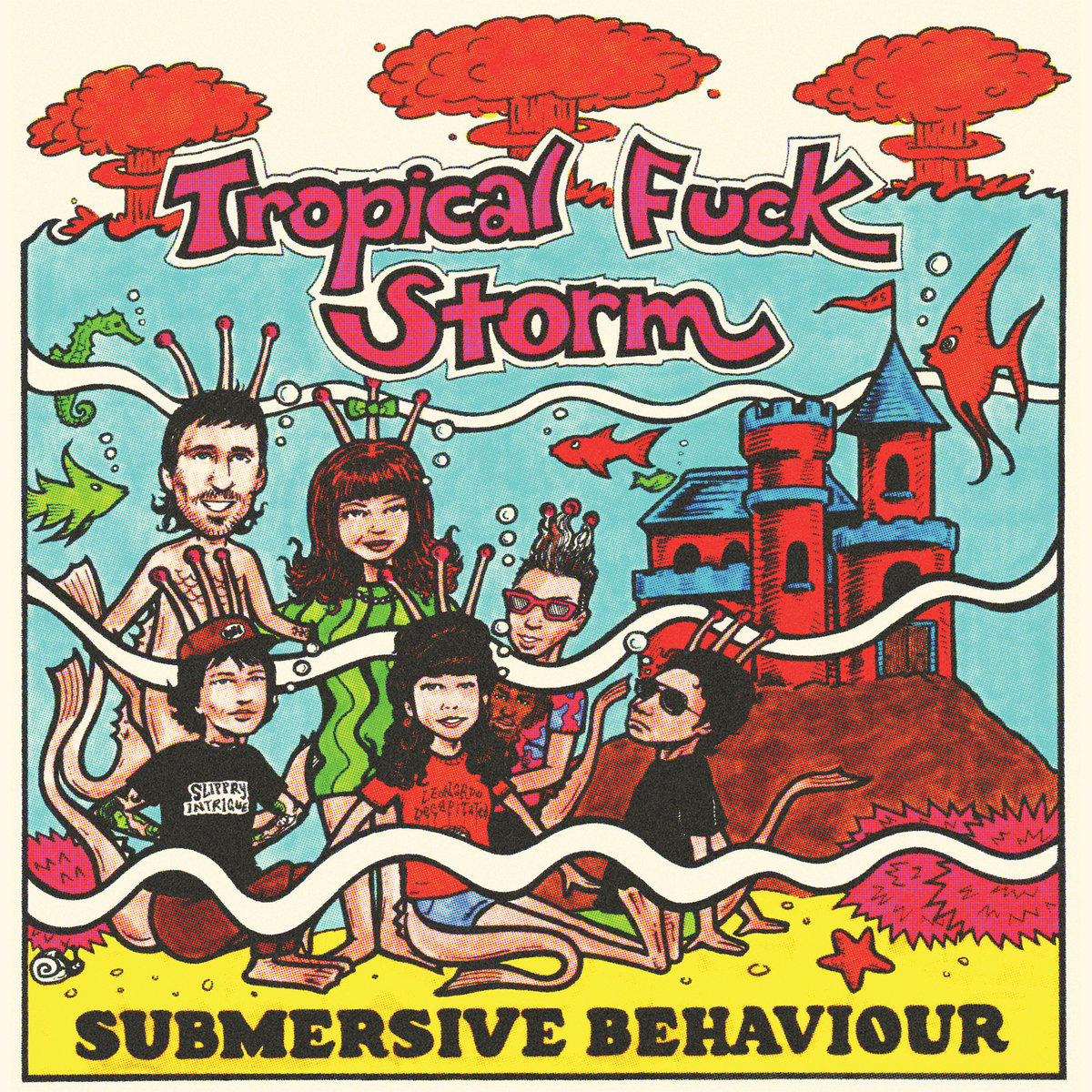 Tropical Fuck Storm
Submersive Behaviour
TFS
- Since the early nineties, Gareth Liddiard has chalked up scores of releases as a solo artist, in various side projects and with his most well known group The Drones. One such side project is the prolific Tropical Fuck Storm, a raucous Australian rock supergroup featuring former Drones collaborator Fiona Kitschin, Lauren Hammel of High Tension and Erica Dunn from Mod Con. Their latest release, the EP Submersive Behaviour, is a collection of three originals and two covers, one by Jimi Hendrix and the other by The Stooges.
On lead single The Golden Ratio Liddiard sounds like a barfly with an axe to grind, ranting over a heavy bassline and electronic drumbeat about mankind's survival, the stasi and other apocalyptic concerns. The other originals, Moonburn and Aspirin (Slight Return) were previously released on last year's Moonburn EP. Originals aside, Submersive Behaviour is a covers record at heart and whilst the stellar cover of Ann by The Stooges was also included on Moonburn, Hendrix's 1983 (A Merman I Should Turn to Be) is released here for the first time.
1983 (A Merman I Should Turn to Be) was originally released by Hendrix on his 1970 swan song LP Electric Ladyland. Tropical Fuck Storm extend the already epic thirteen minute original to a truly sprawling eighteen minutes, whilst staying true to the tone and feel of the original. All the while Liddiard's loose guitar playing and duelling vocals with Kitschin push the track even further into a territory of psychedelic noise that the late guitar god would surely have approved of.
It's a welcome change from the multitude of lukewarm to awful Hendrix covers that have been released in the more than half a century since the legend's death. Humorously, Liddiard has stated that the band's decision to cover Hendrix was cemented through hearing a particularly woeful cover of Hendrix's Angel released by a former member of One Direction.
Good cover songs have a sense of humour and on Submersive Behaviour Tropical Fuck Storm are obviously enjoying themselves by having fun with their source material. No strangers to covering other artists, they use the cover song as a vehicle to showcase their influences, varied as they are, allowing the listener to make a little more sense of the musical melting pot that is Tropical Fuck Storm.
- Nick Stephan.