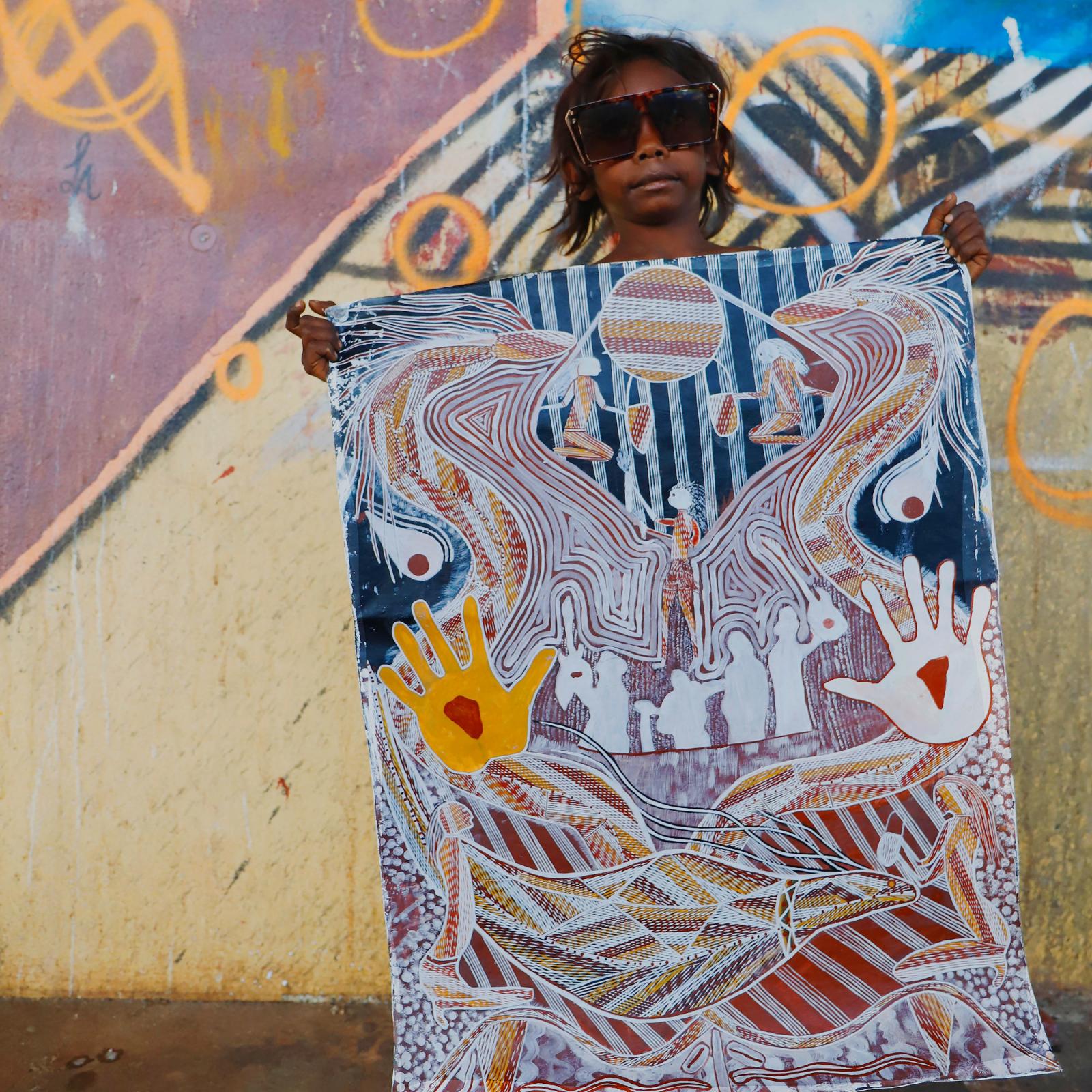 Wildfire Manwurrk
The Next Future
Indie
- The Next Future is the debut six song EP from Wildfire Manwurrk – a band of extended family members who hail from Maningrida in northern Arnhem Land. For those of us who haven't travelled the corrugated and often flooded roads to Maningrida - which let's face it, is most of us - listening to The Next Future would suggest it is a place yet to emerge from the 1980's; where leather jackets, mullets, chunky power chords and wailing guitar solos rule the airwaves. I'm not sure that's entirely true, but it certainly is great to hear some music from these remote corners of Australia's geography and culture make its way into the mainstream.
The Next Future is sung mostly in Wildfire Manwurrk's traditional Kune language (mind you, the band's bio says they each speak five languages!), with a couple of tracks in English. Musically that ratio is reversed, mostly classic rock instrumentation with a splash of didgeridoo (which in Kune is called "morle") and clapsticks.
Wildfire Manwurrk have said of their lyrics: "We have a story to tell and this is our voice, in our language, one of the oldest languages in this world. That language will help you connect to where you are standing. It will help us come together, where we learn from each other,"
The very catchy opening track Don't Smoke though is in English, and about protecting culture in a different way – trying to encourage folks to look after the health of themselves and their community by quitting cigarettes. That's an early sign I guess that the lyrical themes diverge somewhat from the 80's metal bands that inspire Wildfire Manwurrk musically.
From there most of the lyrics are in Kune, but you can hear the joy infused in the songs no matter the language. You can also hear it in the interviews the band has done in support of the release – amazing tales of swimming with crocodiles and bush mechanic improvisation on the Arnhem Highway.
The existence of those interviews I think says something interesting about the times we are living in. This is a band yet to release their first EP, coming from a remote part of the country far from big city media centres, singing in a language that only a couple of thousand people understand. Yet a quick internet search uncovers seven different indie music sites that have written articles about the band.
Aboriginal bands in the Northern Territory singing in their own language to a classic rock beat is certainly not new, but there is a hunger in Australia right now for culture that has a deeper sense of self, a connection to this land. Wildfire Manwurrk, with their beautifully shot videos depicting both the modern life of township and troopy and the traditional cultural activities out on the rocky country of North Arnhem Land; give us something that so much of our shallow pop culture lacks.
Wildfire Manwurrk then it seems are a band that has arrived right on time. What does The Next Future sound like? The combination of a language tens of thousands of years old and guitar riffs straight out of the 1980's. Also the sound of a nation seeking our own individual voice and finding space for a vast and fascinating culture that has for too long been pushed into the margins.
- Andy Paine.