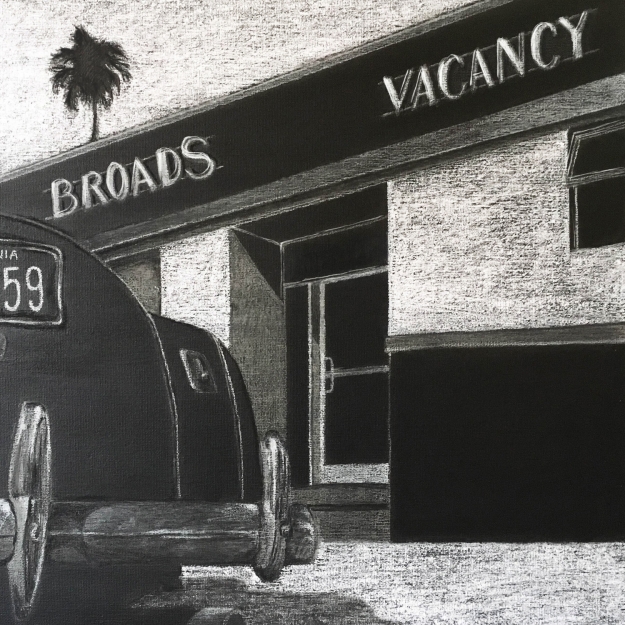 Broads
Vacancy
Indie
- Broads is the duo of Kelly Day and Jane Hendry. Together they sound quite unusual, I mean, really. The more I listen to them the more trouble I have trying to describe what they do. I'll give it a red-hot go, though. It centers on the vocals, Day and Hendry are a pair of sirens whose syrupy sounds writhe together harmoniously. They quietly croon, but grow in strength till, several minutes later, you clutch the sides of your head, the room full to bursting with incandescent, beautiful, vocal power.
It starts something like Patsy Cline at her most doe-eyed. It's unadorned country music that's not easy-going so much as it's lascivious, seductive; dangerously seductive. As the volume climbs up to those mountainous peaks, the backing singers shrieking like valkyries … I don't know what that is. It's the same vocal chops as K.D. Lang touched with an otherworldly quality that can be quite unnerving.
You may not quite believe my description, so, please check out their recent single, Nod Off, Dream, which like several other songs on their debut full-length, follows this formula exactly. Some, like The Valley, may do so with even greater gusto. The pair originally hail from an all-girl acapella quartet: Nymphs, thus the great aptitude for complex harmony. Their first, self-titled EP, as a duo was really stripped back - just the two girls. To the point where they just imitated (with impressive accuracy) any instrument they happened to need. On Vacancy they're working with a band for the first time and I'd speculate the desire to indulge in occasionally enormous decibels is just because, for the first time, they can.
There's a type of black humour that's very specific to both vaudeville and bands on the folky circuit. Take for example Mikelangelo And The Black Sea Gentlemen or The Kransky Sisters and you'll find a lot of that lurking, disturbingly, under the surface of Broads' music. Again, that single, Nod Off, Dream provides ample evidence. It's a song of lazy seduction that, if you listen at all closely, turns out to be … non-consensual: an offer of love that the recipient doesn't have any choice in. There's quite a nice, sweat-inducing video to go with the song if you care to contaminate your search history with it. To be honest, I took it as a titillating throwback to the S&M culture of Bettie Page. Broads have a different take though: although they describe their record as one of "emptiness, hollowness", thus the title Vacancy, that doesn't mean it's drained morally. Instead many of the torrid stories within are like a flipping of the script: taking traditional, sexist, exploitative material -the kind of the thing you still find hidden in so much pop culture- and by teasing it out to absurd, unsavoury, supernatural and even murdery extremes, exposing what was very essentially wrong with it in the first place.
Like a leggy dame, half-hidden in the shadow at the back of the bar, Vacancy is dark, intriguing and once you find out what you're really in for, often amazing and just a bit dangerously challenging to your assumptions. Broads, in turn, are the femme-fatale we need for the contemporary era.
- Chris Cobcroft.